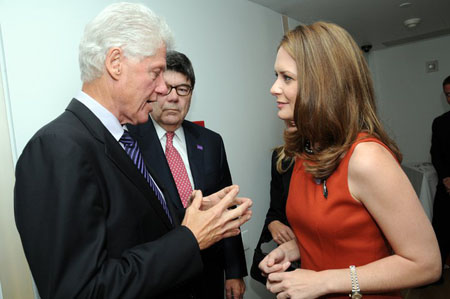 by Carl Bernofsky
In running her 2010 campaign for Lieutenant Governor of Louisiana, Caroline Fayard lists honesty as one of the attributes she will bring to the position. As candidate, she has invited the public to examine what they might expect if elected to that high political post.  Following, are two claims made directly by her or by her campaign, and readers can judge for themselves whether they misrepresent the facts.

Claim A:
At the age of 16, Fayard was a congressional page in the Clinton administration, sponsored by Representative Billy Tauzin.  By 1997, she had worked her way up to become head intern to Hillary Clinton's Social Secretary.  Members of the Fayard family had contributed $4,000 to Tauzin's reelection campaign in 1994-95.
Claim B:
"She … was later appointed to the faculty of Loyola University, New Orleans, College of Law and served there until 2009."
In 2007, Fayard received a two-year Westerfield fellowship as a "Writing Fellow" which entailed limited teaching duties to first-year law students.  The fellowship was primarily designed to provide an opportunity for "scholarly writing and publication."  Her mother, Cynthia Felder Fayard, is a member of the Society of St. Ignatius, whose members support Loyola University of New Orleans with individual lifetime giving of between $100,000 and $1 million.
A Penchant for Gambling
Fayard's Financial Disclosure Form for Lt. Governor reveals a variety of ownership interests in real estate and other businesses that include gambling.  Her filing "shows nearly $32,000 in income [in 2009] from video best poker sites truck stop investments: Paxtor Inc. and Safari Investments, LLC, both in Hammond."  She is an officer of Safari together with Chalyn Cynthia Fayard (her sister) and Robert A. Maurin, III (her first cousin once removed).  Safari currently owns 20% of Lucky Dollar Casino, which shares Video Poker License No. 4701512880 with T & D Ventures, LLC, also doing business as Lucky Dollar Casino.
Other business interests of Fayard's include Andante, LLC, Arbor Towne, LLC, and Felyard Investment Group, LLC, of which she is an officer, and Calvin C. Fayard, III (her brother) is agent.
The Money Go-Round
The head of the Fayard family is Caroline Fayard's father, Calvin C. Fayard, Jr., a prominent Louisiana attorney.  Her step-mother, Frances Gray Fayard, is also an attorney.  Political fundraising has been one of the Fayard family's favorite activities, and former President Bill Clinton and Hillary Rodham Clinton are among those who have benefited from the family's largesse, for which the Clintons in later years expressed their gratitude by supporting Caroline Fayard's political aspirations.  Frances Gray Fayard's home state, like Bill Clinton's, is Arkansas.  She had worked in the Clinton administration as Frances Gray.
Bill Clinton and the Clinton-Gore '96 Primary Committee PAC each received $1,000 toward Clinton's presidential primary bid from Calvin Fayard in May, 1995.  In 2000, Hillary Rodham Clinton ran for the U.S. Senate, and according to CampaignMoney.com, "Calvin Fayard D" [Calvin Fayard Jr.] of Denham Springs, Louisiana, individually contributed $11,988 to her primary campaign on Oct. 10, 2000.  Because of the legal limitation to individual contributions, it is assumed that this figure includes other members of the Fayard family.  Caroline Fayard's individual contribution on Oct. 18, 2000, was $2,000. She was 22 years old in 2000.
On Oct. 10, 2000, Calvin Fayard was host to a "Hillary 2000 Reception" for approximately 40 people at his private residence in Seaside, Florida, where he introduced Hillary Clinton, who spoke and responded to questions from her audience.  The affair also included a photo reception with the guests. Calvin Fayard was alledged to have "rented, leased and borrowed practically every car and limosine in the area to shuttle guests that flew in from all over the country on rented and leased jets and planes."
On Sept. 1, 2004, "fund-raising of a political kind took place … at the 'Wedding Cake House,'" the restored home of the Fayards on St. Charles Ave. in New Orleans.  Although a complete guest list is not available, "The hosts were Danny Becnel, John Coale, Frank Dudenhefer, Walter Dumas, Glastone Jones, former Mississippi Gov. Ray Mabus, Dickie Scruggs, Hugh Sibley, and Bill Wheeler."  Some of the hosts were Calvin Fayard's associates.  The special guest, former President Bill Clinton, remarked "that in comparison to the Fayard mansion, when he lived in Washington he lived in public housing."  The cost of attending that Democratic Party fundraiser at the Fayard mansion with President Clinton was $10,000 a head.  The affair made Fayard's "Wedding Cake House" look more like a "reception hall," which the tax abatement given to the home in January, 2004, prohibited.
On May 18, 2007, another private campaign fundraiser for Hillary Clinton was held at the home of the Fayards.  "An invitation … indicates 'donors' would pay $1,000 apiece to get into the event; joining the 'host committee' cost $2,300 per person."  The "Wedding Cake House" is owned by Andante, LLC, of Denham Springs, Louisiana, purchased in May, 2001 for $1,435,000.  It is listed as a commercial, not a residental property in New Orleans City Council documents of tax appeals for the 2009-2010 period.
In 2007, Hillary Clinton was the recipient of $27,600 from the Fayards when she campaigned again, this time for the U.S. presidency where the stakes were much higher.  Calvin and five other family members each gave the maximum, $4,600.  In August, 2008, $11,500 was returned to the Fayards, suggesting that part of the initial contribution was considered a loan.  That same year, both Calvin Fayard and his wife Frances Gray Fayard were considered fundraisers for Hillary Clinton's presidential campaign.
When one considers the fund raising events that the Fayards sponsored, it is understandable why the Clintons were so accommodating when the Fayards needed their help in Caroline Fayard's race for the Louisiana Lt. Governor's position in 2010.  "Fayard used her ties to Clinton and used the former president to record robo-calls in the days leading up to the election to help get out her Democratic vote.  Clinton also appeared for her at a New York fundraiser."  A notice of this fundraiser at the Bryant Park Hotel states that contributions are limited to $5,000 per person. 
The Duval Connection
Judge Stanwood R. Duval, Jr., a long-time friend and colleague of Calvin Fayard, was appointed by President Bill Clinton to the federal bench of the U.S. District Court for the Eastern District of Louisiana in 1994.  Representative Billy Tauzin played a pivotal role in Duval's nomination for the federal judgeship. When asked on his appointment disclosure forms to list the names of attorneys with whom he had been involved in litigation within the last five years, Duval included Calvin Fayard, Jr. Of Denham Springs, Louisiana. During that period (1966-1994), Duval had been in private practice in Houma, Louisiana, and was parish attorney for the Terrebonne Parish Consolidated Government in Louisiana (1988-1993).
Cathryn Caroline Fayard, who is Calvin Fayard's daughter by his first wife, Cynthia Sue Felder, was born in 1978 in Baton Rouge, Louisiana.  After earning a bachelor's degree in government from Dartmouth College in 2000, she worked as an "investment banking analyst" for Goldman Sachs and Company until 2002 and then went on to the University of Michigan Law School, receiving her law degree in 2005. In 2004, she was a Summer Associate for the Washington, D.C. law firm, Williams and Connolly, and following her graduation from law school in 2005, she became a law clerk for her father's "good friend," Judge Duval.  Following the one-year clerkship with Duval, she worked at the Springfield, Louisiana law firm of Fayard & Honeycutt, which is headed by her father.  Although Fayard states that she is in "private practice," she apparently has not worked independently as a lawyer without the guidance of a family member or a long-standing friend of the family.  The only public address currently found for Cathryn Caroline Fayard in Springfield is the same as her father's business address.  Moreover, Fayard's campaign headquarters has stated that she is not in "private practice," and they were unable to furnish contact information about such practice.  Nevertheless, at the age of 32, Caroline Fayard now aspires to the second highest political position in Louisiana, that of Lt. Governor.
Another of Judge Duval's recent judicial clerks is Ravi Sangisetty, who also has developed political aspirations.  Sangisetty's legal work has centered on post-Katrina litigation involving Federal Emergency Management Agency (FEMA), homeowners insurance, and the National Flood Insurance Progam.  Not only does he and his family live in Houma, Louisiana, but he now works for Duval, Funderburk, Sundbery, et al., the former law firm of Judge Duval, now headed by the judge's brother, C. Berwick Duval.  Sangisetty is seeking to occupy the House seat vacated by Representative Charlie Melancon of Louisiana's Third Congressional District.  Among Sangisetty's top contributors during the 2009-2010 election cycle were Duval, Funderburk et al. ($10,100), Duval & Shearer and Duval Funderburk (each $4,800), Fayard & Honeycutt ($4,150), and Sangisetty for Congress ($3,450)  Caroline Fayard also contributed $2,650 to the Sangisetty campaign as did Judge Duval's sister-in-law, Alexis A. Duval, who gave $4,800.  The financial contributions to the Fayard and Sangisetty campaigns point to an apparent effort by the Duvals, Fayards, and Clintons to enhance their political power base in Louisiana.
Caroline Fayard and Ravi Sangisetty have both made it to the run-offs that will be held on election day, November 2, 2010.
Carl Bernofsky is the publisher of TulaneLink.com, where this piece originally appeared. The research and insights of Shirley Bernofsky are gratefully acknowledged.  Corrections and suggestions should be addressed to the author at [email protected].
Advertisement
Advertisement