We found this at Ace Of Spades this morning – it's a survey of the most popular sports in the country and the ideological/partisan skew of their popularity.
There aren't many surprises in this graph. I'm not sure there's much of a lesson to be drawn from it, either, but it's worth sharing.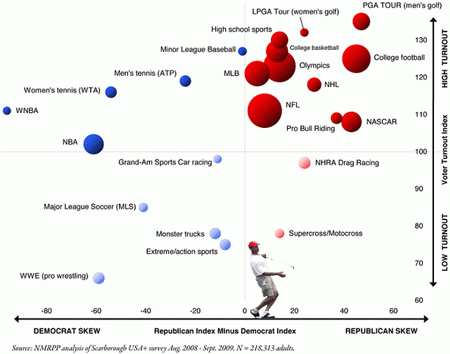 It's really not a surprise to see the WNBA where it is, and it's not a surprise to see soccer where it is. PGA golf, college football and NASCAR are pretty unsurprising as well.
Boxing, women's college basketball, college baseball and horse racing aren't included. It would be interesting to see where they land – the guess here would be that college baseball would land far to the right, while women's college basketball would be to the left but not quite as far as the WNBA. Boxing and horse racing? Who knows?