Can a person be born the wrong species? If a person believes he or she isn't a human being and is really a cat or a dog, who determines their actual species? And according to what criteria?
Here are three examples.
#1: A woman who is really a cat. Nano, a young Norwegian woman in her early twenties claims: "I was born in the wrong species."
She hisses at dogs. She meows in cat language. She even claims her night vision and sense of smell are enhanced because she is really a cat.
#2: Spot (or Tom), a young British lighting technician paid more than $5,000 to become a dog. His gender preference of being a dog enables him to be "at peace with himself" and "to live in the moment."
Being a dog enables Tom (Spot) to "escape from the stresses of everyday life." He explained:
You can find such enjoyment in simple things — such as getting tennis balls thrown for you! And treats! My pup side doesn't tend to get me in trouble, but sometimes when I'm in a pet store I can get odd looks from the staff when they see how excited I get over the chew toys."
Being a dog is a chance to relax, to unwind, and just be happy and playful — things most adults have very little time in the day to do."
According toThe Daily Telegraph, Tom has spent roughly $5,800 on his costumes and dog accessories.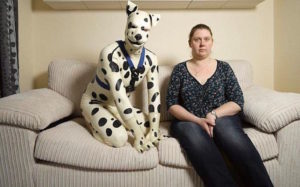 The 

expos

é 
called, "The Secret Life of the Human Pups," was featured on Channel 4, which the news site warns is not safe for work (NSFW).
#3: The man who is really a woman who is really a reptile. Eva was a man before he became a woman before he became a lizard/dragon/beast.
Richard Hernandez of Maricopa County, Arizona, is leading the trans-species trend in America, where people choose "gender fluidity" and trans-special identification.
Hernandez had surgery to change his nose, remove his ears, extract teeth, change his eye color, cut his tongue for it to be forked like a lizard, surgically implant horns on his face, and tattoo his entire face and most of his body in reptile-like scales and colored patterns.
Prior to his transformation, Richard looked like this:
Decades later he began his transformation into a woman and reptile, and expanded the "scale" of his tattoos (no pun intended).
Most recently, he had surgery to transform his face, which involved removing his ear lobes and most of the cartilage around his nose:
To enhance his implanted horns, tattoos were brightened with green, blue, and yellow pigments. To add to the look, his mouth is bright red, shaped with a short goatee, and his hair a short, dyed mohawk.
It is unclear if he will attempt to blow fire, but in light of his transformation, anything is possible.
And, if there is any doubt of the level of moral depravity in America and confusion over gender identity, Hernandez clarifies what is most troubling in America: anything goes, anything and everything is fine, as long as it "doesn't hurt anyone else." Not being proud of being a man, but believing he is something else, when it is clear that he is not, is called Gender Dysphoria. It is a mental illness that should not be celebrated, but requires medical help.