Those readers of the Hayride who decry our writings as partisan with an axe to grind against the Obama administration will find the headline of this piece rather shocking, but the fact is that Secretary of Education Arnie Duncan's quote over the weekend identifying that Hurricane Katrina was the best thing that could have happened to the public schools in New Orleans was an insightful and accurate remark Duncan should not have to shrink from.
Duncan shrank from it today.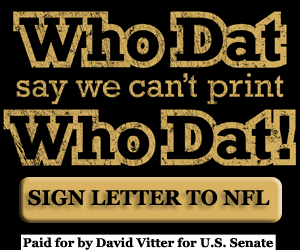 Duncan issued an apology today, saying "it was a dumb thing to say, and I apologize."
That's a shame, and it's unfortunate that Duncan's candor had to be mitigated due to the rigors of political correctness. After all, Duncan was as diplomatic as he could be in his original quote on the subject, which read as follows:
"It's a fascinating one. I spent a lot of time in New Orleans, and this is a tough thing to say, but let me be really honest. I think the best thing that happened to the education system in New Orleans was Hurricane Katrina. That education system was a disaster, and it took Hurricane Katrina to wake up the community to say that 'we have to do better.' And the progress that they've made in four years since the hurricane is unbelievable. They have a chance to create a phenomenal school district. Long way to go, but that — that city was not serious about its education. Those children were being desperately underserved prior, and the amount of progress and the amount of reform we've seen in a short amount of time has been absolutely amazing."
Duncan's quote was neither insensitive nor inaccurate nor even, on balance, negative toward the city of New Orleans. What's more, he generated widespread agreement among many city and state officials.
Louisiana Education Secretary Paul Pastorek said "I know it's a strong statement, but it's actually quite accurate. It was a pathetic system before the storm."
Pastorek was echoed by Louisiana Recovery School District chief Paul Vallas, who said that "local people have said that time and time again."
The recipe for the tremendous educational progress made in the Crescent City, mainly the widespread institution of charter schools, is one which educational specialists not in thrall to teachers' unions have begun noticing is the future of American education. Charter schools bring accountability and competition to a public educational system shot through with waste and bureaucracy, and a three year jump of 10 basis points in performance scores from the year preceding the hurricane in Orleans Parish shows how fast the introduction of the charters has changed the outlook for what was arguably the worst school system in the country.
And this fact, which needs to be broadcast in a very loud voice throughout the country, is going to be lost amid the noise surrounding Duncan's apology for something virtually everyone knows and understands here in Louisiana.
It's a shame. Duncan should apologize for his apology, not his courage in telling the truth over the weekend.