Scorecard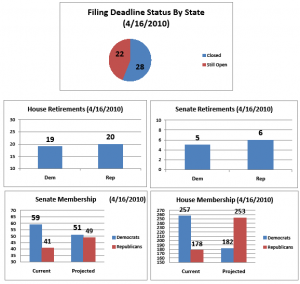 Latest News – Filing Deadlines
This past week, candidate filing closed in New Jersey, and we now have a finalized list of Congressional candidates in Virginia. Though there were no last minute retirements in those states (in fact, in both states, all incumbents are running for re-election), two incumbent Republicans in Virginia escaped major party opposition. This now means that partisan composition has now been set in 22 House seats (3 are Democratic held and 19 are Republican held). As of the writing of this article, filing has closed in 28 states, which means that we know the candidates in 264 (out of 435) House races and in 18 (out of 36) Senate races. Looking ahead, Florida and Georgia have April 30 filing deadlines, while in May, five states have filing deadlines (Michigan is the first one, with a May 11 filing deadline).
Latest News – Retirements
There have been no retirement announcements since the Bart Stupak (D-Michigan) retirement announcement last week, although a false retirement rumor recently published by columnist Laura Ingraham about Barney Frank (D-Massachusetts) caused him to instantly and emphatically deny the rumor.
Latest News – Upcoming Primaries/Special Elections
So far, only Illinois and Texas have held primaries. However, primary/special election season is fast approaching. Several days ago, there was a special election in a heavily Democratic district in south Florida that resulted in a comfortable Democratic victory (more about that race here), despite the fact that the Republican made opposition to healthcare his main issue.
Looking ahead, May will be the beginning of a very active political season that will continue all the way to the November elections. In that month alone, there will be 10 primaries, three Congressional special elections, and five filing deadlines. Of the numerous primaries, we will be closely watching the Arkansas, Kentucky, and Pennsylvania primaries, because those primaries involve more ideologically pure candidates of both parties (Republican in Kentucky; Democrat in Arkansas and Pennsylvania) running against more establishment oriented candidates. The outcome of those races will be an interesting gauge of the strength of ideologues within each party.
May 18 is also a "Superbowl" of sorts because on the same day that two Democrats are competing for the Senate nomination (one of whom is former Republican Arlen Specter), there is a special election in rural/blue collar southwestern Pennsylvania to replace the late John Murtha (D-Pennsylvania) in a 49% McCain (but 51% John Kerry) district. The Republican candidate is running competitively here, although he has to contend with contested Democratic primaries bringing proportionately more Democrats to the polls that day. This is the sort of swing seat Republicans need to win if they want to have big gains this fall.
Several days later on May 22 is a "winner take all" primary in Hawaii, where a Republican is running against two Democrats; one is a white male who is supported by the Washington Democratic political establishment (and who once represented Hawaii's other Congressional district for several years), while the other Democrat is an Asian-American woman who has the staunch support of the Hawaii Democratic establishment. Recent polls show a close three way race.
Latest News – Louisiana Senate Race
The last time we discussed the Louisiana Senate race, David Vitter led Democratic Congressman Charlie Melancon 57/34%. A recent poll taken shows a slight tightening of the race to 52/36%. We think this is due to several factors: (1) Rep. Melancon has begun touring the state with a theme of "Jambalaya and Jobs." It's not unreasonable to expect that he is corralling some Democratic support as a result of the resulting media coverage; (2) since the last poll was taken, healthcare reform was voted on, and Rep. Melancon voted "No" on this bill (there were reports, however, that he waited until healthcare reform received the necessary 216 votes before he cast his "No" vote); (3) the poll noted that Senator Vitter's support with Independents has slipped some; his lead with that group is 42-35%.
Looking forward, it'll be interesting to see if there are further trends in the numbers. It does help Senator Vitter that a potential primary opponent, Stormy Daniels, recently decided against running, although if former state Senator James David Cain (R-Dry Creek) runs as an Independent in the November election, he may pull some votes away from David Vitter (and potentially away from Charlie Melancon as well in a two way race). Senator Vitter is also helped by the fact that Obama is unpopular with most Louisiana voters.
Reality Check time
Elections have consequences.  In the absence of data showing otherwise, we believed that healthcare reform would be a uniform drag on Democratic candidates and/or incumbents. The election results in a liberal Congressional seat in South Florida, however, proved that assumption incorrect. Even though we believe there is an "Obama plunge" which will play a significant role in this fall's elections, the extent of the plunge varies depending on which voter demographic you're referring to.  We noticed both in the Massachusetts Senate election and in the just completed special election in Florida that the "Obama plunge" with Democratic base groups (liberals, academics, government employees, Jewish voters, and minorities) is about 5% (it was 6% in Massachusetts and 4% in the Florida election). Therefore, we have re-evaluated the House races and now have a new criteria: a previously vulnerable Congressman ("vulnerable" defined here) can now be considered safe if he/she resides in a district with a significant Democratic base vote. Using this refined criteria, we now believe that five incumbent Democratic House members can be considered safe, because of our belief (stated here) that "….because of the cohesiveness of the base Democratic vote, districts that have a high concentration of minorities, academics, or Jewish voters are still out of reach for almost any Republican…" In these five districts, Obama received between 58 and 64% of the vote. Furthermore, four out of five of these districts are in capital cities/liberal university towns, while the fifth district has a significant minority/union presence. Therefore, we are revising our House prediction downwards to that of a 75 seat GOP House pickup.
John is a political consultant and blogger with JMC Enterprises with expertise in poll sample development and analysis, development of targeted voter files for phone canvassing or mail outs, campaign strategy and demographic consulting, among other things. See his site at WinWithJMC.com for more information.
Advertisement
Advertisement