Scorecard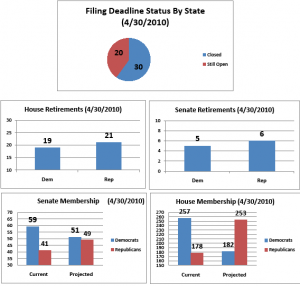 Elections Calendar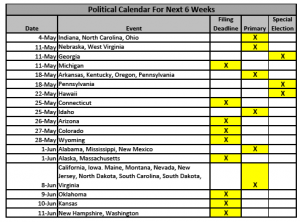 Latest News – Filing Deadlines
This past week, Congressional filing closed in Florida and Georgia. Florida saw both a last minute retirement and a last minute party switch in a Senate race (more on that later). Democrats declined to contest three GOP held seats in Georgia and one in Florida. This means now that the partisan composition has been set in 26 seats (23 GOP held seats and 3 Democratic held seats). Furthermore, filing has closed in 30 states, which means we know who the Congressional candidates are in 302 out of 435 House races and 20 out of 36 Senate races. Next month, five states have Congressional filing deadlines. Michigan's is first on May 11. After that, four more states see their Congressional filing close in rapid succession: Connecticut (May 25), Arizona (May 26), Colorado (May 27), and Wyoming (May 28). So by the end of next month, we will know who the candidates are in 338 House races (out of 435) and 20 Senate races (out of 36).
Latest News – Retirements
Before Congressional filing closed today in Florida, Republican incumbent Ginny Brown-Waite decided to retire for health reasons. Her seat has a Republican edge (Bush received 58% in 2004, while McCain received 56%), and she has endorsed a local Republican sheriff as her successor. We are also keeping an eye on Michael Arcuri (D-New York). In last week's article,  we noted that he may be considering retirement. Recent queries about his plans have not provided any new information; his staff merely replies to inquiries with a statement that the Congressman "is focused on his job."  We will keep you posted on further developments; fortunately for Rep. Arcuri, he has until July 15 to make up his mind.
Latest News – Upcoming Primaries/Special Elections
So far, only Illinois and Texas have held primaries. However, primary/special election season will be upon us starting next Tuesday and will last until October 2. Over the next six weeks, there will be 23 primaries and 3 special Congressional elections (in addition to the 11 filing deadlines within that same period).
The 23 primaries which will be held over the next six weeks starting on May 4 are also worth watching, as  the Arkansas, Kentucky, and Pennsylvania primaries involve ideological dogfights where more ideologically pure candidates of both parties (Republican in Kentucky; Democrat in Arkansas and Pennsylvania) are running against more establishment oriented candidates. The outcome of those races will be an interesting gauge both of the strength of ideologues within either party, and of the strength/weakness of incumbency. A very interesting "Exhibit A" of the strength/weakness of incumbency is the possibility that an 18 year GOP Senate veteran (Robert Bennett of Utah) may be defeated. A recent poll taken of GOP convention delegates (who will decide his electoral fate) show him with 15% support, and as a result, he may not even be on the June 22 primary ballot. Senator Bennett has been damaged by his prior support of TARP legislation and of mandates for individuals to have health insurance.
Upcoming special elections will also be a good early test of Democratic/Republican voter intensity. The May 18 special election in rural/blue collar southwestern Pennsylvania to replace the late John Murtha (D-Pennsylvania) in a 49% McCain (but 51% John Kerry) district will be the first test. In last week's analysis, we mentioned that the Republican Tim Burns had a slim lead in a recent poll and that the Democrat Mark Critz not only denied that he was a liberal, but he stated his opposition to healthcare reform. Since last week, a poll commissioned by Daily Kos (a liberal blog) shows that the Republican has expanded his lead to 46-40%. The poll also has further ominous signs for the Democrat: not only does Obama have a 38% approval rating in the district (55% disapprove), but 48% of voters would favor a candidate who favors repeal of healthcare reform. While the Democrat is relying on endorsements from Vice-President Biden and the widow of the late Rep. Murtha, the Republican has stated that "I don't claim to know how Washington works because I don't believe that it does." In other words, the "establishment vs outsider" template that was used by Republicans in the recent Massachusetts Senate race is being tried again in southwest Pennsylvania. However, the Democrat can't be entirely counted out because contested statewide Democratic primaries held on the same day as the special election will bring proportionately more Democrats to the polls. This is the sort of swing seat Republicans need to win if they want to have big gains this fall.
Over in Hawaii, a "winner take all" mail in election will be held over the next few weeks culminating on May 22 between a Republican against two Democratic opponents (technically, 14 candidates are running). One of the Democrats (a former Congressman from the other Congressional district) is a white male who is supported by both the Washington Democratic political establishment and the Honolulu newspaper, while the other Democrat is an Asian-American legislator with staunch support from the Hawaii Democratic establishment and local unions. Though pundits think a GOP victory would be reversed in the fall elections (when the Republican would face a single Democratic opponent), the congressional district is actually the more Republican of the two districts in Hawaii, and in fact elected a female Republican in 1986 and 1988 who, coincidentally, was elected because of Democratic infighting in her first race. In this race, the Republican is Charles Djou, a 39-year-old Army Reserve captain who joined up after Sept. 11 and whose campaign theme is that Hawaii voters could "send a message that they're fed up with taxes, government waste and mounting federal debts."
Meanwhile, in upstate New York, the House seat vacated in early March by Eric Massa has so far not had a special election held. The GOP is now forcing the issue by filing a lawsuit to force a special election before the November general election.
A bad year to be a politician ?
We previously mentioned that Senator Robert Bennett (R-Utah) is facing the real possibility of not even making the GOP primary ballot in Utah due to his voting record and 18 year incumbency. Meanwhile, over in Florida, its Republican Governor Charlie Crist announced yesterday that he was changing his party affiliation to "no party" in the face of weak poll numbers (in one recent poll, he trailed his primary opponent 33-56% with registered Republicans). While on the surface, a three way race would seem to benefit the Democrats, we think the following would prevent such a unilateral advantage: (1) Both major parties will have multicandidate primaries on August 24, as billionaire Jeff Greene decided yesterday to enter the race on the Democratic side in the aftermath of the Crist announcement; (2) Until yesterday, Governor Crist's political advancement has been solely within the context of the Republican party. His embrace (a.k.a the "man hug") of President Obama during a visit to Florida last year and his support of the stimulus has hurt him with that Republican base; (3) Since Charlie Crist has left the Reublican party for purposes of the Senate race, his Republican campaign staff and Republican funding will not be available to him anymore, and it's not clear that he can attract sufficient Democratic support to mitigate this loss, as they very much want to retake the seat they held between 1987 and 2005. In summary, Governor Crist's candidacy essentially has to start from "Ground Zero" now.
Those are two examples. There are other signs that not all is well with incumbents. In Indiana, we already have the first announced Congressional retirement for the 2012 cycle – Mark Souder (R-Indiana) has already decided that, with a contentious primary and general election this year, this will be his last term. Meanwhile, over in West Virginia, a Democratic primary challenger to 28 year incumbent has already declared his intention to vote against Nancy Pelosi for House Speaker. This bold declaration, in fact, was made in the context of the incumbent's own tracking poll showing him with a 45-36% lead (in response to the challenger's first releasing a poll showing him with an 8 point lead), with the Democratic primary less than two weeks away. It's worth noting, by the way, that this Congressional seat is currently NOT included in our prediction of a 75 seat GOP gain in the House at the present time.
John is a political consultant and blogger with JMC Enterprises with expertise in poll sample development and analysis, development of targeted voter files for phone canvassing or mail outs, campaign strategy and demographic consulting, among other things. See his site at WinWithJMC.com for more information.
Advertisement
Advertisement