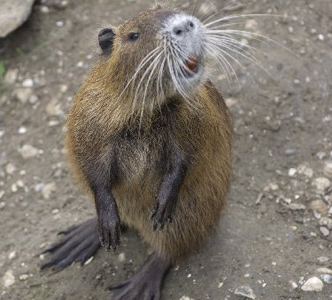 At least the folks there appreciate their fur-bearing rodent friends.
Unlike some people.
Police say break-ins at two fur farms have set more than 50,000 minks on the loose in northern Greece.

A statement from local police says the break-ins occurred Friday and Saturday near the city of Kastoria, which is the center of Greece's fur industry.

Regional TV channels showed farm employees chasing the animals with fishing nets on Monday.

The National Fur Breeders' Association says most of the released animals are likely to die in the late-August heat. It says the cost to the farm owners could pass euro1 million ($1.27 million).

No group has claimed responsibility for the incident. But an animal rights group, calling itself the "Hawks of Reprisal," said it was responsible for a similar break-in last year.
Compare that with this:
Nearly half a million nutria were trapped and killed under last year's nutria-control program, the most ever recorded in the efforts' decade-long run, according to a state report. Most of those swamp rats were trapped in Terrebonne, a parish that takes the hardest hit from the nutria's hunger for wetland grasses.

In the 2009-10 season, 445,963 nutria tails, worth about $2.2 million in government-paid bounties, were collected from 306 participants. About 42 percent of those hunters turned in 800 or more tails. Terrebonne trappers turned in 106,226 rat tails for cash, far more than any other parish. Plaquemines and St. Mary parishes followed, with 69,294 and 67,631 tails, respectively. Lafourche Parish trappers turned in 39,564 tails.
Two things here. First, mink are a bunch of candy-asses. Everybody knows this. They think it's hot in Greece. Rodent, please.
And second, those coonasses over in Terrebonne are frightening. Here in Barataria Bay all we deal with is the occasional sheriff's deputy takin' pot shots at us. And most of 'em can't shoot for crap, thank God.
But I think Imma hop a flight to Athens and hook up with these Hawks of Reprisal guys. They sound like good folks. You think maybe some of 'em will be like my uncle Topol? He's a cool guy – and he's fur-bearing, too.
Advertisement
Advertisement