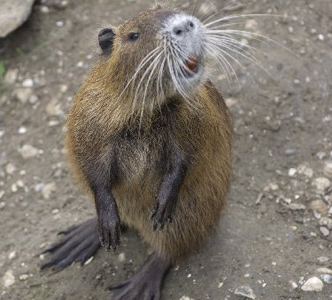 We get the New Orleans radio stations down here in Barataria Bay, and with a couple exceptions they suck.
Why do they suck? You try chewing on cattails with Jay-Z in the background and then you can get back to me.
Anyhoo, as a cultural representative of the nutria community it's my job to promote nutria-friendly contributions to the arts. None of us can carry a tune worth a damn – Steve Perry notwithstanding, but I don't need to remind you of him – but we're big boosters on the music scene. Not the least because the eatin' is REAL good in the dumpsters after a concert. Seriously. But I digress.
So from a nutria-friendly perspective, there's nothing more golden than the music of the early 80's, when men were men, "coastal erosion" applied more to women's swimsuits than geology and nobody was sending sheriff's deputies down our way to take pot shots at us while we're taking a dump. Other than a cure for constipation, that ain't too high on our list of good experiences, you see.
Nostalgia runs deep with us. That and swimmer's itch, but of course that's not something you're gonna care about. We'll stick with nostalgia. So right now, we'll turn it over to YouTube and wish you guys a kick-ass weekend…
Advertisement
Advertisement