In an interesting development today, 2nd District Democrat primary runner-up Juan LaFonta announced he's joining Democrats For Cao. LaFonta, one of the most far-left members of the Louisiana legislature and the head of the Legislative Black Caucus, hinted at corruption, dishonesty and cronyism as his reasons not to support fellow Democrat Cedric Richmond.
"I was elected to help this community," he said. "I stand against corruption because it is at the very root of our recovery problem. I was elected to serve people and stand against those who use their public offices to serve themselves while the rest of us struggle to rebuild our lives.
"And most importantly, I was elected to represent a portion of this congressional district with honor and integrity, and to speak out when I knew dishonesty and corruption threatened to undermine what we have worked so hard to achieve.
"I must speak out now."

LaFonta, it must be remembered, played up allegations of Richmond's misdeeds throughout the primary campaign. In fact, LaFonta hired 3rd Coast Research, a political opposition research firm out of Chicago which had done work for Richmond in the past and to whom he still owed $7,000, back in February. At the time, LaFonta had said that Richmond "needs to be worried about his record because there's a lot there."
The product of that opposition research ultimately resulted in a website called TheRealCedricRichmond.com, which contained a wealth of interesting allegations against Richmond and people in his camp, like attorney Ike Spears (husband of removed New Orleans judge Sonja Spears) and bailbondsman Blair Boutte (convicted of manslaughter in 1986). After the Aug. 28 primary, however, that site was taken down.
The Cao campaign has picked up on some of those allegations, which Richmond spokeswoman Tanzie Jones has dismissed as "ridiculous." There appears to be some irony in Jones' denials, given her background (Hat tip: Slabbed)…
Jones, who briefly filled the same role for Mayor Ray Nagin in 2004, had been working as an aide to Murray's legislative colleague, state Sen. Ann Duplessis. Jones left Duplessis' staff about a month ago.

She handled media relations for state Rep. Cedric Richmond during his short-lived run for the City Council in 2005 and signed on as a volunteer with the mayoral campaign of Lt. Gov. Mitch Landrieu, who failed to unseat Nagin in 2006. Before she was hired by the city, Jones worked as an assignment editor for ABC-26 News.

After joining Nagin's staff as a media relations assistant in March 2003, Jones took over as press secretary in August after two of her superiors resigned. She stepped down three months later in the wake of revelations that she claimed a college degree on her resume that the University of New Orleans said she never earned.
Jones, as it turns out, was Sonja Spears' spokeswoman when the local media was bringing out the scandal of her deadhead city judge job and the federal investigation into it.
As a result of this shady merry-go-round, it appears Cao is finding some support from the other side of the political aisle. LaFonta joins several other prominen Democrats in supporting the incumbent Republican, among them:
Stacy Head – New Orleans City Council Member
Erroll Williams – Assessor, City of New Orleans (Williams was a former Richmond backer)
David Williams – Former Judge, Orleans Parish
Ralph Capitelli – Former Candidate, District Attorney
Rev. Byron Clay – Former National Southern Christian Leadership Council President
Whether LaFonta's endorsement will help turn Cao from an underdog to a favorite is a question, but it does appear to move the needle. It also should offer some credence to the idea Richmond is vulnerable to the ethical charges made against him, as if LaFonta didn't think Richmond could implode it would make sense to back him in return for a political payoff down the road.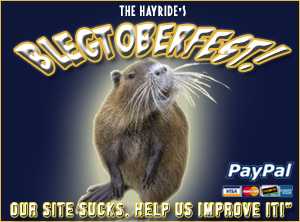 Advertisement
Advertisement