Yesterday, Sharron Angle was speaking to a crowd of her supporters in Mesquite, Nevada. The subject of Muslim Sharia Law was brought up. When I saw this story, I was incredulous about Angle's comments. Regardless, I looked for the facts myself, and what I found was very disturbing.
First, however, this is the quote from Angle on Sharia.  You can find the full story here.
We're talking about a militant terrorist situation, which I believe it isn't a widespread thing, but it is enough that we need to address, and we have been addressing it."
She goes on to talk about a Dearborn, Michigan as being a possible location for the infiltration of Sharia law.  Here is a quote from the article on Dearborn:


Dearborn Mayor Jack O'Reilly called Angle's comments "shameful." He said tea party groups inaccurately spread the word that his Detroit suburb was ruled by Islamic law after members of an anti-Islam group were arrested at an Arab cultural festival in June because a Christian volunteer complained of harassment.
So, I looked into the happenings in Dearborn, Michigan, and I found some disturbing things.  I am not saying Dearborn is taken over by Sharia law, but I will tell you this for sure: there is something very very wrong going on in that city. 
This is the story of the of the "anti-Islam group:", Acts 16, mentioned by Mayor Jack O'Reilly in the AP article.  Here is their mission: 
Our position with respect to Islam and Muslims has always been clear. We love Muslims and want the best for them. We believe in peacefully sharing the Gospel. If Muslims reject the Gospel, that's up to them. Muslims are welcome in America, and their rights should be protected just as much as our rights should be protected.

We also believe that Islam is false, and that the imposition of Sharia is extremely dangerous in any society. We believe in challenging false claims, through public debate, private discussions, online videos, blog posts, and television and radio broadcasts.
Now, you can agree or disagree with their views.  That is not the point.  I think we can all agree that what they stand for is acceptable under the protection of the constitution.  In fact, preaching to others of different faiths and uncovering discrimination cannot even be perceived as a radical mission. Watch this video regarding the events that led to their arrest. Oh, and O'Reilly's comment about harassment of a Christian volunteer? Not much evidence to support it:

Act 16 refers to a 2009 Muslim festival they attended. In that instance, they were assaulted by security unfairly after they attempted to ask questions at a Muslim booth titled, "Got Questions? We've got answers."  They also video taped that encounter.  The video can be found here.
Unfortunately, this discrimination is not isolated to a single group of Christian activists.  At this same festival in 2009, a Christian group, Arabic Christian Perspective, was denied the right to pass out literature on a public sidewalk neaby.  The group's attorney had this to say:
No other citizen is ordered to restrict what he or she can say or hand to another person. This is content-based discrimination against a Christian group, whose mission is to peaceably bring the good news of salvation to people attending the Festival. ACP will now be treated as second-class citizens, forced to pass out their DVDs and booklets around the corner from the Festival, while other groups will be able to freely distribute their materials.
Mayor O'Reilly becomes a more interesting and polarizing figure at this point.  Consider this statement about his past associations:
Dearborn Mayor Jack O'Reilly (photo), sided with the Festival organizers against the Christian group. O'Reilly is a Democrat who was a close ally of ex-Detroit Mayor Kwame Kilpatrick. He is also rumored to have close ties to indicted tax evader Talal Khalil Chahine. The owner of a chain of Arabic restaurats called La Shish, Cahine is alleged to have funneled millions from his business enterprises to Hezbollah in the Middle East.
Now, with regard to the previous video one might ask: did the police forewarn Acts 16? Did they expressly ask or forbid themfrom preaching at the rally? Or were there other laws broken over which the activists were arrested for?  The police report was enumerated clearly in the video above.  However, there was also an explanation given by the mayor regarding the arrests. After their acquittal one day later, the activists released this 2 minute video in response to allegations by Mayor O'Reilly:

Three of the four Christian activists were acquitted. However, the primary activist seen preaching to the Muslim crowd was indicted on charges of failure to obey a police officer (you saw everything that he did).  Here's what the mayor had to say:
It's really about a hatred of Muslims. That is what the whole heart of this is. … Their idea is that there is no place for Muslims in America. They fail to understand the Constitution."
For the record, not all authorities in Michigan are in line with O'Reilly in his interesting interpretation of the constitution.  Here is a statement from Republican representative Tom McMillin:
Today in Dearborn, the jury got it mostly right in finding Paul, David and Nabeel innocent of disturbing the peace. The city of Dearborn, the Dearborn Police and especially the Dearborn Mayor owe them a huge apology immediately.
However the guilty decision for Negeen Mayel's charge of failure to obey a police officer is extremely disturbing to me.
Now – for all this charade, the city of Dearborn needs to be dealt with firmly….unless they plan to try to secede from the union and have their own laws. This is the United States of America and we here in the USA have something called Freedom of Speech. Dearborn – get used to it!"
Quite a different take on the constitutionality of the situation.  You can decide for yourself which is more valid.
I can not say for sure that Dearborn is controlled by Sharia law, but i think it is clear that there is something inherently wrong in the city. I see obvious acts of discrimination, deceit, and corruption on the behalf of Mayor O'Reilly. 
Furthermore, when Sharron Angle makes the claim that Dearborn is controlled by Sharia law, she has evidence which backs the validity of her claim.  But, of course, it's not politically correct to accuse Muslims of discrimination.  I suppose that gives the Associated Press the grounds to completely dismiss Sharron Angle's comments as "bizarre."  Maybe if they did some quality investigative reporting they would discover the substance behind the conspiracy.  But who wants the truth, anyway?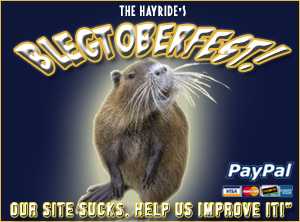 Advertisement
Advertisement