Twitter is exploding with Mark Emmert-to-LSU rumors today, which is a flowering of something which has been underground for a couple of months since the idea crystallized to unify the LSU system under the management of the main campus early this spring.
In January, NCAA President Mark Emmert signed a contract extension to keep him in that position for two more years, but, according to one report, things may have changed.

SportsByBrooks.com is reporting that Emmert may be leaving his post and could return to LSU, where he previously served as chancellor.

The report goes on to say that Emmert and representatives from the school have discussed combining the president and chancellor roles into one position, a job which Emmert could then fill.

Emmert has been serving as NCAA president for just over two years.
Emmert, of course, had a highly-successful tenure at LSU from 2000 to 2004, and he was tightly associated with then-gubernatorial candidate Bobby Jindal, who lost to Kathleen Blanco in the 2003 election. Shortly after Blanco was inaugurated and several key moves were made which indicated LSU's position as the state's flagship university would be weakened under her administration, Emmert left for the University of Washington. He has since ascended to his current position as the NCAA president.
But the NCAA is a disaster, with chaotic conference alignments, widespread rulebreaking the body doesn't have the power to adequately police and other headaches. Emmert, whose contract extension runs through 2017, is engaged in attempting to re-write and simplify the NCAA's rulebook – a thankless job which is sure to be a colossal fight to complete.
In the midst of those circumstances, ever since the Powers That Be at LSU opted to align with the Flagship Coalition's vision of consolidating the LSU system around its main campus and combining the position of system president and chancellor (Emmert formerly held the latter post) Emmert's return has been bandied about as the ideal situation. Emmert and his wife quickly became pillars of the Baton Rouge community while in town, Emmert was regarded as a superstar as LSU's chancellor, the university flourished under his leadership (and has been perceived to stagnate to an extent since he left) and he's rumored to have made numerous statements about how much he liked it here.
Which, of course, has made his name the hot one among those being tossed about as the successor to departing LSU bigwigs John Lombardi and Michael Martin.
Emmert's take on the rumors?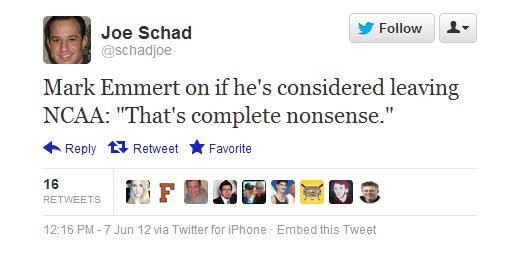 Of course, anybody who has followed high-profile hirings from sports coaches to vice presidential nominations knows The Denial is an important part of the process. So without calling Emmert a liar it's difficult to take his statement at complete face value.
We'll see if there are larger manifestations of an LSU pursuit of Emmert in the near future. One would have to consider the possibility of his returning to LSU somewhat remote, though the relationship with Jindal and his fondness for the university, along with the proposed structural change seemingly tailor-made for his leadership, do make for an interesting situation to watch.