Natalie Tennant is the Secretary of State in West Virginia, and she is a Democrat running for the Senate seat left open when her fellow Democrat Jay Rockefeller opted to retire. Tennant is unlikely to win, as West Virginia is rapidly becoming a red state and her Republican opponent, Rep. Shelley Moore Capito, has a big advantage in fundraising and in the polls.
Tennant also has a problem in that the president has declared full-on war against the coal industry which is to West Virginia was oil and gas is to Louisiana or Alaska or North Dakota. People in West Virginia are not happy about that, and the conventional wisdom is they're going to take their irritation out on Tennant this fall.
What to do? Well, one way to go about it is to employ a little Hollywood magic. Here's an ad…
Nice special effects, sure, but the White House having its power shut off isn't what makes that ad a masterpiece.
It's the acting. The woman playing the Republican senate candidate is amazing. Meryl Streep has nothing on her.
Interestingly, she plays a Democrat politician as well…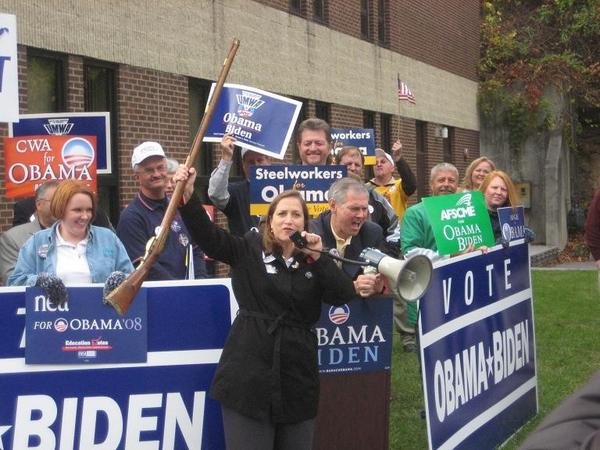 That was in 2008.
She can say she was for Obama back then not knowing that he'd go after the coal industry. Except that's a hard case to make from a factual standpoint. Why? Well, there was this…from January of 2008.
If you're from a coal state like West Virginia and that video is in the public domain where every politically-sentient being in the country knows about it and has seen it, and you're still out on the hustings for him, pleading ignorance is just more Hollywood.
Which is another way to say "damned lies."
But that ad is really well done. Democrats lie a whole lot better than Republicans do. They have zero qualms or scruples about telling political lies to get elected or win a news cycle, and they'll tell an even more shameless lie to cover the last one.
In real life, that cycle of lies ultimately results in you losing all your friends and maybe even your freedom. But in real life you won't have CNN, NBC, CBS, ABC, the Washington Post and New York Times to jump in and give you cover.
Natalie Tennant realizes she does, so she'll go on TV and shut Obama's power down – with the full knowledge that she'll do no such thing in the unlikely event she'd get elected. It's all for show.
She might be a nice lady in real life. Maybe she just plays a liar on TV. But she's pretty good at it.
In fairness, she's a bit better on script than live. Here's what happened when she went on Fox News this morning…
Hasselbeck never did get her question answered about whether Tennant still supports Obama. That wasn't in the script. And eventually the director yelled "Cut!"
As said above, Tennant isn't going to win. She's likely to get slaughtered. But Republicans just don't make liars this smooth, and because they don't they'll have a hell of a time beating people like her in more competitive races.
The public loves great actors. That's true in politics as well as on TV.
Advertisement
Advertisement