Yesterday, you might have heard – a large number of us even got an emergency message on our phones – that I-10 was closed at the Louisiana-Texas border due to high water. Here we'll show you some video evidence for why it is that to get from Louisiana to Texas now you've got to take I-49 up to Shreveport and then cross on I-20 and apparently can't use any route south of that.
First, we have a few clips from the Toledo Bend dam west of Leesville, where engineers released a whole lot of water into the Sabine River last week.
And when we say a whole lot of water, we're not kidding. On March 10, last Thursday, they released so much water that it was flowing at 207,000 cubic feet per second. Which – and this will blow your mind – is DOUBLE the water flow at Niagara Falls.
That's how full the Toledo Bend Reservoir was, thanks to last week's deluge, before they opened the dam.
Here's what it looked like…
Here's an aerial view from Friday of the release…
And here's another clip from Monday, when some 99,000 cubic feet per second, or about the same amount as goes over Niagara Falls, was still going through the dam…
Meanwhile, south of Toledo Bend here's a clip from Thursday of last week. It's drone footage of the Sabine at the Highway 190 bridge, west of Merryville. On Thursday the water was at 36 feet and the state police shut the bridge down.
And on Friday, this was aerial footage of the Sabine River bridge at Texas Highway 63 (Louisiana Highway 8), which is north of 190 (it's a really rural area that more or less goes by Leesville as an address)…
Here's what that bridge is supposed to look like on a normal day…
And a Google Street View shot of it on a normal day…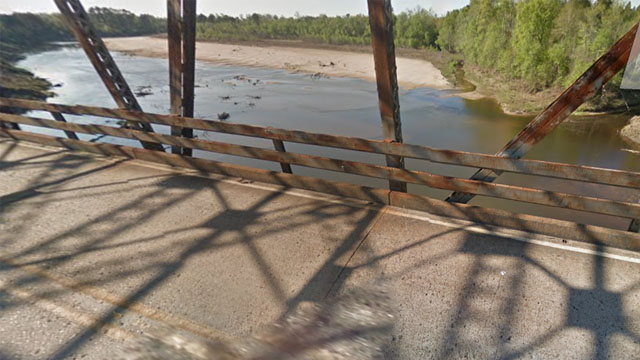 So why open the dam and let loose such flooding downriver? Well, here's the Sabine at Logansport, upriver from the Toledo Bend reservoir, on Saturday…
Which was two days after the dam was open.
With this much water, there is no decision you can make which won't result in flooding. All you can do is attempt to inflict as little pain as possible.
This whole thing is just a reminder – this is Mother Nature's world. We may live here, but we are a small, small part of a much larger existence. Five days of hard rains can inundate everything we've built.