CNN is not having a good day. The internet is still pounding away at the network's attempt to blackmail someone who made an anti-CNN meme that President Donald Trump tweeted out.
At this hour, smartasses are cranking out memes on Photoshop just blasting the network. Earlier today, Scott had the first part and this is the second part. Here are a few of the choice memes that are making their way around.
This gif maker used the scene from The Patriot when a British cannonball takes the head off of a Continental Army soldier.
Meanwhile, this one sums the network's decades of dumbassery.
This gif maker was inspired by Pulp Fiction.
Meanwhile, Darth Trump was a common theme
ISIS was also a popular theme.
The Blaze's Brandon Morse also did an "apology."
Brandon Morse recognizes that he should have never made fun of the great and totally not fake news organization CNN, and would like to make an apology that is not forced in any way.

Posted by TheBlaze on Wednesday, July 5, 2017
Even "The Simpsons" weighed in.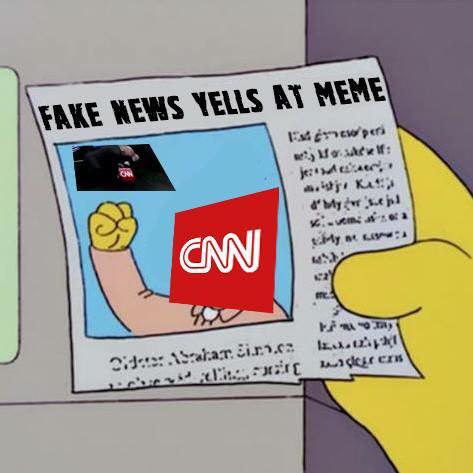 Finally, someone asked some tough questions of CNN.
The beatdown CNN is getting is because they have embraced only half of the country. They have gone out of their way to antagonize conservative America. They played with fire and they have gotten burned.
How bad is it for the network? They are having their own employees doxxed.
Several anchors and reporters at CNN have had their home addresses published and have received threats of rape and other violence in the wake of a story published by Andrew Kaczynski, who heads up the network's investigative K-FILE team. Anti-network trolls are encouraging viewers to wrongly accuse CNN staffers of pedophilia and child pornography. There is also "tons of anti-Semitism."

"Frustration" is the predominant feeling inside CNN, The Mirror has learned.
They built this when they decided to blackmail a meme maker. Now they're paying the consequences.