Editor's Note: A guest post from Rep. Mark Wright (R-Mandeville), who is a consistent opponent of increased taxes.
Since the Special Session ended last Monday night, I've wanted to share some of my thoughts and explain my position on the votes and proposals.
First, it's important to know that the Legislature passed a budget that has been signed by the Governor. Some people have called the session a failure, but the only failure was of the House to pass a proposed tax increase to fully fund the Governor's budget. Many people do not view that as a failure.
In my opinion, the last minute bill would have been challenged as being unconstitutional given the Speaker and the House Clerk's statement that the Senate amendments were not germane. In other words, if that bill had passed, it could have been overturned in Court anyway.
In my opinion, the biggest failure is that we didn't take steps to reform our tax code or toward a Constitutional Convention, which would be the best way to reform our tax and budget problems. We have a structural problem in Louisiana that has existed since the days of Huey Long. I ran for State Representative to address that problem and I will always place it front and center. I didn't vote for the proposed temporary taxes, primarily because they simply kicked the can down the road.
We live in a state that is 49 or 50th in everything that matters economically and we can't ignore that reality anymore. I will only support revenue efforts when they are clearly steps to reform our state. You can see evidence of my efforts by my co-authoring Rep. Neil Abramson's bill to create a convention. I appreciate his long-term bipartisan effort to restructure our most important government elements and I will continue to make that as a high priority.
One of the things I've learned since I began serving in the Legislature is most of the Representatives take great effort to properly represent their district. Since I was recently elected, it was important to vote in a way that best represents District 77. Recently, I received the results of a survey from constituents. In response to a question about how to address the budget deficit, 47% said to address by cuts alone, while another 35% said to address by cuts and taxes. In other words, over 80% of my constituents expect some form of cuts.
Here's a graph of that survey question…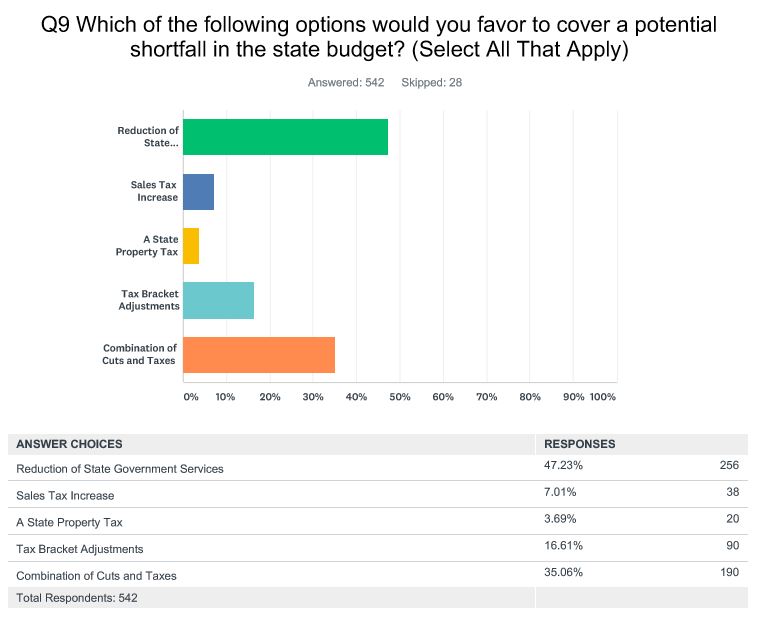 Unfortunately, there has been no reasonable compromise that includes some cuts to government growth. The House Republicans proposed one plan, but it didn't get much traction in the Senate.
As one of my colleagues has mentioned, LA state spending in FY 2017 was $9.1 billion; last year was $9.4 billion; and this year, a fully funded budget would be $9.6 billion. To put the budget in perspective, if we would simply cut the Dept of Health by 1%, we could fully fund TOPS, higher education, and everything else that this state needs without any increase in taxes. Sadly, the Senate sent over the budget to the House on Monday night after "finding" approximately $44-60 million dollars simply by a miscalculation at the Department of Health.
It's really hard for me, as a new representative, to vote for a tax increase when we "find" that kind of money by simply asking a few questions in the last few hours. I may be new, but I wasn't born yesterday. We desperately need greater transparency in state spending, especially since the Governor's Medicaid expansion has put so much additional money into the Dept. of Health and we have huge payments due towards that program in the coming years.
As many of you know, I'm fairly new at this role, so I want to commit to you that I'm trying hard to determine the best representation for District 77 and how to take strong steps for Louisiana. We are in desperate need of economic growth in this state. That is the best program for all of us, including the poor. Given our abundant resources, we should not be in this position and I'm committed to taking the right stands to make sure we become a flourishing state of growth and opportunity.
The Governor has called another Special Session that begins on June 18th. I look forward to working with the Governor and other members of the Legislature to address problems. Please don't hesitate to let me know what you think. If you are a District 77 constituent, I'd especially like to hear your opinion.