Leticia Sanchez of Fort Worth was one of four women arrested and indicted on voter fraud charges. She allegedly paid others involved in an organized voter fraud ring using funds provided by a former Tarrant County Democratic Party leader, court documents reveal. After she was arrested she allegedly directed her daughter text others in the scheme to not cooperate with investigators, state officials said.
State officials say Sanchez collaborated to vote for certain down-ballot candidates with a number of north side residents' mail-in ballots, the Star Telegram reports.
Sanchez was charged with engaging in organized criminal activity in collaboration with her three co-defendants; Stuart Clegg, a former executive director for the Tarrant County Democratic Party; and others.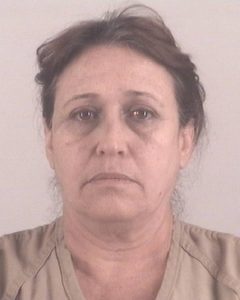 Sanchez allegedly faxed applications for mail-in ballots, many of which were illegally obtained, using a fax machine that belonged to former Fort Worth councilman Sal Espino.
Earlier this month, four women were arrested — Sanchez, her daughter, Leticia Sanchez Tepichin, and Rosa Solis and Laura Parra — after being indicted on more than two dozen felony counts of voter fraud.
Officials allege the women were paid to target older voters on the city's north side "in a scheme to generate a large number of mail ballots and then harvest those ballots for specific candidates in 2016."
Sanchez and others allegedly marked down-ballot candidates "without the voter's knowledge or consent."
The charges "are in connection with the 2016 Democratic primary, but the case has connections with the 2015 city council election."
However, Clegg told the Star Telegram, "There was no conspiracy to defraud any election."
Clegg said that, as a consultant, he has hired canvassers through the years to "work legally in Texas elections."
"We've trained them to follow the law and instruct them as best as we can but, like anything, we're not with the actual worker the whole time," he said. "I don't believe the allegations the attorney general is making.
"Obviously, if I thought she was going to do anything illegal, I wouldn't have hired her and I don't believe that she did." He added, "I would turn them in myself if I thought that (accusations of vote harvesting) was true."
Sanchez was charged with one count of illegal voting and 16 counts of providing false information on an application. She also is accused in the notice of committing, or aiding others in committing, more than 100 counts each of forgery, tampering with a governmental record and providing false information on an application.
Advertisement
Advertisement