A new report by Pew Research states that the incoming 116th Congress is slightly more religious than the prior Congress despite a decline in the number of self-identifying Christians. Pew also notes that the religious makeup of Congress is disproportionate to the religious makeup of the U.S. population.
According to the report, the share of the number of members of Congress who identify as Christian decreased by 3 percent. In the 115th Congress, 91 percent identified as Christian; in the 116th, 88 percent do. In the 116th there are four more Jewish members, one additional Islamist and one more Unitarian Universalist, as well as eight members who did not state their religious affiliation (or lack thereof).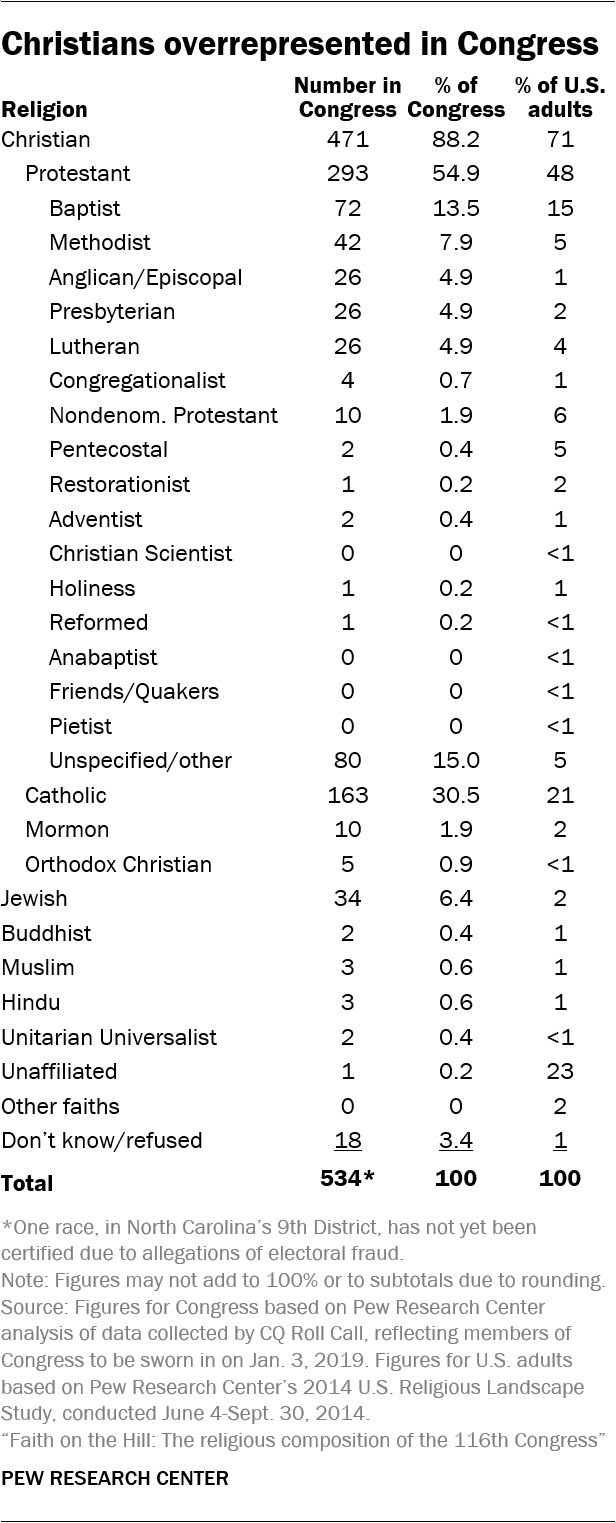 Despite the 3 percent decline, Christians as a whole (primarily Protestants and Roman Catholics) "are overrepresented in proportion to their share in the general public," Pew states. Protestants in the new Congress are primarily Methodists, Anglicans/Episcopalians, Presbyterians and Lutherans.
When it comes to the disproportionate nature of members' religious affiliation to that of the general public, Pew notes that Protestants ("unspecified/other") comprise 5 percent of the U.S. population but account for 15 percent of congressional members. By contrast, some Protestant groups are underrepresented in Congress, such as Pentecostals. Pentecostals comprise 5 percent of the U.S. population compared to 0.4 percent of Congress.
"But by far the largest difference between the U.S. public and Congress is in the share who are unaffiliated with a religious group," Pew states. Roughly 23 percent of Americans identify as atheist, agnostic or "nothing in particular." In Congress, only one person, an open bisexual and Democrat, Sen. Kyrsten Sinema of Arizona, identifies as "religiously unaffiliated." The share of "nones" in Congress 0.2 percent.
Interestingly, when asked about their religious affiliation, a growing number of members of Congress decline to specify (categorized as "don't know/refused"), the report states. They are all Democrats.
Compared to the 115th Congress, the number of Democrats who fall into this category increased slightly from 2 to 3 percents (10 to 18). Rep. Jared Huffman, D-Calif., identifies as a humanist and has said that he's not sure God exists. Huffman falls into the Pew category as "don't know/refused" because he declined to state his religious identity in the CQ Roll Call questionnaire, which Pew used for the report.
The Pew Research Center analysis was based on CQ Roll Call data gathered through questionnaires and follow-up phone calls to members' and candidates' offices about their religious affiliations. The CQ questionnaire asked members what religious group, if any, they belong to and did not attempt to measure their religious beliefs or practices. The Pew Research Center analysis compares the religious affiliations of members of Congress with the Center's survey data on the U.S. public.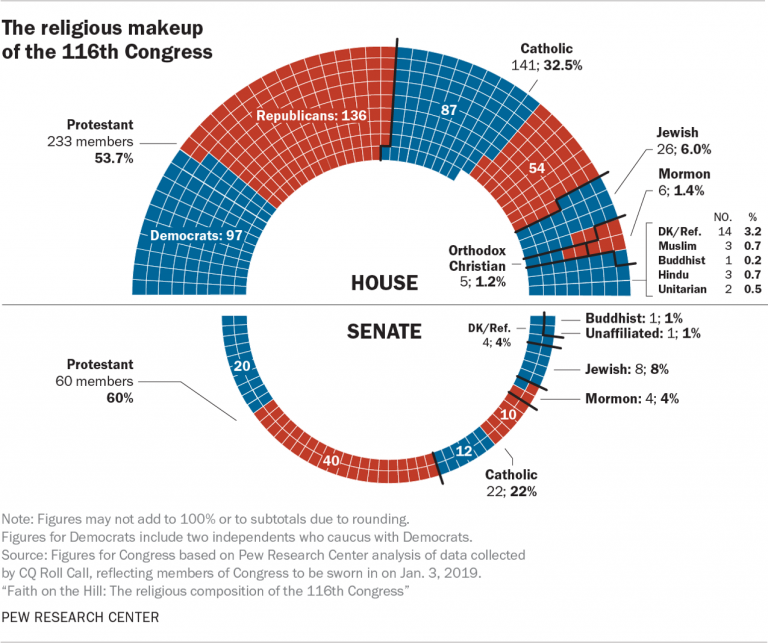 Advertisement
Advertisement