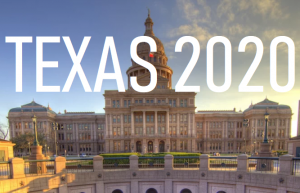 Aerospace engineer George Hindman is once again entering the race for Central Texas's Congressional District 17.
Dubbed a "rocket scientist" entering the field, Hindman brings a a long and respected career in Austin's high-tech sector to the race to succeed Republican U.S. Rep. Bill Flores. But getting past the gravitational pull of a well-known primary contender could prove difficult for Hindman to enter the general election orbit.
Hindman, who most recently ran an against-all-odds campaign against a Democratic state Senator from Austin, faces a field of two other announced Republican candidates. The juggernaut in the primary field is Pete Sessions, the former 20-year Congressman from Dallas who grew up in Waco and graduated from Southwestern University in Georgetown within his new district of choice.
Session's career was cut short when the Democrats beat several "urban-suburb" Republicans in 2018. And this despite the strong support of President Donald Trump and his campaign PAC.
Congressman Flores decided to not seek another term over the summer, leaving Congressional District 17 wide open. Candidates so far include Hindman, Sessions, Marine veteran Trent Sutton, and possibly Wes Lloyd, a Waco lawyer.
From the hip: Flores previously told the Austin American-Statesman that Session entering the race was a "terrible idea. Period" — preferring instead existing talent in the district.
Whether that opinion sticks depends on who enters the race. Hindman is no stranger to this district, having ran in 2012 against Flores in the GOP primary. The Hindman-Flores primary race was reportedly contentious, so we do not predict Flores will endorse Hindman.
That said, Hindman's conservative stances are solid and will have no problems finding supporters and warm welcomes to candidate forums. But how many voters he can gather over an experienced and well-known opponent is the challenge.
As we previously reported, Sessions has two decades' worth of friends and allies to call in for his campaign. He raised $3 million from in and out of his Dallas district in 2016 and benefited from a fundraiser headed by Donald Trump Jr. An endorsement of Sessions by the President would be hard for anyone to overcome. With or without Trump, that's hard to beat.
Secondly, Hindman finished with 25% against Kirk Watson in his state Senate race in 2018, 7% in a nine-way race for Austin City Council District 1 in 2014, and 18.5% against incumbent Flores in 2012. That's not a track record that lends itself to a competitive candidacy. But that can change with the right consultants and behind-the-curtain supporters.
Sessions has a solid enough Republican caucus vote history (97% based on the latest data we could find). But Sessions has been rated a hit-or-miss on conservative efforts to reduce the size and scope of government (a 50% rating per Conservative Review seems to be the low point) — a point which Hindman could capitalize upon.
Three other points should be made to understand the dynamics of this emerging primary race:
Flores unseated longtime Central Texas Democratic Congressman Chet Edwards in 2010. It is not unrealistic to assume the Dems could re-take district with the correct candidate and campaign framework, but it will be an uphill battle for any Democrat as the current district favors a Republican. Robo-polls have reportedly tested a possible Edwards-Sessions general election showdown. Could Edwards be plotting a comeback? Possibly. Is it likely that national Democrats, hungry to flip Texas, are paving the way for a well-funded, noteworthy candidate to enter the race? That's an even greater possibility.
A 2018 Democrat challenger, software engineer Rick Kennedy, has filed for 2020. Flores beat Kennedy 57-41% in the previous election year. That's a comfortable lead, but that can be improved upon by a Democrat with more gravitas and momentum.
The fact remains that the GOP Primary could be expensive in Texas CD 17, and with movement conservatives such as Empower Texans already using flowery language to describe Hindman and discredit other GOP candidates, this race could consume the resources necessary to fend off a Democrat with better chances than Kennedy.
The filing deadline is Dec. 9, which is plenty of time for more candidates to enter the race but not much time to raise the funds to match Sessions.
Advertisement
Advertisement