Two Saturdays ago, Tulane University hosted a "Drag Brunch" event at the university's dining hall.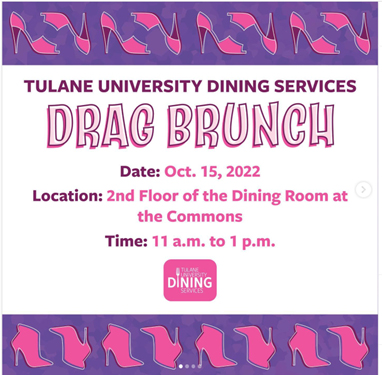 The stage names for the two drag queens who performers were "Laveau Contraire" and "Debbie with a D".
Ranked as one of the top universities in the country, Tulane is supposedly training and educating the future leaders in New Orleans and Louisiana. However, this university promoted and normalized the transgender agenda to impressionable young adults.
The photographs included in this article were obtained from an anonymous Tulane University student—who attended this event. Certainly, these photographs are disturbing to any reasonable person.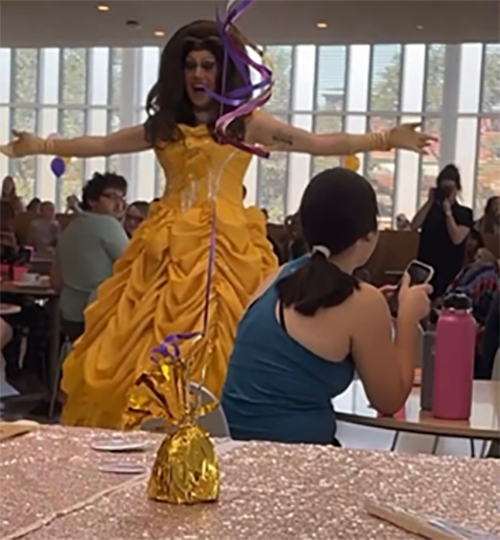 Think of this event in another way: grown men in dresses performed sexually provocative dance routines in front of highly impressionable 18, 19, and 20 year-old college students.
How can Tulane call itself a respectable university and spend university funds on reprehensible events such as a "Drag Brunch?"
Tulane's tuition for undergraduate students is over $60,000 per-year, and the university rakes in federal funding despite a nearly $1.5 billion endowment. So, Tulane's leaders must believe that hosting a "Drag Brunch" is a responsible use of tuition dollars/tax dollars.
Of course, Tulane students fear publicly dissenting against an event like this one due to the hostile climate on Tulane's campus. Earlier this year, Far-Left extremist students and professors protested and harassed members of the university's Turning Point USA club at a tabling event.
At this point it's clear the LGBT ideology has infected the Louisiana education system—in both public and private schools. This radical agenda is not just centered in Portland, Seattle, or San Francisco anymore. It is in our backyard now.
Will any of Louisiana's elected officials take steps to defend Conservative college students in Louisiana? I hope so because Louisiana politicians failed to protect Conservative college students against COVID-vaccine mandates last year.