If you are a Louisiana resident and you spend any time on the Internet, then you've probably heard of Olivia "Livvy" Dunne. Dunne is a member of the LSU gymnastics team and – apparently much more importantly – a social media celebrity. Her Tik Tok and Instagram accounts both have millions of followers, and Dunne receives plenty of attention online and in real-life events.
At an LSU gymnastics meet last month, a rowdy crowd of Livvy Dunne's teenage fans acted so obnoxiously that LSU decided to beef up security for its future meets. Apparently, these young boys brought signs and a full-size cutout to the meet and even started chanting "we want Livvy" before the meet began. Pretty cringe behavior if you ask me.
It didn't help the situation that Livvy egged on her teenage fanboys before the meet—as indicated by the photograph below.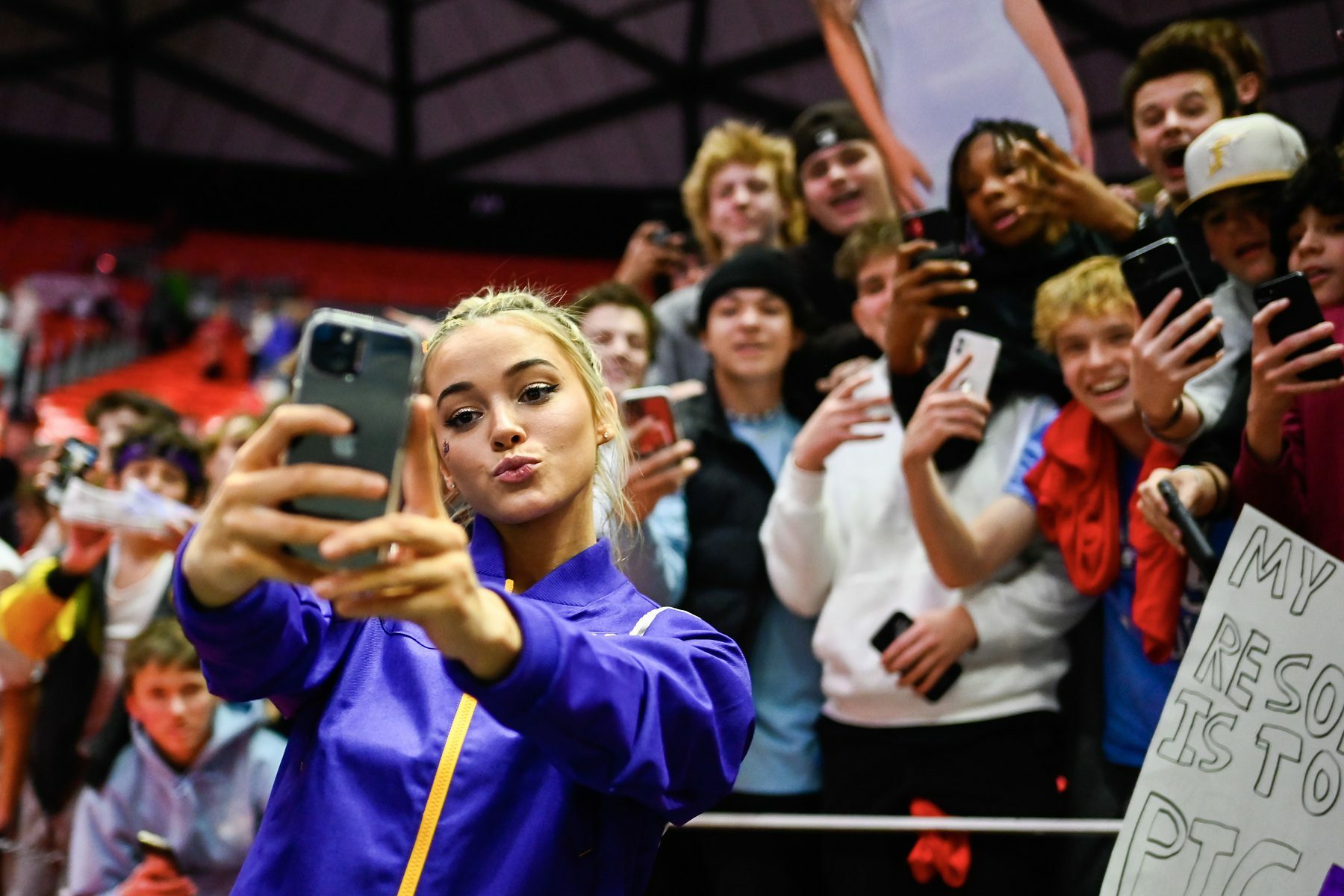 Personally, I didn't really know much about Dunne before this incident. So, I decided to see what all the hullabaloo was about.
After the raucous Utah meet, I came across this mind-blowing quote from Dunne in a recent interview:
"As a woman, you are not responsible for how a man looks at you and objectifies you. That's not a woman's responsibility,' she said. 
Seriously? The girl who posts provocative pictures of herself on social media is going to complain about "objectification?"
Give me a break. You don't get to monetize your own sexual objectification and then complain that you're a sex object.
What this comes down to is that Livvy Dunne represents so much of what is wrong with social media culture and our decadent society. An immature, attention-seeking young girl—who makes millions of dollars off the attention of adolescent boys—decides that she can completely wave off personal responsibility for her actions when negative consequences arise.
I'm sorry, but that is not how the real world works. It you're going to put yourself out there as a sex object, then at the very least you should own it and accept the full spectrum of what comes with it.
At this point, you may wonder what my grievances with Livvy Dunne are. So, here are my two primary issues with her that we will discuss:
She encourages young men to act like losers (i.e. "simps")
She is a poor role model for young women
To start, young men are not doing well these days. From record-low testosterone levels to pervasive addictions to drugs and porn, young men in America are failing to develop into the men that their fathers and grandfathers were. Instead of helping young men to grow into masculine roles that God created for them to fulfill, our society encourages men to live in a perpetual state of immaturity (i.e. a "man-child"). Dave Portnoy and his associates at Barstool Sports are the textbook embodiment of perpetual adolescence. A random scrolldown of that site today gives you this…
On a broader note, social media "influencers" like Lvivy Dunne exist as a means for our cultural, economic and political elite regime to perpetuate immaturity in young men. A dissatisfied yet intelligent/articulate mass of young men is a quick recipe to replace the current and highly-incompetent ruling class. So, giving young men diversions such as, in the modern day, alcohol, porn, and social media celebrities, is a time-tested way for the garbage elite to keep young men distracted as their nation and community crumbles.
Bread and circuses. Except the bread is full of adulterants that'll make you fat and unhealthy.
On the other hand, young men need take some personal accountability and stop fawning over Livvy Dunne. There is nothing more pathetic than putting a woman on a pedestal when you've never interacted with her. Especially when she's so obviously using you.
Back in the day, a young's man father would have never allowed his son to act like a complete loser in this regard. Where are these young men's fathers? If you're a father and your son "simps" over Livvy Dunne like the young guys at the Utah meet, then you've failed as a pater familias.
That kind of animalistic, low-self-respect behavior would be looked upon very severely in a healthy society. This is not how young men act when they're going to make something of their lives.
But her effect on young men isn't the worst of it.
Dunne's whole brand is to post suggestive photos and videos on social media and make a ton of money off men's attention to her. You get that, and it isn't something new. My grandfathers' generation used to gawk at posters on their walls featuring full-body shots of a scantily-clad (though never naked, because she refused to do it) Racquel Welch. Welch's name resurfaced in the news recently owing to her death at 82 last week.
But Racquel Welch wasn't just a model, she was an actress. She brought something to the table beyond just being a sex symbol.
Does Livvy Dunne?
Through her social media following and her NIL deals, Dunne claims to make over seven figures. That's right—we are talking about millions of dollars. Now, what kind of message does this activity send to young girls?
Here's a fair question: Is Livvy Dunne the kind of role model that young girls should model themselves after?
Because that's what she told the New York Post.
"I just want to be a role model to young girls," she said. "I want to set a good example, and I want to send out a message that we're more than just our sport. That's very important to me.
"I don't try to put any pressure on myself, and I don't try to compare myself to other people. I'm kind of just going with the flow, and it's very exciting.
"Right now it's all about trying to find a balance between school, social media and gymnastics. All them are top priorities in my life.
"I think it's really a special time right now with the NIL change, especially for women's sports because there's not a lot of professional leagues after college for women."
Dunne hasn't competed all year for LSU's gymnastics team due to a leg injury. Arguably, she's been more of a distraction than an asset this season, as the team has been up and down – though the No. 8 Lady Tiger gymnasts did beat No. 2 Florida last week with their highest score yet. So is that balance really there?
And is it attainable with nonstop TikTok videos in club dresses and underwear?
With millions of followers on social media, there's a good chance that Livvy Dunne is having an outsized influence on your daughter's/niece's/granddaughter's behavior and outlook. And based on her current track record, do we really think it's a good idea for young girls in Louisiana to look to Dunne as a model for what it means to be a virtuous woman? I don't think so.
Let's remember that there is only a tiny number of girls who'll be able to do what Livvy Dunne does. You have to look like Livvy Dunne to do it; otherwise, you'll be lucky to get thousands of followers rather than millions. So Dunne can only be a role model for other girls by doing and promoting things it doesn't require the same God-given attributes she has.
"Make yourself look like me in a bikini!" is not being a role model. To the contrary – not only does it make the younger generation coarser, it's also an invitation for disappointment and depression when her female fans realize they can never be her and conclude they're inferior as a result.
And we know that this is a real thing. Teen mental health in the United States has been declining for more than a decade, particularly among girls, and social media has been pegged as the prime reason. There is a growing body of research focusing on the negative effects of social media use on kids, and it's a well-reported link at this point between social media and adolescent mental health. The New York Times ran a story all the way back in 2018 to the effect that Silicon Valley executives see screen time and social media as "wreaking havoc" on children's development. And suicidal ideation and action among teenage girls is mushrooming.
No, that isn't all Livvy Dunne's fault. But she's perpetuating and promoting the use of a medium which is having a net negative effect on the lives of her fans and the people she says she wants to be a role model for, and what she's using that medium for is having a specific net negative effect. There is a lot of research out there showing that the sexualization of females on social media does a lot of harm to things like self-esteem and behavioral health.
And it doesn't have to go this way. Let's compare Livvy Dunne to another LSU female athlete from the 2000s: Mo Isom. Isom was a goalkeeper for the LSU women's soccer team from 2008-2011 and holds the LSU soccer record for wins and shutouts.
Mo Isom was a classy young woman who openly shared her faith in the Lord Jesus Christ and talked about how her Christian faith helped her overcome adversity throughout her life. Here is a quote from Mo in a 2011 profile from Sports Illustrated:  "After everything that's happened in my life God has never stopped carrying me."
Besides her athletic success, Mo Isom became an internet sensation for her YouTube video series called "Meaux versus." In this video series, Mo Isom would compete against fellow LSU athletes in a series of skill/trick shot competitions. This good-natured internet content from a decade ago is a far cry from the garbage that young Americans now see on social media—particularly Tik Tok.
Aren't you tired of hearing about Livvy Dunne's shenanigans at LSU? It's embarrassing that one of Louisiana's most famous people is an immature college athlete who seeks male validation. Young people in Louisiana deserve better role models than our current crop of politicians, athletes, and civic leaders.
Now you know why I am done with Livvy Dunne. Here's hoping she sees the light and does better.
Advertisement
Advertisement