by Joyce Linde
As a member of the "WHO DAT NATION," it is impossible not to get caught up in the exuberance of the Saints victory that earned the long-awaited prize to the Super Bowl.
The Saints are more than a team. Since Katrina; they have symbolically carried the hopes and dreams of the people of Louisiana as they struggled toward this victory. Their success heals us after being wounded by images of suffering that we witnessed in the Superdome.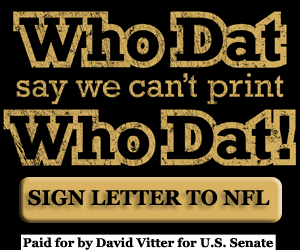 The Tea Parties have much in common with the Saints since both have been underdogs. We have been silent as our elected officials violated our trust and penalized those of us who play by the rules. This movement has energized and renewed our interest in insuring that future generations will enjoy the same spirit of freedom and the fruits of their labor that were passed to us. It is a victory for all of us that the Saints have earned the right to be in the Super Bowl and that we have the courage to be Silent No More!
In the beginning, the Tea Parties were belittled, ignored and considered extremists by the present administration. Like the Saints fans who at one time wore bags over their heads, we were reticent to speak out about our beliefs and of the growing mistrust of the men and women who represented us in Washington. However, recently there have been important victories that reflect upon the growing influence of the Tea Parties, such as the Republican Scott Brown winning the "Peoples' Seat" in the democratic stronghold of Massachusetts. For us, this is even more exciting than when the Saints kicked the field goal in overtime during the Vikings game that was their ticket to the Super Bowl.
Because of the growing respect for the TEA party, the score of the game is changing and the American people are striving to bring their country back to the great land of liberty and freedom that was the intent of our founding fathers.
The question is: "WHO DAT GONNA BEAT DEM TEA PARTIES?"
Joyce Linde, TEA Party of Lafayette
www.teapartyoflafayette.com
Advertisement
Advertisement