Scorecard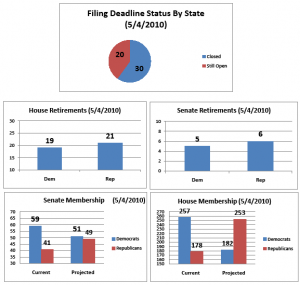 Elections Calendar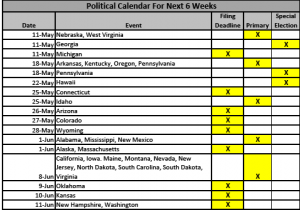 Latest News – Filing Deadlines
There will be no filing deadlines until May 11, when filing ends in Michigan. This means that currently the partisan composition has been set in 30 seats (26 GOP held seats and 4 Democratic held seats). We also know that because filing has closed in 30 states, we know who the Congressional candidates are in 302 out of 435 House races and 20 out of 36 Senate races. After Michigan's filing deadline passes, four more states see their Congressional filing close in rapid succession: Connecticut (May 25), Arizona (May 26), Colorado (May 27), and Wyoming (May 28). So by the end of next month, we will know who the candidates are in 338 House races (out of 435) and 20 Senate races (out of 36).
Latest News – Retirements
There have been no announced retirements since Ginny Brown-Waite's last minute retirement last week. We are still keeping an eye on Michael Arcuri (D-New York), but we may not know anything definitive until July 15, which is the filing deadline for New York.
Latest News – Primaries in Indiana, North Carolina, and Ohio
Three states held primaries tonight: Ohio, Indiana, and North Carolina. Over the next six weeks, there will be 20 additional primaries, 3 special Congressional elections, and 11 filing deadlines. What did tonight's elections tell us? By and large, incumbents of either party were renominated with comfortable margins (including former Senator Dan Coats winning the GOP nomination for the seat he once held until 1998 in Indiana), with two incumbent Republican Congressmen from Indiana being the exception to the rule. One incumbent (Dan Burton) had been in electoral trouble before in the 2008 Republican primary. The other incumbent (Mark Souder) had a "Yes" vote on TARP on his record. In fact, from what we've seen tonight and in Texas on March 4, Republican incumbents can survive their primaries with little incident provided that they don't have a "Yes" vote on TARP to defend. Senator Kay Bailey Hutchison found this out the hard way in the GOP primary in Texas. And Robert Bennett (R-Utah), who also voted "Yes" on TARP, will find out this weekend if he will even he placed on the GOP primary ballot for his own seat.
Next week, Nebraska and West Virginia hold their primaries. We're particularly interested in the Democratic primary in one of the West Virginia House districts, where a Democratic challenger to a 28 year incumbent has declared his intentions to vote against Nancy Pelosi for Speaker. The real action, however, will be on May 18, when Arkansas, Kentucky, and Pennsylvania's primaries involve more ideologically pure candidates of both parties' (Republican in Kentucky; Democrat in Arkansas and Pennsylvania) running against more establishment oriented candidates.
Latest News – Upcoming Special Elections
Upcoming special elections will also be a good early test of Democratic/Republican voter intensity. The May 18 special election in rural/blue collar southwestern Pennsylvania to replace the late John Murtha (D-Pennsylvania) in a 49% McCain (but 51% John Kerry) district will be the first test. In last week's analysis we noted that Republican Tim Burns had a 46-40% poll lead according to a poll commissioned by the liberal Daily Kos blog. Since then, a Democratic pollster released a poll showing the Democrat with a 43-41% lead And while the Democrats are relying on Joe Biden for "star power", the Republicans will be bringing in Scott Brown (the upset GOP winner for Teddy Kennedy's vacated Senate seat) for  two events prior to the election.
Over in Hawaii, a "winner take all" mail in election us now in progress and will culminate on May 22 between a Republican against two major Democratic opponents (technically, 14 candidates are running). One of the Democrats is a white male (and former Congressman) named Ed Case who is supported by both the Washington Democratic political establishment and the Honolulu newspaper. The other Democrat, Colleen Hanabusa, is an Asian-American legislator with staunch support of the Hawaii Democratic establishment and local unions. A recent poll taken by the Honolulu Advertiser shows the Republican Djou with a 36-38% lead over Democrat Ed Case (Hanabusa ran third with 22%). Recently, the Democrats have stepped up their efforts by getting Barack Obama to record a "robocall" urging people to vote for the Democrat – without specifying WHICH Democrat he wants them to support. At the same time, Washington Democrats are stepping up their efforts to get Senator Hanbusa to resign, because of their belief that Ed Case is "more electable."
John is a political consultant and blogger with JMC Enterprises with expertise in poll sample development and analysis, development of targeted voter files for phone canvassing or mail outs, campaign strategy and demographic consulting, among other things. See his site at WinWithJMC.com for more information.
Advertisement
Advertisement