Tonight, special election runoffs were held in two state House districts in Baton Rouge and one in New Orleans. In both of these all Democratic runoffs, the more moderate/less controversial candidate won.
State House Runoffs – District 63 in Baton Rouge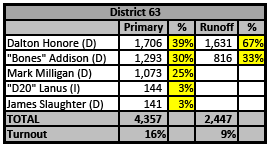 The death of Avon Honey back in February required a May 1 special election in House District 63 (which encompasses the Scotlandville and Baker portions of East Baton Rouge Parish). Five candidates (four Democrats and an Independent) ran in this 84% black district that saw 16% voter turnout in the primary. Former Sheriff's deputy Dalton Honore led the primary field with 39% of the vote, while Metro Council member "Bones" Addison finished second with 30% of the vote.
In the runoff, turnout declined from 16 to 9%, and Honore won by a landslide margin of 67-33%, essentially getting the same vote he had in the primary, while Addison got about 1/3 less votes in the runoff than he had in the primary. This was Mayor Kip Holden's old House seat, and it probably didn't help matters that Councilman Addison was a frequent critic of the Mayor on the Metrocouncil.
State House Runoffs – District 93 in New Orleans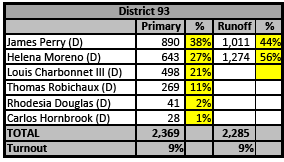 In New Orleans, Karen Carter Peterson's recent election to the state Senate created a vacancy in House District 93, which includes a mixture of upper and lower income neighborhoods in and around downtown New Orleans (including the French Quarter).  Six Democrats competed in this race in this 51% black district (significantly down from 57% when the district lines were last drawn a decade ago) that saw 9% voter turnout (13% in predominately white precincts; 6% in predominately black precincts). Community activist James Perry finished first with 38%, while former newscaster Helena Moreno finished second with 27% of the vote. In the primary, Perry's nearly identical showings in the black and white precincts led us to believe that he was in a strong electoral position in the runoff. It didn't hurt that he had the endorsement of former representative Peterson.
 All of that changed in the runoff, as Moreno recently released documents showing Perry with numerous parking and traffic violations, including driving without insurance and a valid driver's license. Perry retaliated by bringing up an accident in which Moreno was involved, with allegations of her receiving preferential treatment.  
In the end, Moreno won a comfortable 56-44% victory over Perry. The parking allegations clearly hurt Perry. Interestingly, in precincts where 80% or more of the registered voters are black, turnout increased 2% from the primary, and Perry increased his lead from 35-10% over Moreno to 76-24%, despite the fact that the third place finisher endorsed Moreno. However, in the precincts that were less than 20% black, their turnout decreased 7% between the primary and runoff, but Perry's respectable 35% (compared to Moreno's 38%) primary showing plunged to 20% in the runoff against Moreno. 
All in all, not only was Moreno's support in the white precincts more one sided than Perry's support was in the black precincts, since the primary electorate (not much changed in the runoff) was 61-35% white,  this racially polarized voting prevented Perry from winning.
What is interesting about the result is that in racially mixed Council and legislative districts in New Orleans, white candidates have recently become electorally viable again. It'll be interesting to see whether this trend continues after next year's reapportionment.
John is a political consultant and blogger with JMC Enterprises with expertise in poll sample development and analysis, development of targeted voter files for phone canvassing or mail outs, campaign strategy and demographic consulting, among other things. See his site at WinWithJMC.com for more information.
Advertisement
Advertisement