Scorecard –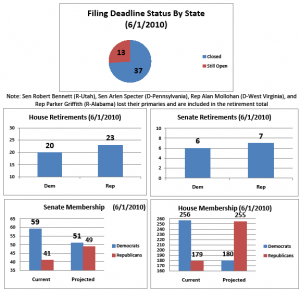 Elections Calendar –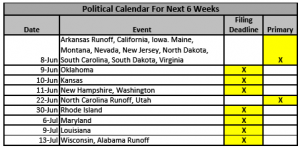 Latest News – Filing Deadlines
Today, Congressional filing closed in Massachusetts and Alaska. There were no last minute retirements, and Massachusetts Democrat Mike Capuano didn't get a Republican opponent in his 85% Obama district. This means that so far candidate filing has concluded in 37 states containing 349 (out of 435) House races and 24 (out of 36) Senate races this fall. We also know at this point that 32 incumbents (27 Republicans and 5 Democrats) will not face major party opposition.
Next week, filing closes in Oklahoma, Kansas, New Hampshire, and Washington. After that, it will be relatively quiet on the Congressional filing front until Rhode Island's June 30 filing deadline. The remaining eight states will see their Congressional filings conclude in July; in fact, July 7-9 will be the filing window in Louisiana for federal and local offices.
Latest News – Retirements
There have been no recent retirements since Mark Souder's abrupt retirement announcement on May 18. So far, 43 House members (23 Republicans and 20 Democrats) are retiring, while 13 Senators (7 Republicans and 6 Democrats) are retiring. This number is actually not that much different than the 1994 totals, when 51 House members (30 Democrats and 21 Republicans) and 9 Senators (6 Democrats and 3 Republicans) retired in that election cycle. The reason we are comparing these totals are because the 1994 GOP landslide was aided by the volume of Democratic retirements that year.
Latest News – Primaries
This past Tuesday, three more states (Alabama, Mississippi, and New Mexico) held primaries – overall, 15 states have held primaries so far. In Alabama, primary voters in both parties punished two incumbent House members. African-American Congressman Artur Davis sought the Democratic nomination for Governor, and in doing so, he attempted to move to the center by voting against healthcare reform. This move, however, cost him with the Democratic base, and he only received 37% of the Democratic primary vote against a more populist challenger.
Even more humiliating was freshman Congressman Parker Griffith's becoming the 4th incumbent to lose in the primary. Though narrowly elected as a Democrat in a 61% McCain district, Rep Griffith compiled a conservative voting record and even expressed doubts about voting again for Nancy Pelosi for speaker. So it was not a real surprise when he eventually became a Republican; however, grassroots Republicans had little enthusiasm over his party switch. His collection of endorsements from House Republicans, the Minutemen, and the NRA was more than matched by his two primary opponents' garnering the support of Tea Partiers and local Republicans, and in the end, Rep Griffith received only 33% of the primary vote to his opponent's 51% in yet another "David vs Goliath" contest.
Voters in northern Mississippi were similarly unimpressed with the star power of FOX news commentator Angela McGlowan. She received only 15% of the vote in the GOP primary, while state Senator Alan Nunnelee (whom McGlowan continually labeled as a "RINO") won in the first primary with 52% of the vote.
Next Tuesday will be one of two remaining "Super Tuesday" primaries (the other will be on September 14). 10 states (California, Iowa.  Maine, Montana, Nevada, New Jersey, North Dakota, South Carolina, South Dakota, and Virginia) hold primaries, one state (Arkansas) has a runoff, and one state (Georgia) has an all Republican Congressional special election. It is possible that an incumbent Senator (Democrat Blanche Lincoln of Arkansas) and an incumbent Governor (Republican Jim Gibbons of Nevada) may be the latest casualties of anti-incumbent sentiment. In fact, Senator Lincoln was quoted today as saying that "I'd rather lose this election fighting for what's right than win by turning my back on Arkansas."  
After "Super Tuesday", the political front will be quiet for two weeks. On June 22, North Carolina will hold its runoff elections (Democrats will ultimately choose its Senate nominee on that day), while Utah will conduct its primary. Republicans have a Senate primary to decide the GOP nominee to replace defeated 18 year incumbent Bob Bennett. In Salt Lake City, the state's lone Democratic House member (Jim Matheson) faces primary opposition over his "No" vote on healthcare reform and may possibly be the 5th or the 6th incumbent (depending on the outcome of the Arkansas Senate runoff) to be defeated.
John is a political consultant and blogger with JMC Enterprises with expertise in poll sample development and analysis, development of targeted voter files for phone canvassing or mail outs, campaign strategy and demographic consulting, among other things. See his site at WinWithJMC.com for more information.
Advertisement
Advertisement