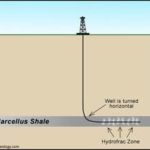 They've finally done it.  Environmental activists in New York State have succeeded in putting a halt to hydraulic fracturing to harvest natural gas from shale formations in the state.  The New York State Senate voted 48 to 9 on Tuesday night to halt the process until May 15, 2011 out of concerns over groundwater contamination.  Though it won't become law until the State Assembly passes similar legislation, which they won't consider until next month, this represents a major threat to an old and proven technique to recover this clean burning fossil fuel.
New York, Pennsylvania and West Virginia sit on top of the Marcellus Shale, one of the largest natural gas bearing shale formations yet discovered.  Exploration companies have begun purchasing leases in all three states, and these states are poised to reap benefits similar to those being seen from the Haynesville Shale formation in north Louisiana and the Barnett Shale formation in Texas.  Now, New York's environmental activists have put their share on hold because of unsubstantiated concerns about groundwater contamination.
From the New York Times:
"This is the first action in the country to put the brakes on this type of drilling to give New York the time we need to assess the risks if we're going to move forward responsibly," said Katherine Nadeau, a program director with Environmental Advocates of New York.
We can only hope, skeptically, that it's the last.
Hydraulic fracturing was developed in the late 1940's, was first used commercially in 1949, and never has there been substantiated evidence of groundwater contamination resulting from its use.  As The Washington Examiner explains it,
In hydraulic fracturing, water is mixed with ordinary playground sand and various chemicals that are less than 0.5 percent of the total volume. The mixture is then injected under high pressure deep into the ground, where it cracks open shale formations and releases clean-burning natural gas. 
When the water is removed, it is generally trucked away to be disposed of via waste water treatment plants in accordance with state regulations.
Environmental activists have been challenging the use of hydraulic fracturing for years, and though states have been successfully monitoring and regulating the process since shortly after its inception, the federal government decided to take a look in 2004.  Their conclusion, as summarized by James M. Taylor of the Heartland Institute, was
Responding to environmental activist concerns, EPA spent four years studying the issue and produced a final report in 2004. While investigating the issue, EPA requested information from 500 local and county agencies, interviewed officials from 50 such agencies, and interviewed and considered data from 40 environmental activist groups which had alleged drinking water contamination. At the conclusion of the four-year investigation, EPA reported hydraulic fracturing "poses little or no threat to underground sources of drinking water and does not justify additional study at this time."
The results of EPA's 2004 study did not surprise many objective analysts, as the Clinton administration had concluded the same thing in 1995. Clinton EPA administrator Carol Browner reported "no evidence that hydraulic fracturing resulted in any drinking water contamination."
This was not the conclusion the environmental left was looking for, and they have been hammering away at it ever since, finally gaining the attention of Henry Waxman and the Obama EPA, who continue, thus far with little success, to bring regulation of fracturing under the jurisdiction of that federal agency.  Now it seems that the New York State Senate has cracked open the door for yet more investigation into the process.  And they're proud of their accomplishment (again quoting the New York Times).
"Speaker Quinn and I urge the Assembly to follow the lead of the Senate and for Governor Paterson to sign this historic first-in-the-nation hydraulic fracturing moratorium bill," he (Councilman James F. Gennaro, head of the City Council's environmental protection committee) said, referring to Christine C. Quinn, the City Council speaker.
And should they not be?  By their actions, residents of New York can look forward to continuing to pay among the highest taxes in the nation, while residents of Pennsylvania and West Virginia begin realizing the revenue stream that natural gas production will bring.
The New York Times did quote a comment along those lines from the Executive Director of the Independent Oil and Gas Association of New York, Brad Gill, who said that
the moratorium is delaying the jobs, tax revenue and other benefits the state would attract with more drilling. "We have companies that want to come to New York, but in this regulatory and legislative climate and instability they're going to Pennsylvania," he said. "We're just losing out on this economic opportunity."
Welcome to our world, Mr. Gill.  Rather than enjoying the benefits that north Louisiana is receiving because of using hydraulic fracturing to harvest the natural gas in the Haynesville Shale, New Yorkers will suffer the consequences of an ideological moratorium such as south Louisiana is suffering, for naught.
(Hat tip:Oscar)
Advertisement
Advertisement