Last night, both Louisiana and West Virginia conducted their Congressional primaries. Though the Louisiana Congressional primary was a very low turnout affair (7% overall turnout, with 13% on the GOP side and 5% on the Democratic/Independent side), there are several items which are worth mentioning:
Any talk about David Vitter's vulnerability in a primary or general election is just that – talk. He received a whopping 88% of the vote against two primary opponents (one of whom, Chet Traylor, initially got plenty of favorable press time to promote his candidacy), with at least 66% of the vote in each parish.
If anything, Charlie Melancon ought to be more concerned. His two opponents were even less known to Democratic/Independent voters than Vitter's opponents,  yet he only received 71% of the vote. More revealing is the distribution of that vote – while his highest percentages were in parishes with a large black population and/or his own Congressional district, his performance in several rural parishes was downright embarrassing. In fact, in five rural north Louisiana parishes, he received less than 50% of the vote.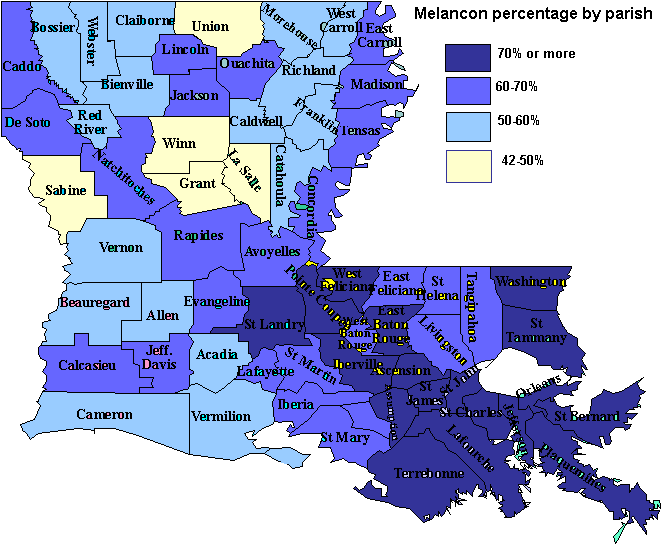 Republican enthusiasm was present at the polls today, just like it was for early voting. Though only 26% of the voters are registered Republican, Republican turnout was 2.5 times that of Democratic/Independent turnout (Independents can only vote in Democratic primaries), which resulted in 47% of the vote being cast in the Republican primary.
Congressional primaries, with one major exception, were uneventful. Five Republican Congressmen (Steve Scalise of Metairie, "Joseph" Cao of New Orleans, John Fleming of Minden, Bill Cassidy of Baton Rouge, and Charles Boustany of Lafayette) received no primary opposition. Six year incumbent Rodney Alexander dispatched his primary opponent with 89% of the vote (he received at least 79% of the vote in each parish), which is identical to the 90% of the vote he received in the Republican primary two years ago.
On the Democratic side, both contested primaries ended up being settled tonight. In New Orleans, state representative Cedric Richmond won his primary with 60% of the vote against three opponents – it didn't hurt that he had the Landrieu endorsement. Up in northwest Louisiana, Methodist minister David Melville won his primary with 81% of the vote.
(UPDATED 8/31 AM) The one primary which was bitterly contested, and will go into a runoff, was the Republican primary for Charlie Melancon's vacated House seat, which stretches from Chalmette to New Iberia as far north as Gonzales. Former House Speaker (and former Democrat) Hunt Downer started off the heavy favorite, but made a critical error near the end of the campaign: he backed out of a candidate debate sponsored by the Baton Rouge Tea Party – to attend a fundraiser. This cancellation enraged Tea Party activists, who immediately began blasting Downer for this, for his legislative voting record, and the fact that he had served in the (Democratic) Blanco administration. While attorney Jeff Landry benefitted from this "establishment vs insurgent" matchup, engineer Kristian Magar also made a respectable showing, with a considerable assist from Tea Party activists through energetic use of social networking sites like Facebook.  In the end, Landry received 49.6% of the vote, compared to 36% for Downer and 14% for Magar. Will there be a runoff ? In addition to the fact that Landry was about 100 votes short of winning outright, the distribution of the vote should give Downer pause while he ponders whether it is worth the time and expense to contest the runoff. Basically, Downer was a "one parish candidate" –though he carried his home parish of Terrebonne with a very respectable 64% of the vote (versus Landry's 26% and Magar's 10%), he lost every other parish to Landry. In fact, outside of Terrebonne, 59% of the Republican vote went to Landry, while Downer received 25% and Magar received 16% – it's important to note that both Landry and Magar shared an Iberia Parish voting base. Curiously, the absentee vote (which made up 17% of the total) went 52-40% for Landry, while those who voted on Election day gave Landry 49%, Downer 35%, and Magar 16%.
(UPDATED 8/31 AM) In addition to the Republican runoff for the 3rd Congressional district, the "everything else" primary is in five weeks on Saturday, October 2. While the Lieutenant Governor's race at the top of the ticket, there is also a myriad of judgeship races and municipal/school board races. The deadline to register to vote in this election is Wednesday, September 1. Early voting will be from September 18 to 25, and the deadline to mail in a ballot (that is, if the voter will be unable to make it to the polls on Election Day) is Friday, October 1.
Finally, West Virginia is having a special election this November to fill the seat of the late senator Robert Byrd. The primry to choose party nominees was held tonight, but was relatively uneventful. Governor Joe Manchin received 73% of the Democratic primary vote, while mining company owner John Raese (who has run several times before statewide and lost) received 71% of the vote in the Republican primary.
John is a political consultant and blogger with JMC Enterprises with expertise in poll sample development and analysis, development of targeted voter files for phone canvassing or mail outs, campaign strategy and demographic consulting, among other things. See his site at WinWithJMC.com for more information.
Advertisement
Advertisement