Battle lines continue to be drawn as war, in the form of heated debate, continues over the harvesting of energy resources and its effect on the environment.  In the east, home to the Marcellus shale and West Virginia coal, the EPA can't wait to be afforded new regulatory opportunities with which to further burden industry, such as carbon emission limits on coal power plants or severely restricted hydraulic fracturing to recover natural gas from shale.  But in the west, where the Eagle Ford shale is creating wealth "over night," landowners can't wait to lease their land to exploration and production companies.
Where do the differences lie?  They lie in misinformation, emotional opinion, and a normal human desire for financial freedom.  They lie, to paraphrase an old expression, in the phenomenon that money talks, and male bovine excrement morphs into liberal activists.
Several months ago we reported that the New York Senate had voted to impose a moratorium on hydraulic fracturing due to fears of groundwater contamination – see here and here.  While the State Assembly has yet to ratify the moratorium, it and the sentiment fostering it are playing a major role in the politics of local and state races to be determined on November 2. 
All three candidates for New York AG have spoken in favor of some form of moratorium.  In Pennsylvania, Democratic candidate Joe Sestak has spoken against fracturing, while Democrat Governor Ed Rendell can't lease state lands fast enough, all the while hoping to enact a state severance tax to increase Pennsylvania's revenue stream from shale gas production in his state.
In many ways, issues over fracturing have become a battle that pits neighbor against neighbor and urban populations against their rural counterparts.  Neighbors who own mineral rights support fracturing, while those who don't are more inclined to listen to environmentalist's arguments regarding groundwater contamination.  Cities, where immediate benefits will be limited to an eventual reduction in energy costs, join the environmental sect, while rural areas (where urban water comes from) are hopeful of seeing an influx of cash, job creation, and an end to their economic blight.  These battles remain founded in emotion, as neither side will bother to study the historically significant fact that hydraulic fracturing is a technology over fifty years old with no proven detrimental impact on groundwater aquifers.
Meanwhile down in West Virginia, the Sierra Club is praising Lisa Jackson and her EPA for recommending the withdrawal of permits to mine for coal in the Appalachian Mountains, another poor rural area that could use an influx of jobs and cash.
In response Sierra Club Executive Director Michael Brune issued the following statement:
"The Sierra Club praises the EPA, Lisa Jackson and Regional Administrator Shawn Garvin for staring down Big Coal and industry lobbyists and doing what's right for Appalachians and hardworking Americans everywhere. This mother of all mountaintop removal coal mines would destroy thousands of acres of land, bury seven miles of streams and end a way of life for too many Appalachian families.
Continuing,
"In the face of alarmists trying to turn the EPA into this year's version of 'death panels' — wrongly attacking EPA for fulfilling its mission of protecting the public — today's recommended veto of the Spruce Mine permit shows that the Obama administration is adhering to science and the rule of law and is listening to the people of Appalachia. We urge EPA Administrator Lisa Jackson to take final action to prohibit this mine. In addition, it's time for the Obama administration to fix the rules to put clear, permanent solutions in place to protect Appalachia from irresponsible mining and to accelerate America's transition from coal to clean energy."
"End a way of life," indeed.  A way of life personified by Jed Clampett and Granny before oil brought wealth and independence to those "Beverly Hillbillies."  We suspect it's a way of life most living it would welcome seeing terminated.
Ironically, it might not matter.  As the Wall Street Journal recently reported, power companies are moving away from coal toward natural gas at an escalating rate, as confidence in plentiful and less expensive sources of this clean hydrocarbon energy source grows.  The value of the Marcellus shale alone has been estimated to be as much as $2trillion.
That kind of money talks.  Politicians like Ed Rendell are listening, and others will begin to as well, especially with the groundswell of conservative viewpoints about to be unleashed across this country.
Farther east, over in Europe, they're freakin' for another reason.  Rather than impose a moratorium on deep water oil exploration, the European Union has enacted a more common sense approach of stricter safety standards for drilling, and harsher financial penalties in the event of a spill.  They're freakin' not because of continued drilling, but because they have suddenly found themselves in a more conservative position than Obama's view for America.  The European Union is thus swimming in unfamiliar, uncharted waters.
With all the nay saying along our east coast, one would think that shale plays elsewhere in the country would be experiencing similar negative protests.  Nope.  Haynesville and Barnett are providing an abundance of natural gas and jobs to produce it, while the Eagle Ford shale in southwest Texas has resulted in land owners finding themselves suddenly experiencing financial security and independence, innkeepers experiencing bookings at capacity as landmen and energy company workers fill their hotels to compete for leases, and entrepreneurs opening motor home parks to absorb the overflow.
Natural gas has the potential to completely reshape world politics.  As such, the status quo is fighting its growth at every turn.  It's a fight they need to lose in order for this nation and others to continue working toward energy independence.  It's a fight they are destined to lose, starting on November 2.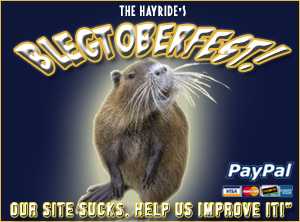 Advertisement
Advertisement