Yesterday, a "suspicious device" was found near Lake Charles in the close proximity to PPG Industries.  Here is the report:
LAKE CHARLES, LA (KPLC) – Authorities with Louisiana State Police dispatched their hazardous materials unit to Gulf Highway and East Lincoln in Lake Charles on Wednesday morning in response to a suspicious device found on the side of the road.

The suspicious device was found on the side of Gulf Highway near Lincoln Road south of the Lake Charles Regional Airport. The device, which was found near a natural gas pipeline, has been neutralized by the hazmat unit.

A perimeter remains in place as crews remain in the area looking for any possible secondary devices as well as any evidence.

Traffic was diverted for a while, but all roads have now been re-opened to traffic.

If this hazard is part of Greenpeace environmental protests, it would not be the first time they have struck the Lake Charles area.  In November of 2000, ten Greenpeace protesters were arrested for "chaining themselves to a school bus and a motor coach" to block railroads leading into PPG Industries. 
Greenpeace has conducted two investigations into the vinyl industry's production of illegal pollutants.  Sort of paradoxically, these investigations used methods of suspect legality.  Here is a description of their methods:
All told, Greenpeace took 27 waste samples from nine vinyl plants in Louisiana and Texas: 25 in the first phase and two in the second phase. Greenpeace members obtained these samples by entering vinyl factories under the cover of darkness and in full protective gear, and by following accepted occupational safety and health guidelines and sampling procedures.
Ok.  They "obtained these samples under the cover of darkness."  Sounds like breaking and entering to me.  Not to mention theft.  But at least they followed standardized safety guidelines……
The first instance of trespassing and theft occurred in 1994.  The most prominent strikes occurred at Vulcan Chemicals in Geismar and Georgia Gulf in Plaquemine.  "Significant" levels of toxins were found in 4 of the 22 targeted industries, and "dioxin indicators were found in 21 all 21 remaining samples."  Apparently, these results were actually noteworthy to Greenpeace, even though only 4 samples contained any measurable level of illegal pollutants.  The "dioxin indicators" referred to are supposedly chemicals that are often present when pollutants exist.  Maybe that is solid evidence for Greenpeace, but I'm going to have to politely call B.S.
Regardless, another "study" was conducted in 1996, including similar "methods," targeting PPG Industries near Lake Charles.  This time they singled out PPG Industries and Borden Chemicals, Geismar.  Greenpeace indicated in their report that the levels of dioxins in each location were relatively low.  However, they tried hard to prove the levels were significant based on certain environmental variables and scientific jargon.  Something about "high end"  and "low end" wastes blah, blah, blah…
But in both cases, Greenpeace admitted to finding very low levels of dioxins:
PPG Industries: The dioxin concentration in the sample taken from PPG Chemicals is lower because the "heavy end" waste had been mixed and diluted with soil. Again, this waste was destined for an incinerator.

Borden Chemicals:Compared with dioxin concentrations Greenpeace found in "heavy end" wastes, 36 ppb sounds relatively low. However, given the toxicity of dioxin, this concentration is significant. In addition, the sample was taken from a type of waste commonly referred to as "light ends" that is produced in vast quantities. Thousands of tons of dioxin contaminated "light ends" are produced each year, and most, if not all, are burned in incinerators.
So, even if you throw out the illegal methodology of this study, the results are inconclusive and questionable at best.  Regardless, the legitimacy of these investigations is further marred by this bizarre statement of purpose:
Vinyl production is a case study in environmental racism and injustice. The U.S. is home to 15 plants that make vinyl chloride monomer (VCM) and ethylene dichloride (EDC), the basic building blocks used to make vinyl, and 14 of them are in Louisiana and Texas. (Appendix 2 lists the locations of these plants.) Vinyl production in these states is confined primarily to low-income and African American communities, resulting in a disproportionate amount of the vinyl industry's toxic burden being dumped on these communities. Likewise, a disproportionately high number of the incinerators in which discarded PVC products are burned are located in low-income communities and communities of color.
Apparently producing vinyl is racist.  Fairly ridiculous if you ask me.  Combine the purpose of this study with illegal methods and inconclusive results and all you really get is a bizzare organization with a left-wing agenda and way too much time on their hands.
Given the history of Greenpeace activists in the Lake Charles area it really wouldn't be surprising to see the newest story on environmental toxins linked to the left-wing group.  Greenpeace is ridiculously hypocritical. They claim to work for the betterment of environmental health, and then they carry out protest activities that are not only dangerous to the environment, but dangerous human beings.  Great.  Just get out of Louisiana, please.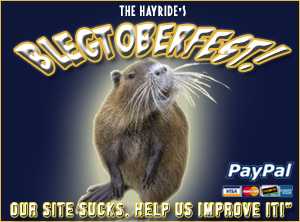 Advertisement
Advertisement