Failed mayoral and state representative candidate James Perry is in the midst of pushing a left-wing lawsuit through the federal court system against the Road Home fund created to assist victims of Hurricane Katrina.
Perry is notorious for his suspect character, organizational affiliations, and reputation for engaging in dirty political campaigns.  A self-proclaimed "housing activist," Perry currently holds the job as the Executive Director of the Greater New Orleans Housing Action Center.  He has held this position throughout his campaigns for New Orleans mayor and state representative.  His political philosophy is largely based on leftist views of fair housing as described in a previous Hayride article:


The images of Katrina gave the Democrats a voice against President George W. Bush they wouldn't otherwise have had, and because of that fact it's incumbent upon President Obama to repay the city by pushing legislation which would promote affordable housing in New Orleans, among other things.
Perhaps the most notorious of his attempts to push his agenda on housing was his effort in 2006 to protest the demolition of the Saint Bernard Housing Projects.  It was a protest that very nearly resulted in riots in the New Orleans city hall.  His protests also led to lawsuits filed by his organization to perpetuate the construction of multi-family homes in St. Bernard Parish on the grounds that prevention of this development was "racist." 
He also was at one time connected with the Iron Rail Book Collective in efforts to reestablish Charity Hospital in New Orleans.  The Iron Rail is an anarchist group that has been the subject of several Hayride articles, most recently implicated in inciting higher-education budget cut protests.
Perry's newest effort at proving the existence of racism and inequality in Louisiana comes in the form of a lawsuit against Road Home relief funding.  He is merely the latest left-winger to bring grievences before the court system, and his argument is the same as those activists who came before him:
For years, fair housing advocates have complained that the Road Home's use of home values to calculate grants amounts to racial discrimination because it means families in economically depressed neighborhoods, which are typically majority-black, get less money to repair their homes than someone with an identical house in an area where values have appreciated.
In August, U.S. District Judge Henry Kennedy said the process was "likely discriminatory."  His ruling mandated that grants ceace to be paid based on pre-storm value but did not order Louisiana to retroactively correct the grant process.  However, in late September an appeals court took the extra step in ordering Louisiana to set aside money to assist the families that were "discriminated" against prior to Kennedy's ruling.  Perry chimed in on the new ruling:
"The appellate court ruling means there is a strong possibility that Judge Kennedy will be able to direct the state to award additional money to people who have already received Road Home grants based on pre-storm value," said James Perry, president of the Greater New Orleans Fair Housing Action Center, one of the plaintiffs in the discrimination lawsuit. "We're hopeful it will make clear that additional compensation should be based on cost of repairs, rather than on pre-storm value."
That's all great except for the fact that the process was not discriminatory in the first place, and our state does not have the money to pay off these grants retroactively.
The Times Picayune addressed the issue of state funding:
While the suit alleges racial discrimination under the federal Fair Housing Act, homeowners of all races who got shortchanged stand to receive more money if the advocates get what they want. And if they do, the state will have to figure out how to pay them. State officials estimate that if all 25,000 homeowners were paid the balance of what they would have gotten if their grants had been based on standard damages, it would cost $1.2 billion.

The Road Home program has $748 million unspent in its budget, enough to pay each of the affected families about $30,000. But only about $150 million of that isn't tied up in specific contracts.
Cathleen Blanco, architect of the Road Home, made some head-scratching comments about the suit:
"We can view this as a living program that can still be modified," said Blanco, who left office in January 2008, leaving the program to Gov. Bobby Jindal's administration. "The challenge is to figure out which properties and which families are still in need. It would be hard, but not impossible. Anything can be redone or amplified if you have the money."
Ok. Great.  But we don't have the money. So, she insinuates that we should increase revenue. To pay for what exactly? The Road Home program was never meant to be the solution to every financial difficulty for Katrina Victims.  It's the "road home."  It's a supplementary grant that assists in rebuilding efforts. The government can't just pay everyone the full sum of rebuilding costs…..
The Jindal Administration claims the program is non-discriminatory, and announced that the state would appeal the court decision because "to  even consider taking such an action, we would need at least an additional $1.2 billion in federal rebuilding funds that we don't have."  Seems pretty logical to me.
Here is Blanco's ridiculous response:
"They're running scared is what they're doing," Blanco said. "I don't think the judge would fault them for helping more people. You should just help whoever you can, while you can."
How idiotic.  Yes, we should help "whoever we can while we can." How exactly is the current Road Home system not accomplishing this?  The state is doing what it can within the parameters of budget constraints to help the victims of Hurricane Katrina.
It is a left-wing ploy that, if successful, will harshly wound the already hemorrhaging budget of our state. The plight of Katrina victims is deplorable, but the government simply cannot afford to pay for the entirety of their rebuilding efforts.  It isn't feasible, necessary, or fiscally responsible.  The program is not discriminatory, but whenever the left can use racial motivations to push their liberal agenda, they'll do it every single time.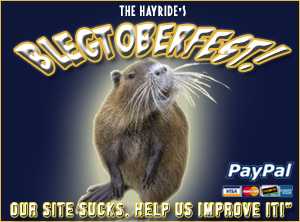 Advertisement
Advertisement