If the seemingly-ubiquitous ads featuring a decrepit Andy Griffith shilling for the treatment of Medicare recipients under Obamacare leave you irritated and insulted, you're not alone. The campaign is now under fire on Capitol Hill.
A pair of Republicans on the House Ways and Means Committee took aim at the Griffith ads today, questioning the political nature of the campaign and accusing it of outright lies in some of its claims.

Ways and Means Ranking Member Dave Camp (R-MI) and Health Subcommittee Ranking Member Wally Herger (R-CA) noted that the advertisements conveniently omit any reference to the one-half trillion dollars in Medicare cuts included in the Democrat health care overhaul which result in fewer benefits and higher costs for millions of seniors. FactCheck.org panned the ad as "fictional as the town of Mayberry was when Griffith played the local sheriff."
As it turns out, the Department of Health and Human Services is spending $3 million in taxpayer dollars on television buys in the month of October alone to run the Griffith ad – and Griffith's spot will only be run in select areas of the country. Camp and Herger are asking HHS Secretary Kathleen Sebelius to explain that interesting fact…
"As you know it would be highly inappropriate and perhaps illegal if HHS used taxpayer funds to purchase advertisements in areas of the country with the intent of impacting competitive Congressional races leading up to the election.  Accordingly, we are also requesting that [the Government Accountability Office] fully investigate the appropriateness of the advertisements and the way in which they were placed."
They're also looking for information on three other topics of interest…
How much HHS spent on television advertisements targeted towards Medicare beneficiaries in the months of August, September, October, and November for each of the following years: 2007, 2008, 2009, and 2010.  In the case of October and November, 2010, please include the expected expenditures; 
 
For each television advertisement (including, but not limited to, the Andy Griffith, open enrollment, and Medicare and You advertisements), please provide a market by market analysis that specifies the cost, point totals, and spots per station that HHS has purchased in 2007, 2008, 2009, and 2010; and  
 
If this message is important for all seniors to hear, please provide us with an explanation for why it was decided, and by whom, to only run these advertisements in certain areas of the country.  As part of that, please provide all documents, including emails and other communications with the White House, the Democratic National Committee, Democratic Congressional Campaign Committee, and Democratic Senatorial Campaign Committee that pertain to the basis for decisions about where to run these advertisements.
It's unknown whether the ads have moved the needle to get seniors excited about losing Medicare Advantage and vote for Democrats in celebration – the fact no Democrat has touted his or her support for Obamacare during the current election cycle would indicate no such movement exists. In North Carolina, however, the ads have definitely moved the needle on Griffith:
You know how bad things are for Democratic political figures these days? Even Andy Griffith's poll numbers have seen a significant decline in the last 2 years.

Our latest North Carolina poll found Griffith at 44/22 in the state for a net favorability of +22. That represents a 25 point decline from June of 2008 when Griffith was at a net +47 (56/9.)
That was in September, when the Griffith ad first appeared on the scene. Griffith has been called the "spiritual godfather of the North Carolina Democrat Party," and he's made a habit of jumping on board with Democrat candidates in October of every election cycle. But it looks like Matlock has met his match in Obamacare; this is one case where he can't save his client from the jury.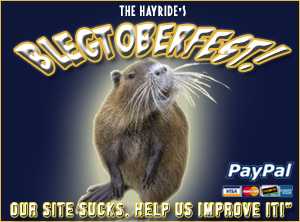 Advertisement
Advertisement