Over at Bayoubuzz.com today, former Louisiana insurance commissioner and current media mogul Jim Brown has penned a column reviewing some of the questions LSU needs to answer in order to make its case to avoid the funding cuts which are currently headed its way.

Those questions apply in part to many of the state's other universities. Gov. Bobby Jindal, after taking fire for weeks from the university community, has begun to fire back in defense of his austerity proposals, pointing to bad graduation rates and current overspending across the system as unsustainable when the state doesn't have any money.
"At the end of the day, we can't simply just throw more money until we start to see better results," Jindal said.

The Southern Regional Education Board puts Louisiana's graduation rate at four year schools at 38 percent.  That's a dropout rate of 62 percent.

"We need to get a better value for the dollar we're spending in higher education. Louisiana ranks 9th highest in the country and the percentage of our state tax revenue is going to higher education, yet we've got the second-worst graduation rates in the entire South," said Jindal.
Brown, a Democrat, actually agrees with the basic sentiments Jindal expresses in most of the points his column makes. He expresses doubt that despite some of the overheated rhetoric emanating from LSU a real case is being made. Specifically:
[1] LSU has one of the lowest graduation rates of major colleges throughout the country, including southern schools in the Southeast Conference. Fewer than half the students graduate in six years.  Why are we funding students to "hang around" year after year?  Granted, the feeder system for high school is weak.  But six years?  What efforts are made to remediate in the first year, then weed out these students who are not capable of carrying the load?
The numbers don't actually agree with Brown here, at least the ones from the American Enterprise Institute's survey of six-year graduation rates don't. In that survey LSU turned up with a 60 percent graduation rate, the highest of the state's public universities. But compared to other SEC schools he's right; LSU doesn't fare all that well. The rest of the SEC checks in as follows…
Alabama: 65 percent graduation rate, tuition of $5,700 per year, enrollment of 23,499
Auburn: 63 percent, $5,834, 21,941
Arkansas: 58 percent, $6,038, 15,913
Florida: 81 percent, $3,257, 47,600
Georgia: 77 percent, $5,622, 31,008
Kentucky:  62 percent, $7,096, 23,600
Ole Miss: 53 percent, $4,932, 13,977
Mississippi State: 58 percent, $4,978, 14,932
South Carolina: 63 percent, $8,346, 23,955
Tennessee: 58 percent, $5,932, 27,620
Vanderbilt: 91 percent, $35,278, 11,395
LSU's numbers in the survey were 60 percent graduation, $4,543 per year in tuition and an enrollment of 26,901. That graduation rate would put LSU 8th out of 12 SEC schools, with the 2nd-cheapest tuition. A 10-percent improvement in graduation rates would move LSU to 4th, though.
Otherwise, though, it would appear LSU is falling short of its mission as a flagship university to produce college graduates among the state's best and brightest. Comparative funding for LSU's Baton Rouge campus – as it relates to other public SEC schools – is without a doubt an issue Chancellor Michael Martin and system president John Lombardi could raise in their defense.
Brown continues:
[2] Endowments are critical for a university to excel, particularly in bad economic times.  Many colleges derive as much as 20% of their income from the school's endowment fund. Better funded schools have in place an all out effort to keep their alumni involved with regular fund drives to increase the endowment. LSU has the lowest endowment of any major university in the country. Every Southeast Conference university, with exception of Ole Miss and Mississippi State has a significantly greater endowment than does LSU.  University of Arkansas is $700 million.  According to Chancellor Martin, LSU's present endowment is $300 million. Why the failure to build a strong endowment and what is being done now to encourage more private giving?
He's spot on with this question, because LSU's efforts to create a strong endowment have been lackluster at best despite recent emphasis on addressing the problem. In recent years the Forever LSU campaign, which was aimed at generating $750 million in endowment, fell far short of that goal. LSU's alumni, sad to say, have not done for the school's academic side what alumni have done for other schools.
But it's not just an individual issue. Louisiana's businesses have borne a higher share of the state's tax burden than other Southern state's commercial and industrial sectors over the years, and when your company has less after-tax profit available you'll give less back to your alma mater. And in other states it's not unheard of to use surplus revenue to beef up university endowments; Louisiana has been horrendous in this regard, and recent fat years provided a great opportunity to ameliorate the problem with no action taken to do so. LSU's budget might have been inflated over the past 10 years; nothing has been done by the state to boost the endowment.
[3] Is LSU overrun with administrators?  What is the percentage of faculty members to nonacademic jobs?  I've been told the ratio is seven to one with way too many non teaching jobs. Is LSU a teaching college, or has it become a multiversity festooned with extraneous functions?
LSU is top-heavy. No question about it. This is a good point.
[4] Does LSU make undergraduate teaching its first priority?  There are significantly more graduate students than undergraduates, so are the graduate students commanding most of the professor's time and attention?  And who is teaching the freshman?  Ask any new student about the large lecture classes, with the discussion session often conducted by some fledgling graduate student.  Why are not full professors carrying a greater teaching load?
I'm not sure this is really a good question to ask, as while it's great to produce students with bachelor's degrees it's even better, for a university to be an economic engine, to produce students with graduate degrees. I'm also not sure it's correct LSU has more grad students than undergrads.
[5] Why sabbaticals?  99% of us don't get a year off to refresh or write a book.  The mission should be to teach.  A three month summer vacation should be ample time to travel and write.  And what about all this "publish or perish" malarkey?  I have a publishing company and I am all for more books being published.  But, why, at the expense of the student and tax payer, should a professor be financially supported in the publication of a book, often on a light-weight theme, that few read, just to stay on tenure track?   Teaching should be the primary mission of a major university like LSU.  But is it?
Jindal addressed the sabbatical issue as well in his speech yesterday…
"Does it really make sense if these are such tough budget times to pay professors when they could be spending more time in the classroom? I think it's something schools need to take a closer look at," Jindal says.
Martin had an answer, though, as he said only 19 professors are currently on sabbatical out of 1,300 faculty. That's not a large number, though one could argue the professors who get to take sabbaticals are the ones with the longest tenures and the largest salaries, generally speaking. The sabbatical issue seems more symbolic than substantive, though it's a valid question about the soft culture of the ivory tower that professors get to take off from the more mundane aspects of their jobs in order to do more exciting stuff.
Finally, there's this…
[6] And what about tenure?  There is a major push to abolish it in the elementary education system.  Why is tenure so sacrosanct in our universities? Are we protecting professors who have lost the drive to teach and hide behind the mantra of research?  Are universities like LSU spending too much money on research and not enough on the focus of the classroom?
Tenure is a stupid idea whose time has long past, and whether it really saves any money or not it should be done away with. But I won't complain about the fact LSU is doing a lot of research. Research and development is where innovation comes from, and we need to innovate in Louisiana where we can so that we give ourselves a shot at the next big industry. Should we do that at the expense of actual education? No, but it's not particularly an either-or question.
Good points of discussion, to be sure. Brown might not be absolutely correct on all of them, but he is correct that LSU had better have its ducks in a row before continuing the idea that taxpayers should be made to dig deeper to support its upkeep at recent levels.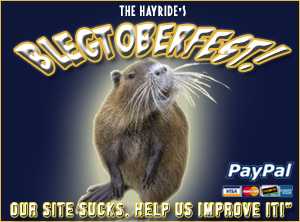 Advertisement
Advertisement