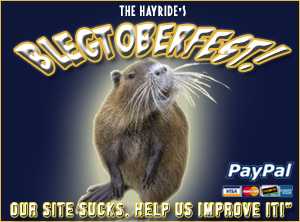 As the designated blegger for the Hayride, I have the honor of cutting the ribbon on our October fundraiser. And I gotta tell ya, this one is a damn worthy cause.
See, our site sucks. It's OK, everybody knows it. The layout is unwieldy, there's a script error which keeps coming up when you link from one page to another, it's a slow download and it needs more bells and whistles.
So MacAoidh has decided he's going to get a project going to fix it. But he said he's not just going to play around with the layout. He wants to do a 2.0 version of the thing. But he knows about stuff writers know about, like chinch bugs and manganese. Or something. Anyway, I wouldn't trust him to go build a website. Hell, he built this one. That's all you need to know.
And of course I can't really help with that. Cause I'm a nutria. It's all I can do to bang out one of these here blog posts. I can't hardly even spell PHP, much less work with it. Since I've got charm and class, my end of this is sales. Y'know?
So the solution is that he's getting a real-life web designer to do us a new site. We've got a basic setup picked out that we want to move to that we think will make for a cleaner, cooler setup. And a better look, too. Plus, more neat stuff besides just a bunch of articles scrolling forever down the page.
Naturally, web designers don't work for free. Even the cheap ones still want a check. So what I'm pitching in for is to try to convince you folks to give us a hand with that part. We're not ever going to charge for subscriptions, so when you see me start blegging you'll realize this is the next best thing for us – and the absolute best thing for you. If you love the site, or if you agree with us that it sucks, you can help us out. Or not. Your call.
But this is a great opportunity to get involved with the Hayride. If you like the content you read here, you'll be helping us out by kicking in for this improvement and keeping the operating revenues from being pumped into the redesign. And if you can't stand our layout, you can express your discontent by pushing it overboard in favor of the new thing.
So here's a quick look at what we're aiming for with the new site. It's a partial mockup, and we'd like to get feedback from you guys on it (HINT: that's what the comments are for), but it looks kinda like this…
The plan is to bring in something called "The Hayroll" which will be a constantly-updated bunch of headlines from newspapers and blogs around the state and elsewhere. And we'll start doing polls on the site, plus some other stuff.
But we want you guys to not only help us out with a few bucks this month – the goal is to raise $5,000 to fully fund the site redesign – but to tell us how we should build. If you see things other sites do that we should do, please let us know. Or if you see things you'll hurl if we put in, tell us that, too.
Thanks in advance for your support and help. We're hoping this project will make the Hayride a more enjoyable experience for everybody!
Click here to donate or if you prefer to send a check, the address is:
Hayride Media, LLC
9007 Highland Rd., #15
Baton Rouge, LA 70810
Advertisement
Advertisement