Before last night's U.S. Senate campaign debate in Kentucky between Rand Paul and Jack Conway, a fracas ensued when a left-wing activist approached Paul wearing a blond wig and carrying an anti-Paul sign. The activist accosted the Republican candidate, upon which she was wrestled to the ground and had her head stepped on by some overzealous and hypersensitive Paul supporters.
Interestingly enough, the activist – whose name is Lauren Valle – seems to have spent some time in Louisiana earlier this year. And Valle picked up a citation for rather uncivil conduct during her stay in the Sportsman's Paradise.

Per the Lafourche Parish Sheriff's Office:
Monday, May 24, 2010
Activists Face Felony Charges – Sgt. Lesley Hill Peters

Sheriff Craig Webre and Harbor Police Chief John Callais announced the arrest of seven Greenpeace activists in Port Fourchon. A complaint came in at approximately 12:45 PM stating the seven had boarded a vessel at Port Fourchon and painted messages with an unknown substance on different areas of the ship. The messages were directed to Interior Secretary Ken Salazar. A representative for Salazar was at Port Fourchon this morning while other dignitaries congregated in Galliano with Secretary Salazar and Homeland Security Secretary Janet Napolitano regarding the ongoing oil spill impacting the Louisiana coastline. Those arrested were:

• Lindsey Renee Allen (W/F, DOB 9/3/81, 149 Clayton Circle, Vacaville, CA)
• Lauren Valle (W/F, DOB 5/4/87, 415 Shorewood Drive East, Falmouth, MA)
• Emma Cassidy (W/F, DOB 6/4/85, 3653 13th St. Northwest, Washington, DC)
• David Pomerantz (W/M, DOB 8/23/85, 45 Beechwood Road, Irvington, NY)
• Georgia F. Hirsty (W/F, DOB 3/19/85, 1114 F Street, Northeast, Washington, DC)
• Scott Cardiff (W/M, DOB 6/9/77, 1215 Quincy Street Northwest, Washington, DC)
• Paul Kelley (W/M, DOB 2/20/84, 1114 F Street Northeast Apt 103, Washington, DC)

The seven had been seen in the area for the past week and had been repeatedly warned by law enforcement not to hamper clean up operations and not to trespass. Greenpeace is known for pre-planning and coordinating similar protests to bring attention to environmental issues. Pictures of the vandalism appeared on the Greenpeace website within minutes of the arrest of the activists.

All seven will be transported to the Lafourche Parish Detention Center where they will be booked with unauthorized entry of a critical infrastructure (R.S. 14:62.3) and unauthorized entry of an inhabited dwelling (R.S. 14:62.3). The New Orleans Joint Terrorism Taskforce is reviewing today's incident and all seven could face additional charges.
(Hat tip: Robert Stacy McCain, via Gateway Pundit)
Valle, it seems, has been involved in separate incidents involving both Greenpeace and MoveOn.org. That's a good indication she's a member of the Professional Left. The purpose of her presence at the Paul-Conway debate, in fact, was to present Paul with an "employee of the month award" from Republicorp, a fictional company created by MoveOn.org in an attempt to dramatize how the GOP has merged with American corporate interests. The New York Daily News reports Valle, a 23-year old Columbia religion graduate, was hired by MoveOn.org for three weeks to work on the "Republicorp" project in Kentucky; it can only be assumed her role was to follow Paul around and attempt to embarrass him.
The "Republicorp" project has attempted to embarrass other GOP figures, like for example Louisiana Gov. Bobby Jindal as he visited Wisconsin in support of senate candidate Ron Johnson:
The scene outside the debate was described as chaotic, and Valle was one of several protestors who were described as disruptive at the event.
Which does not excuse the men responsible for wrestling her to the ground and using a foot to pin her head to the pavement. They gave Valle precisely the publicity she was looking for.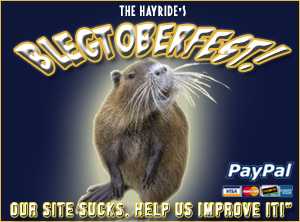 Advertisement
Advertisement