A recent study released by the Pew Research Center reveals that independent voters may be voting for GOP candidates for reasons other than anger at Democratic policy making.  However, first of all it is important to note that Independents significantly favor Republicans over Democrats:
The survey by the Pew Research Center for the People & the Press was conducted Aug. 25-Sept. 6 among 2,816 registered voters, including 2,053 voters considered the most likely to vote on Nov. 2. The survey finds that 50% of likely voters say they will vote for the Republican in their district, while 43% favor the Democratic candidates."

This information is important because the 7 point disparity among voter preference comes primarily due to Independent support of Republican candidates:
The GOP's advantage comes as a result of their 49%-to-36% lead among independent and other non-partisan voters who are likely to vote in November.
Further proof of the impact of the Independent vote can be shown in the preferences of registered partisan voters.  In this analysis, the favor of registered voters has a slight tendency towards Democrats, 44% Republican 47% Democrat.  Given the very slight nature of the polling disparity, it is probably more reasonable to assume a 50-50 split.  Even so, the impact of the 13 point Independent preference towards Republicans is significant.
Now, it may seem obvious to point out the necessity of the Independent vote.  It has always been widely regarded to be the target group of Republicans and Democrats due to the strength of partisan allegiance that holds their bases firm.  But the impact of Independent voters on elections has been increasing dramatically, and today the impact of Independents is the most significant in history.  Consider this:
The proportion of independent voters or non-partisans is now at 37%, one of the highest levels in the past 20 years of Pew Research Center polling. The share of independent voters has grown from 34% of registered voters in 2008. 34% are Democrats and 29% are Republicans
This fact leads to an important point about the underlying reasons behind Independent voting trends.  This upward shift in the percentage of Independent voters is not the result of a conjured group of new voters.  Research shows that much of the increase in the Independent voter population comes from former Democrats and Republicans fed up with establishment politics: 
Underscoring the fluidity in party identification, many of today's independents were themselves partisans not so long ago. More than half of independents say they have been a Democrat (23%), a Republican (22%), or both (9%), in the past five years.
These statistics seem to suggest that more and more voters are becoming fed up with government in general.  However, it would be irresponsible to derive this implication simply from this statistic. Consider the trend in the Independent vote over the past four years:
For the third national election in a row, independent voters may be poised to vote out the party in power.
Here is the support: 
From 2006-2010 Independents have consistently voted against the party controlling government.  However, to be fair I think it is most applicable to compare similar election cycles.  To compare 2008 elections to midterms in 2006 and 2010 I think is deceiving.  The variable of having an incumbent Presidential administration  is a significant factor in determining voting behavior. To me that is comparing apples to oranges.
If you compare voting preferences from 2006 to 2010 (both midterm years and similar election cycles), it is clear in both cases that the Independent sentiment towards the party in power was largely negative.  In 2006, there was a large movement in favor of Democratic candidates, +18.  In 2010, we see similar numbers in the +13 favoring of Republicans.
While studies do suggest that independent voters are more conservative than in the past, this ideological shift in favor of the GOP is over-matched by more significant statistics about anti-establishment voting trends. This disillusionment is apparent in the increase in Independent voters coming from partisan bases, and the trend of Independent voting in opposition to incumbent rule in government.  Also, consider this statement:
While the survey finds indications that independents will vote Republican this year, they do not have a strong allegiance to the GOP. Rather, they are motivated by highly negative feelings about the government's performance and harsh judgments about the political status quo.
I believe this trend in Independent sentiment will continue, but that significant success in government could very well reverse it.  Let us hope that when Republicans storm into Congress come November that they can provide that success.  Barring that occurrence, look to have another shift in power back to the Democrats in 2012.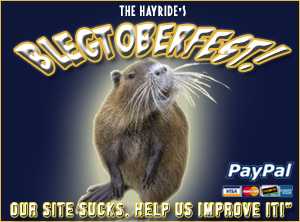 Advertisement
Advertisement