Musings in the aftermath of Magellan Strategies' survey showing a 51-35 David Vitter lead in Louisiana's U.S. Senate race today:
1. The poll sample was 56-44 male, 56-30 Democrat and 72-25 white.

2. Vitter is at 51 percent, so if the numbers hold up there isn't much left Melancon can do. Only 8.8 percent are undecided and 5.2 percent are supporting minor candidates in the race. And the reason Vitter is walking away with the race is that Melancon simply doesn't have anything he can use to peel Vitter's support off. To wit…
Vitter is getting the white vote (65-23), the Republican vote (86-6) and the independent vote (50-24). 
Melancon gets the black vote, but he's only pulling 70.6 percent of it. Vitter is actually getting 12.3 percent, which is a terrific number for a conservative Republican. 12.5 percent of the black vote remains undecided, so if it breaks according to the same pattern the poll indicates Vitter would end up with 14 percent of the black vote on Election Day. No Democrat in Louisiana can win with numbers like that.
The voters care about the economy and jobs (48 percent called that the most important issue in the race) and deficits and debt (19 percent). Health care came in third (12 percent). Melancon's whole campaign has been about hookers and a misbehaving aide. None of the results in this poll are a surprise.
Vitter's favorable rating? 44-38 positive. Melancon's? 48-26 negative. That's what talking about hookers will do for you. Vitter isn't even in terrible shape among women; he's at 39-40 favorables after eight months of hooker talk. Oh, and among women Melancon's favorability rating is 26-44. So after eight months of hooker talk Vitter leads Melancon 47-37 among women voters.
Barack Obama is hated by the people of Louisiana. As in, 58-34 negative rating. The poll sample for this survey was 25 percent black, and 80 percent of that group said Obama was favorable with seven percent disapproving and 13 percent having no opinion. The white community is flat-out brutal toward the president. We're talking 76-17.
Part of Melancon's problem is he lacks a geographical base of support. This is a congressman who stinks on ice with his own district – he's 51-19 underwater in the 3rd district! Therein lies the reason he's in this race rather than running for re-election, so he'd be dead in the water at Jeff Landry's hands had he stayed in this race. And President Obama is no particular help to Melancon's cause with the home folks; Obama is 66-29 underwater in the 3rd district. 
3.  Take those numbers into consideration, and what you get is that not only is Melancon a crappy candidate, he's also running a crappy campaign. James Carville is running Caroline Fayard's campaign for Lt. Governor behind the scenes along with Melancon's; Fayard might want to consider how much input she really wants to give Carville based on the hash he's made of the senate race.
4. The numbers in the Magellan poll would tend to argue against the advice Bayoubuzz.com's Stephen Sabludowsky offers to Melancon for the home stretch:
Melancon must do a much better job of tying Senator Vitter's  refusal to approve the television debates with his refusal to answer questions about the "DC Madam" ordeal and his decisions in the Furer scandal.

Senator Vitter has done a remarkable political job of handling these matters that previously had caused other politicians to leave office.  His success cannot just be targeted at Obama and the Democratic Congress.  Way before President Obama took office, Vitter was in striking distance of hitting the 50 percent approval ratings in the polls although he was considered a weakened candidate.

Vitter's has simply ignored the media's request for more information about numerous questions arising out of the controversies and his silence really has not affected his political fortunes.

So far, Vitter has run a textbook campaign and unless somehow Melancon or the Democrats can rally the traditional democratic troops beyond numbers we have not seen in years or unless somehow Vitter makes a startling mistake or unless Melancon can begin to make political hay over his opponent's refusals to face the public in debate or to answer difficult issues in an non-friendly audience, the Republican will keep his office.
At this point it's obvious that the voters simply don't care about scandals and with such a small proportion of the electorate still undecided Melancon won't get anywhere whining about debates – particularly when in a state where 52 percent of the public is at least sympathetic to the Tea Party he has refused to participate in Tea Party debates. The debate issue is a loser. What the voters want is a plan for economic growth, and here in Louisiana that starts with defeating the moratorium and cranking up the energy industry again. Melancon talks the talk about doing that, but nobody really believes he'll fight on that issue. They do believe Vitter will.
5. Which leads us to the one other development in the race; namely, Vitter's ad currently running which hammers Melancon as soft on illegal immigration. It's a funny ad, though it's clearly (intentionally) over the top…
The ad got torn apart by the Washington Post's Adam Serwer yesterday. Serwer, a left-wing writer from the socialist American Prospect who contributes the Plum Line elections blog for the Post, called the recitation of Melancon's immigration votes in the ad dishonest (arguable) and said it was "race-baiting"…
Now Vitter has yet another anti-immigrant ad running, and this one is even worse than the previous one or Angle's. The Hispanic Chamber of Commerce in Louisiana is blasting the new ad, "Welcome Prize," as "demeaning" and "racist." It attacks his opponent, Democrat Charlie Melancon, over illegal immigration, and features a group of immigrants running along side a fence, only to be greeted by a sign that says "Charlie Melancon welcomes you to the USA!" and "bievenidos a los USA!" There is also a group of smiling people holding a giant check payable to "illegals."
Serwer also mentioned that Louisiana has a very small problem with illegal immigrants compared to other states; what he doesn't discuss is the fact that Louisianians would like to keep it that way. As for the racial angle of the ad, yeah – there is one obvious Latino among the "illegals" depicted in it. The rest? You can't really tell.
And the Hispanic chamber of commerce's reaction to it was completely over the top, so much so that local attention to their communique was limited at best…
The ad is focused on the issue of undocumented aliens but is totally offensive and practically demonizes the undocumented.  The ad shows a Hollywood stereotype image of Latino workers – all Latinos – sneaking through an opening in a chain link fence and laughing about how easy it is to keep returning and it refers to them repeated times as "ILLEGALS", not even using the more accurate and humane term of "undocumented".  It shows them driving off laughing in a pick-up truck, receiving government checks for benefits payable to ILLEGAL ALIENS.

 

It is one thing for an official, no less a United States Senator, to take a stand on an issue and vote in a particular fashion.  It is the American way and that is not the problem here.  He can responsibly and professionally say he is against measures supporting the undocumented population. The problem is how he presented the message.  IT IS TOTALLY UNACCEPTABLE AND WE DEMAND AN IMMEDIATE APOLOGY AND THE REMOVAL OF THE AD FROM THE AIRWAYS IMMEDIATELY.

 

While we do have an immigration problem in this country that deserves a national informed respectful dialogue, this was so disrespectful and offensive.  Senator Vitter, we are not laughing, it is NOT humorous.

 

Furthermore, there are undocumented people in this country who are from France, Belgium, India, Japan, Korea, England, Scotland, not picking on countries, but showing that they come from everywhere around the globe.  But the ad by Vitter only chose to portray the Latinos.  They wouldn't dare to show a white face from another part of the Western world, or a black face from another part of the world – they'd take too much heat.  So go for the easy target.
Comes off a bit whiny, doesn't it? Darlene Kattan, who heads the Hispanic chamber of commerce in New Orleans and put out the reaction to Vitter's ad, has been called "ridiculous" by several politicos of both parties we talked to. One prominent Democrat told us "the ad is stupid, but calling Vitter racist only attracts attention to an issue Melancon can't use."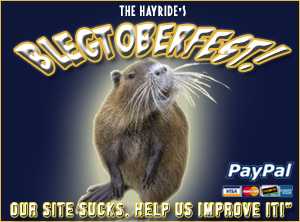 Advertisement
Advertisement