Around this time of the month Compete.com finalizes their tabulations comparing the traffic on web sites they monitor.
We're doing pretty doggone well these days.
If you're a potential advertiser, you need to listen up.
Compete.com's main metric in comparing sites is the number of unique visitors who come to a site in a month. That's how they rank and measure site traffic.
Well, according to their numbers we had 277,000 unique visitors to the Hayride last month.
277,000 is a whole lot. A whole lot.
How much is it? Well, here's a sampling of the state's busier media sites…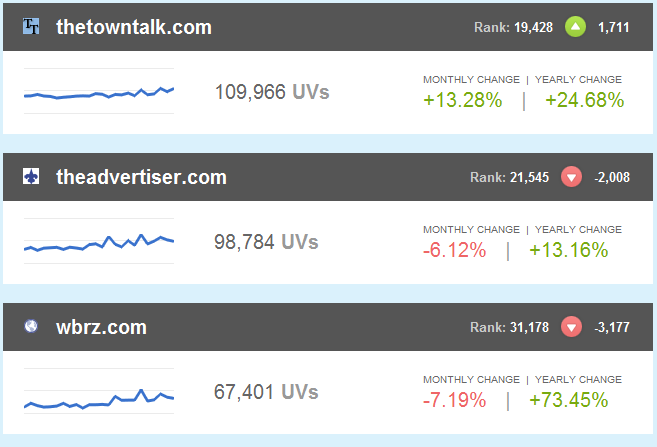 The one site which wasn't on our list which needed to be was WWL-TV. They had 270,000 unique visitors in October.
In other words, we can now say we get more traffic than the Advocate does.
That's actually hilariously funny. In less than two years, with no capital, no staff, no marketing budget…50 percent more traffic.
Brave new world, baby.
We had to migrate to a new server last week, and the inevitable crap that goes with that probably means we're going to take a dump for November. We won't do 277,000 uniques this time around. But we're still going to do a lot more traffic than the papers in Lafayette and Alexandria and Houma (108,000) and Monroe (198,000, which was about double what they did in September) and almost all of the TV stations in the state.
Again, with nothing. Nothing but our readers circulating links to our stuff around to their friends.
That's awesome, y'all. Awesome.
Next month we're bringing on some talent to the contributors list, so there will be some different offerings for you guys to see. Video, cartoons and some other stuff. More breaking stories and more hard news to go with all the commentary you get now.
We'll build even more traffic on the site from there with the improvements.
But with 277,000 unique visitors in a month already, it's a hell of a place to start from.