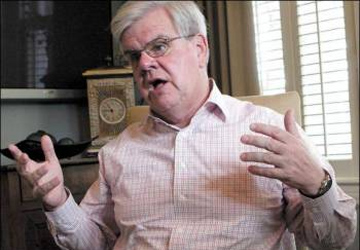 Three weeks ago, Bloomberg reported that telecom giant AT&T was unloading a part of its business which had formerly been a  major profit center.
AT&T Inc. on Monday said that it had agreed to sell a majority stake in its Yellow Pages business to the private-equity firm Cerberus Capital for $950 million.

The sale is part of AT&T's strategy to jettison shrinking parts of its business to focus on growing ones, particularly wireless. Revenue from the Yellow Pages business has shrunk 30 percent in two years, as consumers turn to the Web instead of phone books.

Phone books were once a cash cow, generating reliable profits as businesses paid for ads that were right under consumer's finger tips as they were looking for local stores and services. Even with the steep revenue decline, AT&T's Yellow Pages unit has been profitable before impairment charges for the last three years.

AT&T, the country's largest phone company, is following in the footsteps of Verizon Communications Inc., the second-largest, in cutting its exposure in the phone book business. Verizon spun off its directories business to shareholders in 2006, only to see it file for bankruptcy three years later.

Cerberus is paying AT&T $750 million in cash and a $200 million note, plus a 47 percent stake in YP Holdings LLC which will oversee the business.
And with the sale, AT&T is contemplating a change in its distribution practices of the books. AT&T's current practice of putting out White Pages at every doorstep would go by the boards, with customers who want a White Pages delivered simply needing to call AT&T to get one.
Delivering White Pages is expensive. It might have made sense to do it when AT&T owned the book. Now that they've sold it…not so much.
Studies indicate only one percent of the customers involved would request one. That makes for a massive amount of cost savings, which would assumedly free up capital to pursue projects more in line with the 21st century.
But here in Louisiana, our illustrious Public Service Commission chairman is standing athwart history yelling "stop." Over the weekend, this press release made its debut…
Louisiana Public Service Commission Chairman Foster Campbell said he will oppose a plan to phase out residential white-pages telephone directories.

"I am not for making communication harder," Campbell said. "I am for making communication easier, and doing away with the peoples' pages in the phone book is all about saving money for the phone company."

AT&T is asking the Public Service Commission to eliminate a PSC requirement that each year they distribute free "white pages" residential directories to customers.

"The traditional residential white page telephone directory no longer provides the same utility it once did," AT&T says in comments to the commission.

Customers are "turning less and less to the residential white pages directory and are looking to online and other resources for listing information."

Campbell responded, "Not everybody owns a computer. And even when they can afford one, rural residents often cannot get good Internet service because companies like AT&T have stopped investing in DSL expansion.

"The phone book is almost like the Bible for many people, and it is a security device. People keep it by the phone and in it they write down the numbers of their doctor, their children, the sheriff, the ambulance service and other important numbers.

"AT&T is worried about money. They're not proposing to do away with the Yellow Pages because they make money there. And they are not offering to reduce their rates or eliminate the $1.50 they charge to call 411 Directory Assistance, so there is no benefit in this for consumers.

"This move is anti-consumer," Campbell said. "I'm going to do everything I can to stop it."
Campbell's desire for giving AT&T a hard time is well-known, and it's reasonable to assume this is little more than harrassment. On the merits, Campbell hardly has a good case – when the phone company proposes to make the White Pages request-only as a response to the market, you really come off as a goofball in demanding phone books be delivered to folks who don't use them and will likely just throw them away.
But since he holds the gavel, the PSC will take up this nonsense.
Bear in mind that if everybody wanted a White Pages, it would be more expensive and cumbersome to deal with all the requests and keep track of where to deliver them and where not to than to just deliver it everywhere. AT&T wouldn't go to the hassle of changing its White Pages policy unless they had the numbers on their side.
Foolishness like this will make elections to the PSC interesting in the next couple of years.
Jimmy Field, the former chairman of the commission who voluntarily surrendered the gavel to Campbell, is running for re-election. Field has been a mainstay of Baton Rouge-area Republican politics for quite some time, and the former LSU quarterback is still a popular figure – but allowing Campbell to take control of the committee and drive its agenda (he still doesn't have the votes to pass his more loopy initiatives, but as chairman he can give them an airing they wouldn't otherwise receive) has irritated many conservatives.
As such, Field is going to have some opposition this fall. John Maginnis, reporting at the Baton Rouge Business Report last week, had this snippet…
—The speculation over what's next for Scott Angelle, R-Breaux Bridge, a hot topic last year, is warming up again. The latest word from some close sources is that he is considering running for the Public Service Commission this fall against incumbent Jimmy Field. The Natural Resources secretary did not return a phone call for comment. The PSC District 2 would be attractive to the former St. Martin Parish president because 57% of it is on his side of the Atchafalaya, with Field's smaller base in the mostly white precincts of Baton Rouge. Already declared is former Lafayette TV weatherman Ed Roy, a former councilman, who has enlisted the fundraising help of respected oilman Paul Hilliard.
An Angelle-Field-Roy race would be an interesting one, and a runoff in such a race would be quite likely. As Maginnis reports, you've got to be strong in Acadiana if you want to win District 2.
But Campbell isn't safe, either, when he comes up for re-election in 2014. Hayride sources report that Rep. Alan Seabaugh (R-Shreveport), who's making a name for himself as one of the more vocal conservatives in the Louisiana House of Representatives, is weighing a run. And Seabaugh has a chance to win – District 5 is about 58 percent white and 38 percent black, but by voter registration it's about 50 percent Democrat and 29 percent Republican. That's a number which more or less mirrors the statewide number.
But here's something our buddy John Couvillon came up with – the 2010 and 2011 off-year elections showed that District 5's black vote underperformed by about five percent – so a 38 percent black district might be expected to turn out like a 33 percent black district in an off-year election like 2014 will be.
Campbell can easily throw a million dollars of his own money into a race, but he might need it against an energetic, articulate and aggressive up-and-comer like Seabaugh.
In the meantime, there will be lots of fireworks between Campbell and his fellow commissioners on the phone book issue. District 1 commissioner Eric Skrmetta got into a heated discussion on the issue at last week's PSC meeting, and Skrmetta put out a release this morning on the issue…
AT&T has asked the Public Service Commission to approve a plan to provide consumers with white pages directories only upon request, eliminating over-printing and providing a cost-savings to the company that can benefit consumers, and Louisiana Public Service Commissioner Eric Skrmetta (R-Metairie) said he will support the plan.

"If a consumers request a directory, they will absolutely receive a directory under AT&T's proposal," Skrmetta said. "Recent surveys by AT&T show that only about one percent of households utilize and want printed white page directories."Unwanted and unused directories are a waste of natural resources and scarce capital," Skrmetta said. "Savings from printing directories only for consumers who actually want them can free up capital for increased development of consumer DSL and broadband services,in both traditional and cellular based modalities.Consumer choice allows for smart management of resources."

"The traditional residential white page telephone directory is no longer in as great a usage as it once was" AT&T representatives told the Commission last week. "Customers are turning less and less to the residential white pages directory and are looking to online and other resources for listing information."

"It makes sense to ensure that white pages directories are available to all consumers who choose to have them," Skrmetta said. "As we all know, not everybody owns a computer or a hand-held device, and there must be directory services available to serve consumers who could be affected.

"Savings realized by efficient production of the directory will allow for cash within the company to be used to expand DSL-type services into traditionally unserved or under-served areas. Once realized, AT&T needs to put those savingsto work in Louisiana." Skrmetta said."In this difficult economy, AT&T, like all companies and folks in general, must to focus on the best uses of limited financial resources. This simple change to consumer choice helps achieve the best use." Skrmetta said.

The Yellow Pages, predominantly funded by advertising revenue, would not be affected by this rule change.

"This change in how these directories are managed is pro-consumer," Skrmetta said. "I'm going to do everything I can to bring consumer choice to the center of all discussions."
No major media outlet has covered the fracas yet, but the louder Campbell gets the better the chance it will happen as things continue.