At least, that's what NOAA says…
And then there's this…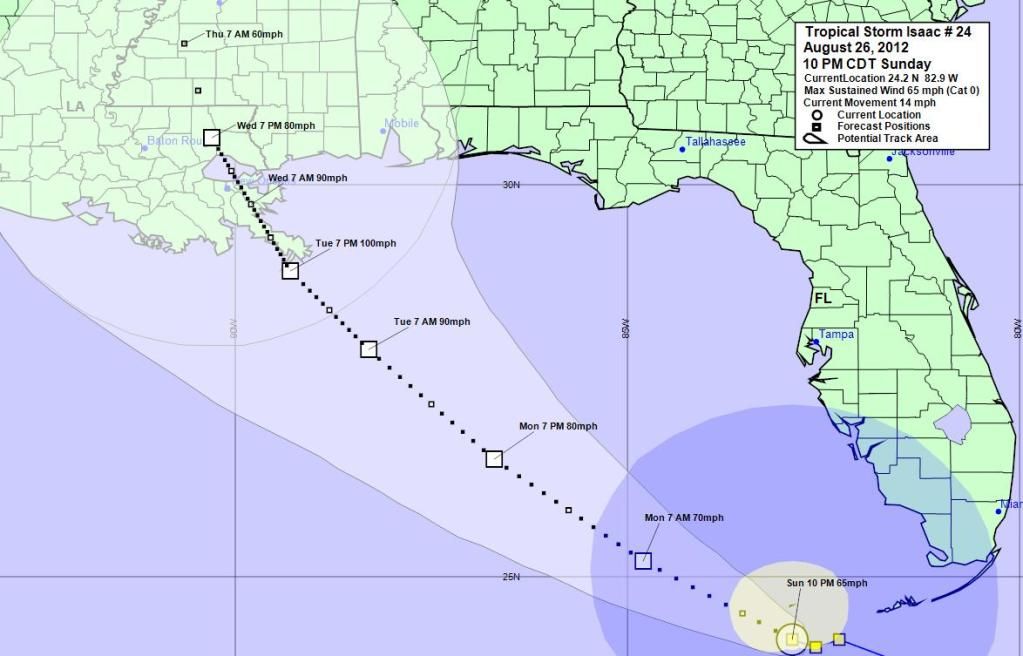 Right up the mouth of the river. Isn't that Hurricane Betsy's track?
Close…
Thankfully it hasn't really been strengthening yet. Not that it won't.
Hurricane warning for New Orleans. Tropical Storm warning for Baton Rouge.
They're evacuating Grand Isle now. And all of St. Charles Parish. Plus Lafitte.
And in Plaquemines Parish it's getting real…
At 9:00 a.m. on Sunday, August 26, 2012, Plaquemines Parish President Billy Nungesser Declared a State of Emergency because of the threat of Tropical Storm Isaac. Officials are working with GOHSEP, the Corps of Engineers, and local area leaders to prepare for the storm.

On the eastbank parish officials are lining newly raised levees with visqueen to ensure that areas with exposed dirt are protected. On the westbank additional Hesco baskets are being added to close gaps in low lying area of Hwy 23. Also, sandbags are being added to levees which are part of the hurricane protection system in Pointe-a-la-Hache.

Later today officials will meet with the Corps of Engineers to discuss plans for the barges currently pumping water into intakes in Port Sulphur and Pointe-a-la-Hache.
Nungesser also called for a mandatory evacuation of the East Bank of Plaquemines Parish.
As of now they're not evacuating St. Tammany Parish, though tomorrow it's expected they'll declare a state of emergency.