We've still got power at Hayride Central this morning, though based on Entergy's power outage map we're pretty sure we're on borrowed time.
So rather than launch into a long post, we'll just throw up some images. Those are worth a thousand words anyway, right?
First, a map…
That's Entergy's outage map for the New Orleans area. WWL Radio put it up on their Facebook page with the caption "So this is either a map of Entergy outages so far, or a map of all the restaurants who have put up the "Don't serve Roger Goodell" sign."
In Grand Isle, it's probably worse than this by now…
And in New Orleans…
It's starting to look like Braithwaite, which is a little town in Plaquemines Parish on the east bank of the river, might be getting the brunt of the storm right now. The levees have been topped and the place is inundated…
More bad news in Plaquemines…
The New Orleans lakefront…
In Uptown New Orleans there won't be a lot of flooding, but they'll have this…
More by the lake…
We'll have more as we find 'em – assuming the power doesn't give out.
UPDATE: Well, this won't do at all…
Port Fourchon…
It's probably a lot worse there now.
UPDATE #2: More from Braithwaite…
UPDATE #3: I-10 was closed at LaPlace a while ago. Why? Well, you can't exactly get good traction right now…
UPDATE #4: There's always a smartass…
UPDATE #5: Squirrels aren't stupid…
Even more Braithwaite…
UPDATE #6: The Midas man on Clearview Boulevard in Metairie is a casualty.
In Mandeville…
In Central…
The casinos in Biloxi…
The Riverwalk in New Orleans…
It isn't just Braithwaite which has been inundated by Isaac. Across the river in the Plaquemines Parish seat of Belle Chasse, this was the scene…
UPDATE #7: The Northshore is really taking a beating from storm surge. Here's Madisonville…
It appears a levee break was a real problem there…
This doesn't look THAT bad, but…
And just to prove it's a hurricane, Jim Cantore was in New Orleans…
Uprooted trees on Poydras Street in downtown New Orleans…
Remember James Perry? He ran for mayor of New Orleans in 2010, and state rep later than year. The latter race saw him lose to Helena Moreno in an absolute brawl. Our readers might also know him as the husband of wacko lefty Tulane professor and race-baiting MSNBC host Melissa Harry Perry. But now he can be famous for his suspect taste in real estate. Perry bought this house a month ago…
It's a bit of inside baseball, but let's hope he doesn't get a parking ticket now – give the guy a break, huh?
They did a lot of shelter-in-place in New Orleans this time around, and outside of Plaquemines Parish it seemed to work OK (subject to revision based on St. John and St. Tammany developments). That meant nobody at the Superdome. Seriously.
Mercedes-Benz wasn't havin' it.
And then there are the trees…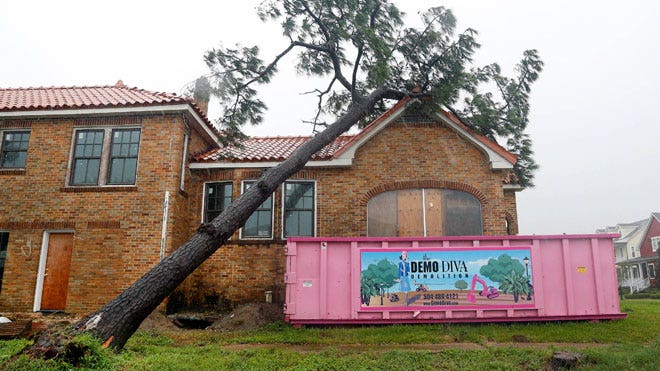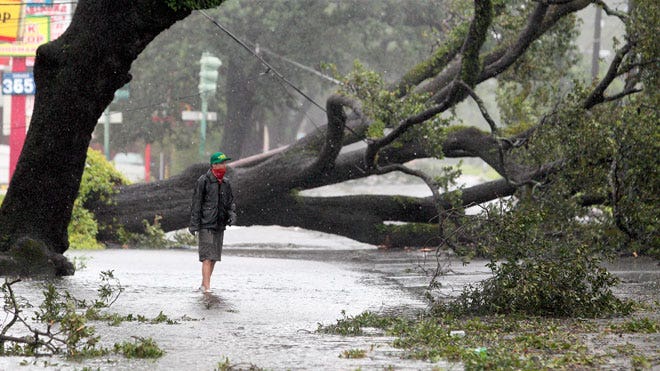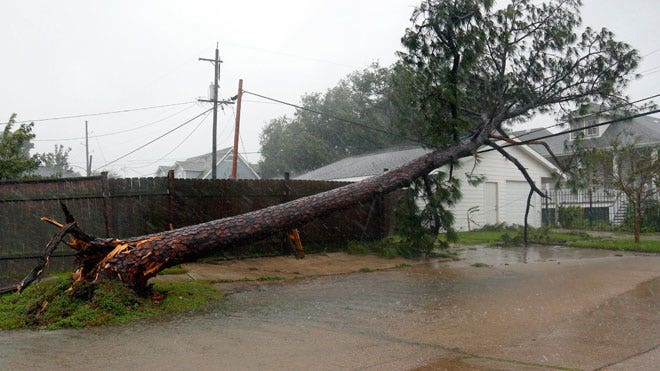 Finally, a sad scene in Braithwaite…
UPDATE #8: More from Plaquemines Parish, just as a reminder of how bad things got there…
Here's your awwwww moment for the day. From Madisonville…
If you're on the West Bank of New Orleans and you're wondering why the power is out…
Something extremely interesting – we've paid a lot of attention to the east side of the storm, but here's what happened on the west side today. Namely, the effects of a counterclockwise rotation. Here's the Delcambre Canal…
And this was Lake Peigneur today…