That might sound like a harsh headline, but with qualifying proceeding for this fall's election cycle it's not an invalid statement to make based on the performance of that party's leadership.
Because if you accept the definition of a political party as being an organization which presents candidates for elected office, so far it looks like the Democrats in this state, under the leadership of Sen. Karen Carter Peterson, are more interested in sitting around on their rear ends than doing what political parties do.
Here's who has qualified for office in the state's six congressional races so far…
U. S. Representative 1st Congressional District
1 to be Elected
Name/Address/Phone
Filed Date
Party/Race/Gender
Gary King
08/15/2012
Republican
5537 Canal Blvd., New Orleans LA 70124
White
504-346-4095
Male
"Steve" Scalise
08/15/2012
Republican
P. O. Box 23219, Jefferson LA 70183
White
504-831-3105
Male
Arden Wells
08/15/2012
No Party
1260 E. Pine St., Ponchatoula LA 70454
White
985-969-6455
Male
U. S. Representative 2nd Congressional District
1 to be Elected
Name/Address/Phone
Filed Date
Party/Race/Gender
Josue Larose
08/15/2012
Republican
P. O. Box 791410, New Orleans LA 70179
Black
504-215-4928
Male
Cedric Richmond
08/15/2012
Democrat
1631 Elysian Fields, Box 150, New Orleans LA 70117
Black
504-908-9403
Male
U. S. Representative 3rd Congressional District
1 to be Elected
Name/Address/Phone
Filed Date
Party/Race/Gender
Bryan Barrilleaux
08/15/2012
Republican
3725 Cobblestone Dr., Lake Charles LA 70605
White
337-480-0404
Male
Charles W. Boustany Jr.
08/15/2012
Republican
P. O. Box 80126, Lafayette LA 70598
White
337-261-0041
Male
"Jeff" Landry
08/15/2012
Republican
P. O. Box 13816, New Iberia LA 70562
337-313-4537
"Jim" Stark
08/15/2012
Libertarian
4265 Sweet Bay Dr., Lake Charles LA 70611
White
850-499-4077
Male
U. S. Representative 4th Congressional District
1 to be Elected
Name/Address/Phone
Filed Date
Party/Race/Gender
John Fleming
08/15/2012
Republican
P. O. Box 1236, Minden LA 71058
White
318-779-1261
Male
Randall Lord
08/15/2012
Libertarian
10022 Winding Ridge Dr., Shreveport LA 71106
318-400-9499
U. S. Representative 5th Congressional District
1 to be Elected
Name/Address/Phone
Filed Date
Party/Race/Gender
Rodney Alexander
08/15/2012
Republican
806 N. Trenton St., Ruston LA 71270
White
318-259-4587
Male
U. S. Representative 6th Congressional District
1 to be Elected
Name/Address/Phone
Filed Date
Party/Race/Gender
William "Bill" Cassidy
08/15/2012
Republican
P. O. Box 80505, Baton Rouge LA 70898
White
225-387-2455
Male
Rufus Holt Craig Jr.
08/15/2012
Libertarian
704 S. Foster, Baton Rouge LA 70806
White
225-445-5743
Male
See any Democrats outside of Cedric Richmond? We don't. We see lots of Republicans – there's even one running against Cedric Richmond in the state's Dollar Bill Jefferson Memorial minority set-aside district – and we even see Libertarians running in half the state's districts.
No Democrats, though.
They've got until close of business on Friday to present candidates, but the chances look pretty minimal that anybody serious – if anybody at all – will show up to the starting gate.
There isn't much of a change at the Public Service Commission,  which is the other non-judicial statewide race set for November…
PSC District 2
1 to be Elected
Name/Address/Phone
Filed Date
Party/Race/Gender
Scott A. Angelle
08/15/2012
Republican
4349 Main Hwy. , Breaux Bridge LA 70517
White
337-332-5236
Male
Erich Ponti
08/15/2012
Republican
9557 Wesson St., Baton Rouge LA 70809
White
225-663-6877
Male
"Ed" Roy
08/15/2012
Republican
2851 Johnston St. #303, Lafayette LA 70503
White
337-233-3816
Male
Same three candidates we've already known about. The Dems don't appear to be contesting that race either.
We've said this several times, but if you're not going to participate in the political process by running candidates, regardless of whether they actually have a chance to win, then you don't deserve to be taken seriously.
The Libertarians, who have at most a few thousand registered voters on hand, are a lot more serious about running candidates and participating in the electoral process than the Democrats are. They deserve credit for fighting the good fight.
As for Peterson and her crowd, they're not running candidates. They're doing other things. Like dancing around with Cory Booker…
That was at their Jackson Jefferson Dinner in New Orleans, which is their big fundraiser.
What they're raising money for is a good question.
They're also doing other things…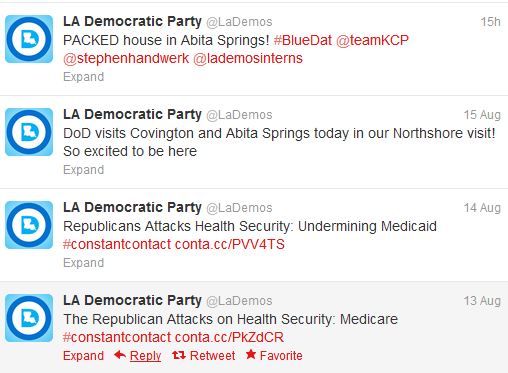 DoD stands for "Day Of The Democrats," which is a series of rallies they're putting on – they're in Houma and Thibodaux today. Last week in Lake Charles they opened a campaign office as one of these events, and had nothing to say about running anybody for office.
Instead, they had lots of whining to do about Gov. Bobby Jindal's policies. You remember Jindal – he's the guy who ran for re-election last year and the only candidate the Democrats could find to oppose him was a middle-school teacher from Haynesville with $3,000 in her campaign account? Yeah, that guy.
Here's what the public policy experts who can't seem to run anybody for office had to say about Jindal's decision not to buy into Obamacare's Medicaid expansion…
"It affects our universities, because they're no longer going to have places for their nurses and doctors to practice and actually learn their skills, so that's going to hurt us there," said Stephen Handwerk, executive director of the Louisiana Democratic Party. "We're talking about a domino effect that is going to haunt us for decades to come, and this governor (Bobby Jindal) can't even be bothered with it because again he's traveling out of state."

Handwerk took particular exception to Jindal's decision to not expand Medicaid in the state.

"Jindal has made the conscious decision that his personal future is more important than the lives of more than 300,000 Louisiana citizens who would be covered by the expansion of Medicaid," Handwerk said.

"We are holding (Jindal) accountable for that position," said Diana Hamilton, the new chairperson of the Democrats' local chapter.

Handwerk said the expansion of Medicaid in the state would cover "people who are working for a living, oftentimes more than one job, but cannot afford insurance."

Handwerk also said Jindal has been "MIA" while campaigning and criticized the education reform passed during the spring session.

"We as a party really have a basic and simple question: how does taking money out of public schools and putting them into private schools help solve the problem of our public schools?" Handwerk said.

"I haven't heard anyone that's been able to answer that question. It simply defies logic and proceeding to blame teachers for all of the ills that affect our school system is certainly irresponsible but seems to have a callous disregard for the facts at hand."
Holding Jindal accountable? They won't even run somebody for the PSC!
It's easy enough to shoot down the policy arguments being made here; they're fatuous and childish. But when you're not even participating in the electoral process, what's the point? These are not serious people.
Increasingly, the Libertarians are. Maybe they'll replace the Democrats as Louisiana's other major political party. With Peterson and her team running the show for the Dems, it's only a matter of time.