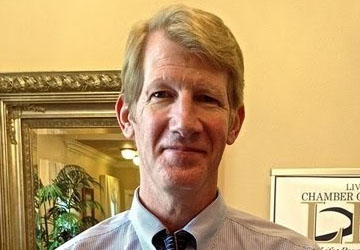 The presidential elections have come and gone. The hype of the 24-hour media coverage is all but dying down. However, another election is still undecided. On December 8th, the residents of Louisiana Supreme Court District 5 will head to the polls for the run-off election between Democratic Circuit Judge John Michael Guidry and Republican Circuit Judge Jeff Hughes. District 5 covers the parishes of East and West Baton Rouge, East and West Feliciana, Livingston, Ascension, Iberville and Pointe Coupee Parishes; however, the statewide implications of this race are much greater.
What are the greater implications of this race? The Judicial branch can largely influence the future of our state through social needs as well as legal and business concerns. Will we be pro-business and have a healthy legal climate for companies to conduct business, or will we continue down the same path of ranking at the bottom of too many national polls?
Presently, Louisiana's legal climate, according to the U.S. Chamber of Commerce, is among the absolute worst in the United States. Louisiana is ranked 49th for our lawsuit climate, judges competency, judges impartiality, and juries fairness. Yes, that is correct, 49th out of 50 states. So when we look at this Supreme Court race, we have to ask ourselves which candidate once elected will help reverse these alarming numbers?
The Economic Judicial Report, prepared by the Judicial Evaluation Institute of Washington D.C. ranked Judge Jeff Hughes at 29% regarding his ability to restrain liabilities within our state. Liabilities are the chief concerns of the business and legal communities when deciding on a Supreme Court justice. Judge Guidry scored 58% on this same reporting scale.
It is also fair to note that Judge Jeff Hughes is supported by a small group of trial lawyers that have created a cottage industry called legacy lawsuits. According to a report compiled for the Louisiana Legislature by the Department of Natural Resources in February 2012, of these 271 legacy suits brought against the oil and gas industry, Louisiana Office of Conservation has not received environmental data for 210 or 78% of these cases. These stats indicate that the cases are merely filed to extort the finances of the oil and gas industry. Insurance companies are telling Louisiana oil and gas producers that they will no longer cover their companies due to legacy suits being filed in the state. This is but one example of how Louisiana's legal climate and Judge Hughes supporters have shown anti-business and pro-extortion tendencies.
Another interesting point to note is that Governor Bobby Jindal, after not supporting any candidate in the general election, has now backed Judge Hughes. During the past legislative session, the business community fought hard to find some resolution on the legacy lawsuit issue. On May 15th, Governor Jindal announced a compromise that would end the long battle between landowners and the oil and gas industry. Therefore, it is surprising to see the Governor endorse a candidate that is backed, again, by the very specific group of anti-business trial lawyers that fought so hard against the oil and gas industry on the legacy matter.
Again, this is not about simply endorsing or electing a judge. This is about looking at the broader picture of who these candidates are at their cores and who supports them during the election season. If Louisiana is to remain relevant in the business world on a national and international level, the business environment and the legal climate must improve. Supreme Court Justices must be elected that will be against junk litigation and make decisions that do not feed special interest groups. This December 8th election is not simply an election we should sleep through. The ramifications are deep and wide concerning the future success of our state.