Why wouldn't you? After all, he's perfect for the left-wing media to pounce on.
A white guy from Mississippi. An Elvis impersonator. A Christian. And a nut. Just what they love to hate.
He's even got a paper trail. Kevin Curtis wrote an amazingly paranoid blog post back in 2007 about finding body parts stored in a hospital basement and having his life destroyed by the hospital's staff and law enforcement as a result…
Then, one night, the drainage system backed up in the morgue. I was asked by a new supervisor to go into the morgue (which was located on the ground floor which I had been in charge of for more than a year.

Unthinkable things washed back up through the drainage system under the autopsy table. I put on a face mask and gloves and began the extraction process to prepare the floors for maintenence.

About 4 hour into the job after I laid down the first coat of sealer, I became very thirsty. I was unable to exit the morgue due to floor finish not drying as fast as I had anticipated with the humidity level, so I opened the dor to a small refrigerator located to the right of the autopsy table. I assumed I might find some water or anything to drink as I was dehydrated.

What I discovered, changed my life forever! There were dismembered body parts & organs wrapped in plastic. A leg, an arm, a hand, a foot, hearts, lungs, tissue, eyes and even a severed human head! I guess I was in a state of shock when I rushed out of the morgue because a physician asked me "What's wrong"?

I told him exactly what I had seen & asked him what they did with so many body parts? He looked very strange & did not answer me. Instead, wrote something down on a piece of paper. I suddenly became a prime "person of interest" where my every move was watched & video-taped.

I escorted a young radiology technician to the morgue as she did not believe me. When she saw the body parts and severed head, she could not believe it either. We told every single person in Radiology what was in the old upright refrigerator.

I immediately noticed a change in the atmosphere. Security guards were all of a sudden around me…walking behind me and I could hear video camera's zooming in on me as I walked down the hallways that night. Security followed me to the time card machine that night for the first time in 14 months.

The following day, I was called over the loud speaker for the first time since joining the team at NMMC. I was questioned by men I had never met in my life. I was asked to sign several false documents stating I was in an area of the NMMC that I was not authorized to be in and would be hereby suspended without pay while the matter at hand was investigated. I did not go to law school like my sister but I knew better than to sign something like that.

After refusing to sign the false documents, I was on my way to the CEO's office, Dr. Jeff Barber (who was later terminated) and before reaching his office, 6 security officers grabbed me and held me while placing hand-cuffs on my wrists and walked me out of the hospital in front of all of my friends and co-workers. I was informed to not appear on company property until notified in writing. (seemed they had practice in this area)

I researched court dockets & discovered thousands of lawsuits filed against this so-called "not-for-profit", charity healthcare system. I went public with my story and lawsuit. I contacted various media outlets but was unable to get my story in print. I was notified via U.S. mail that I was terminated and banned for life but no reason as to why.

3 Years of research lead to countless court battles, cops harassing me weekly, death threats, personal & financial losses, several thefts, my home burned down, car exploded, marriage dissolved & bankruptcy. You can imagine how helpless I felt the day I found out my attorney dropped my case & represented the very hospital I filed suit against?
This guy's golden, right? The perfect Tea Party right-wing nutjob loon you can foist on everybody who watches Fox News.
There's just one problem. No sooner did he surface as the sender behind the ricin-tainted letters to Barack Obama, Roger Wicker and other federal officials but this photo surfaced…
This. Ruins. Everything.
It's a bit difficult to make the Tea Party thing work with this picture in the way…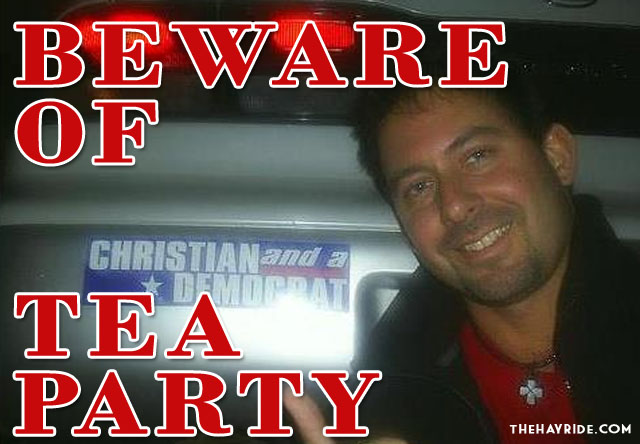 We'll hear much more about the Boston Marathon bombing, as we should, than the ricin letters. This moron didn't manage to kill or significantly injure anyone, so he'll get what he deserves – a nice, quiet trip to a jail cell where he'll stew for a nice, long time.
But had things turned out differently – had Boston turned out to be the Occupy crowd and Kevin Curtis been a frequent poster at Free Republic, which do you think would have captured more attention?