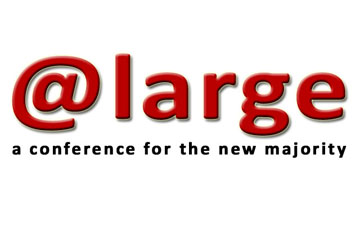 We're already working on a sequel to last month's @large Conference. Consider this post an open thread of sorts, and a chance to use our readers as a sounding board for ideas on making next year's event bigger and better than the first one.
By now you've probably heard a little about the inaugural @large Conference. What you probably heard about was our big newsmaking event at @large – specifically that Sen. Elbert Guillory of Opelousas, our 2013 recipient of the Frederick Douglass Award, changed parties from Democrat to Republican. By doing so, Guillory became the first black Republican in the Louisiana Senate since Reconstruction – and the only current black Republican state senator in the country. And shortly thereafter Ralph Washington, the mayor pro-tem of the city of Central, also made the switch to Republican.
@large isn't designed to be a venue for party-switchers, but rather a vehicle for black conservatives to explore messaging to move the needle in their community and make the media and the public recognize that there is a different ideology available to the black community than the one it's been trapped in since the 1960's. That Elbert Guillory has taken that and run with it is only a helpful sign we're hoping to use as fuel for the conference's growth.
Because we hope @large will become a yearly gathering to facilitate a positive conversation between the conservative movement and the black community.
So here are a few thoughts we're exploring for next year. We welcome feedback from our readers – those who joined us at @large and those who might like to get involved in the future.
First, we want to move it up in the year. A conference in late May in Baton Rouge is a little too close to summer for comfort. Something closer to March, in which we can hope for temperatures closer to 72 degrees than 92 degrees, might make for a more pleasant experience for all involved. But the date hasn't been set yet, and exactly when we do next year's conference will depend on venue availability.
And second, we'd like to make @large a three-day conference rather than a day-and-a-half affair. We packed an enormous amount of material into last month's event, and it was a bit exhausting – particularly on Friday when things got going around 8 AM and didn't let up much until 6 PM. That made for a highly productive day, but it didn't leave too much time for taking things in, or networking and socializing.
So we're thinking we'd spread things out and have a more leisurely program. For example, we'd like to have a morning session which focuses on things like campaign organization, community activism, advocacy and the like – and perhaps work with some of the national groups which are out there doing this kind of training on a constant basis to bring them into @large. And then have an afternoon session which focuses on specific issue messaging.
We did four issues this year in this manner. We had Ryan Bomberger's presentation on abortion, Eric Lewis' presentation on school choice, Bill Marcy's presentation on gun rights and a tag-team effort by C.L. Bryant and Tom Borelli on economic issues. The thinking is to develop that into something a bit more detailed and wide-ranging since we'd have three days rather than one. For example, here's something we're kicking around…
Day One (afternoon session) – "The History The Left Doesn't Want You To Know"
Margaret Sanger, Planned Parenthood, the KKK and the Progressives; how we got to today's abortion mess

FDR's New Deal and the destruction of civil society in poor communities
The labor union movement; was it formed to keep blacks out of the skilled trades?
Gun control and racism in American history
Day Two (afternoon session) – "Government Institutions That Don't Work And Keep Folks Down"
Social Security and how it rips off the black community

The public education gulag
Obamacare and the destruction of private health insurance among the poor
Welfare and the obliteration of poor families
Day Three (afternoon session) – "The Way Forward, And The Way Out"
Entrepreneurship as a means of social revolution

Leveraging technology to break a failed establishment
Beating the Left in the culture wars
The Left's corruption as a political weapon
As we go we might develop these into something else; they're really just placeholders. But any one of those pieces of messaging could become galvanizing issues in the right political campaign. Whether we do them as individual presentations or panel discussions probably depends on the issue and who we can bring in to talk about it.
And then the evening sessions will be devoted to the big-name people, the huge figures who will serve as draws for attendees. I won't name the folks we want to invite to speak here; better not to draft anyone until we can actually reach out to them. But you can pretty much figure out who the top targets would be, except for the fact that we don't just want the national figures among black Republicans – we want to get some of the big stars in the conservative movement in here as well.
As you can imagine, this is a bit larger @large than the one we had last month, at which the attendance was about 200 or so. We'll be shooting for more like 500 to 1,000 attendees. That means planning has already started, and the effort to get next year's conference rolling is well underway.
We welcome your ideas and participation. Feel free to use the comments under this post or e-mail us at [email protected] with whatever ideas you might have or if you'd like to help.