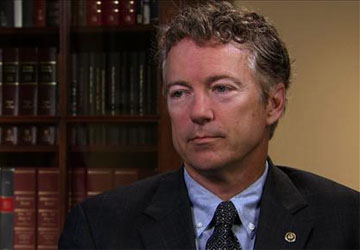 Just out today is an interesting 39-minute video in which Peter Robinson of the Hoover Institution's Uncommon Knowlege series interviews Sen. Rand Paul.
We've been touting, for a while and with different bases than you'll see in this video, a new kind of conservatism that is much more aggressive in paring down the size and scope of government, that relies on a very aggressive cultural messaging to enforce social mores and stamp out social pathology while slow-playing the legislative approach which makes it too easy for The Left – which has all but a monopoly on real encroachments to individual civil rights – to characterize conservatives as jackbooted thugs and that attempts to reorient American foreign policy toward not an isolationist model but one which looks more like Ronald Reagan than George W. Bush.
Conservatives can't just rely on Reagan's "three-legged stool" as a definition of what it means to be on our side of the fence. The three-legged stool isn't wrong, mind you – it just doesn't capture the imagination of the public in the 21st century and it has long since lost its best and most articulate defenders. A new definition has to replace it; not in spirit but in rhetoric.
And along comes Rand Paul to almost completely fit the bill. It's strange that Paul should be one of the best bearers of this standard, coming as he does from the table of his father Ron Paul – whose positives were largely outweighed by his frequent departures from political reality.
The younger Paul isn't exactly mainstream, mind you. He's far enough away from the GOP establishment inside the Beltway that the defenders of that establishment, like the execrable John McCain, for example, call him a "wacko bird" and worse. But Rand is close enough to the mainstream and eloquent enough in arguing his position that he's capable of moving the needle and building a coalition. And when he talks about bringing the Republican Party back to life in places like New England and the West Coast, or competing for the votes of the milennials, the new conservatism of which he speaks is more than just a pipe dream.
Does this mean he's a candidate for 2016? Probably. Paul is preparing the groundwork for a run. But whether he runs or wins, he's saying he wants to build some agreement for a more aggressive approach to smaller government within the Republican Party. And in doing so he might well affect what the future of the GOP and the conservative movement is to be.