Via a release today (which we reprint below), Sen. Ted Cruz hammered the Obama administration for its lack of consultation with Congress in advance of the reportedly-imminent strikes against Syria.
Cruz tweeted a graphic which sums up the debate nicely…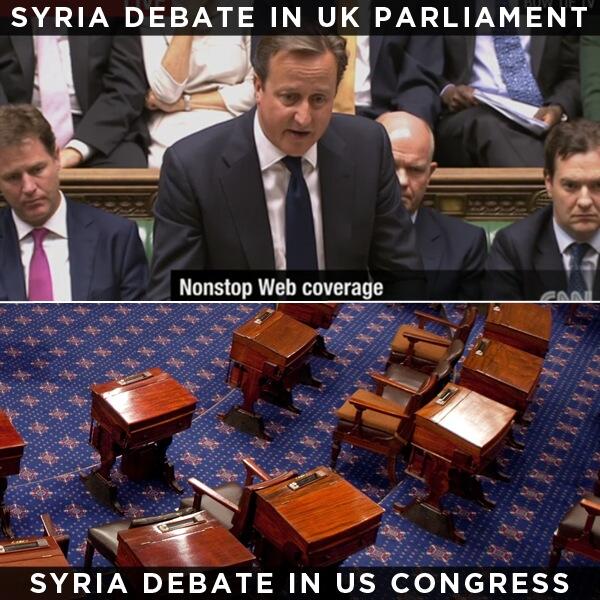 And then he followed up with a statement…
Today, the legislative bodies of two of our closest allies are engaged in emergency meetings on the prospect of military engagement in Syria. In Great Britain, Prime Minister David Cameron has called the House of Commons home from vacation to deliberate over the use of force in Syria. In Israel, the Knesset's Foreign Affairs and Defense Committee is reviewing potential responses should Israel be attacked in the fallout over action in Syria.

In Washington, DC, crickets are chirping.

It may be that there is a compelling case to be made that intervention in Syria is necessary to defend U.S. interests. But to date no such case has been made by President Obama, leaving those of us in Congress with some serious questions.

The President has in the past insisted that Assad must go, but this week his press secretary insisted that regime change is not part of any planned action in Syria. Given this lack of strategic consistency, Congress has every right to ask what the basic purpose of this action would be? On Monday, Secretary of State John Kerry expressed certainty that the Assad regime was responsible for the attack, but today we are learning there are outstanding questions about who actually ordered it and who controls the weapons. Given this confusion, Congress has every right to ask what the basis is for action at this time? In a press interview yesterday, the President said that the "very limited" action he is considering "may have a positive impact on our national security." Given this modest mandate and uncertain outcome, Congress has every right to ask why we are considering this action at all?

According to the Constitution, only Congress has the authority to declare war. While the Commander in Chief must have the flexibility to act in the event of an imminent threat, the President's comments suggest this does not currently exist in Syria. There is time for debate, and no more important subject for Congress to consider. Deploying our armed forces is a serious commitment of the highest order, and we should only consider it in cases where our vital national security interests are at stake. Our allies have demonstrated a willingness to do proper due diligence on this issue. We owe it to the men and women in our armed forces, who would execute this mission, to do no less. When and if President Obama makes a decision on Syria, he must immediately call a special session of Congress and persuade the American people that what he proposes is critical to the defense of our nation. I am confident all members of Congress would willingly return to Washington to work with him on this issue.
Also, there is now a letter circulating in the House which 140 members – including 21 Democrats have signing as of this posting, which tells the president that attacking Syria without Congressional approval is an unconstitutional act…
"Engaging our military in Syria when no direct threat to the United States exists and without prior congressional authorization would violate the separation of powers that is clearly delineated in the Constitution," states the letter, spearheaded by Rep. Scott Rigell (R-Va.).
There is considerable pushback building, and yet the Obama administration is making no effort to get Congress on board with a necessary acquiescence in advance of such a strike. The public is not behind it and there is no military or geopolitical argument to be made that missile strikes on Syria are in our national interests.
Which means we might well be staring down the barrel of a constitutional crisis as well as a foreign-policy crisis.