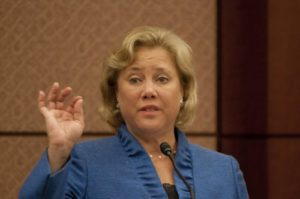 Sen. Mary Landrieu is not happy after a proposal to give voters the option to decide whether or not they wanted to expand Medicaid throughout the state failed in committee last week.
The proposal failed on a 6-2 vote in the Senate Health Committee a week ago and now Landrieu is blaming a couple of billionaires, who she said may have intimidated lawmakers.
"Maybe the out-of-state billionaire Koch brothers and their secretly funded TV ads this month intimidated the legislators who voted no," Mrs. Landrieu said in the message. "But thousands of fellow supporters weren't intimidated — they joined me to make our voices heard in support of doing what is right."

Mr. Jindal has thwarted efforts to implement key pillars of Obamacare in his state. The high-profile governor has also released a health care reform package of his own that offers more flexibility to the states.

Calling on the grassroots to donate to her campaign and "fight back" after last week's vote, Mrs. Landrieu said expanding Medicaid coverage to those making up to 138 percent of the federal poverty level is the right thing to do.

"If the people had overridden Governor Jindal's political ambitions and accepted this expansion, Louisianians would have been able to use $16 billion of our own money to help generate $1.8 billion in economic activity and create 15,600 jobs in 2016 alone," she said.
But, the Medicaid expansion effort by other states seems to be flanked with turmoil.
As the Hayride reported, the American Action Forum (AAF) has found that states who have adopted Obamacare's Medicaid expansion are working through thousands of backlogged applications. Now, outgoing Health and Human Services Secretary Kathleen Sebelius is suggesting that Medicaid cuts will be their solution for states dealing with backlogs.
During a recent Senate Finance Committee hearing, Sebelius suggested that the Centers for Medicare and Medicaid Services (CMS) would temporarily cut federal funding for Medicaid administrative tasks to states that are struggling with a backlog. Sebelius theorized that looming cuts would incentivize states to get their backlogs under control as soon as possible.

Cutting administrative funding to states already struggling with insufficient administrative infrastructure would appear to make the problem worse, according to American Action Forum health care policy analyst Angela Boothe.

"In order to encourage states to move through their backlogged applications more quickly, [CMS] may decrease the federal matching rate for Medicaid — with the cut expected to come in the forms of reductions to administrative Medicaid funding," Boothe told The Daily Caller News Foundation. "States that are still reporting an inability to connect with the federal marketplace, and are therefore seeing applications back-up in the determination process, are subject to these cuts."
But, the report points out that threat of cutting funding is not so much an incentive, as it will only lead to additional staffing pressures and slowdowns for the system. Sebelius' move, the AAF reports, will put all of the burden on states.
"States are bringing their eligibility systems up to date and hiring new staff to handle the additional beneficiary volume," the AAF reports. "Decreasing funding for administration of the program will force states to scale back on the current pace of progress."
Funding for Medicaid beneficiaries comes via state and federal funding. How much federal funding a state receives to assist in the administrative duties of running the program is set at 50 percent of federal dollars and 50 percent of state dollars. Therefore, by decreasing the amount of federal funding, as Sebelius is proposing, the application process will become even slower.
If Medicaid were to have been expanded throughout Louisiana, as Landrieu supports, cuts would hit the state expansion because of the backlogged applications, just like other states who accepted the expansion.