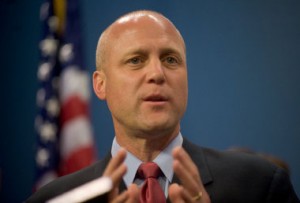 Even with opposition from Lt. Gov. Jay Dardenne, one of three tax hikes New Orleans Mayor Mitch Landrieu has flown through a House Committee, while another Landrieu tax hike failed.
Landrieu's hotel/motel 1.75 percent tax hike via HB1083 by Rep. Jared Brossett (D-New Orleans) passed the House Municipal, Parochial and Cultural Affairs Committee.
The proposed tax increase, would give voters the option to raise the hotel tax, which is currently at 16.44 percent. According to The Lens, "The new rate of 18.19 percent would give New Orleans the second highest hotel tax rate among top tourism cities, after New York City."
Brossett told The Lens that the tax increase was a better option than budget cuts. But, Dardenne thinks otherwise.
"It would be a blow to the tourism industry in New Orleans," Dardenne said.

If the proposed tax is implemented, New Orleans would have an effective hotel-motel tax of 18 percent, Dardenne said.

"What this does is create a hotel-motel tax rate that is on a par with New York City," Dardenne said. The hotel-motel tax would be 50 percent higher than that in Orlando, Fla., and Las Vegas, he said.

Dardenne said the tax would put New Orleans at "a tremendous competitive disadvantage when we're bidding on major sporting events" such as the Super Bowl, NCAA finals and the new college football championship game, as well as conventions.

"I'm adamantly opposed to that proposition," Dardenne said.
Landrieu's other proposed tax hike, via HB1210, one that would add 80 cents to cigarettes and any other tobacco product in New Orleans failed in the House Committee. The tax hike would have tripled the current tobacco tax rate, which is 36 cents per pack to $1.11. Not to mention, this would have made the city of New Orleans the only local government to have it's own tobacco tax and would have raised approximately $12 million to $18 million per year.
The seeking of tax hikes by Landrieu is an effort to clean up the mess in which a court mandated that the city pay millions for the city's firefighters pension fund, renovate the Orleans Parish Prison and refine the police force.
Landrieu has decided not to make a fuss about the tax increases and hardly any media outlets have reported on the proposals.
As previously reported, one other property tax hike proposal by Landrieu is set to be reviewed tomorrow. Under HB111, sponsored by Rep. Walt Leger (D-New Orleans), New Orleans property taxes would be raised to help pay for police and fire services. Currently, those millages are 5.26 for police and 5.21 for fire. With this proposal, the city could levy up to 6 mills for police and fire services.
And to top off all of the tax talk, just recently, The Lens reported that Landrieu is eyeing to create the Louisiana Economic Development District near the New Orleans riverfront area where all sales and motel taxes tax revenue generated would benefit the city.