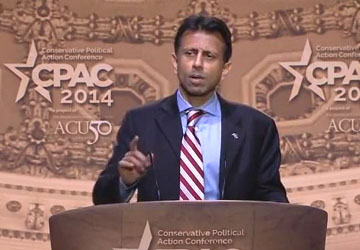 A different kind of rising tide is hitting Louisiana—a surge of economic growth, and more and better-paying jobs.
The data speak for themselves. Louisiana has the lowest unemployment rate in the South, tied for 7th lowest in the nation.  Since January 2008, economic growth that is 50 percent higher than the nation, and one of the best records of private-sector job growth in the country. And expatriate Louisianians coming home, returning to raise their families and build a better future, both for themselves and our state. After more than two decades of more people leaving Louisiana than moving into the state, Louisiana has experienced six years in a row of population in-migration.
How have we done it?
First, we worked to create an environment where businesses can launch, relocate, grow, and thrive.  We passed the largest income tax cut in Louisiana's history, and eliminated taxes that were hindering economic growth and discouraging business investment in our state.
Second, we got our state's fiscal house in order.  We cut the state budget by $9 billion or 26 percent, reducing the number of government jobs by over 28,000; we shifted from a government-run hospital system to a health system that embraces ingenuity and efficiency of experienced private partners: and we earned a credit rating upgrade from Standard and Poor's for our efforts. Indeed, our credit ratings are now higher than they have been in decades.  While these reforms weren't always easy, they have been effective.
Per-capita income in our state is at its highest level ever. Since 2008, we've helped secure economic-development projects that are resulting in more than 83,000 new direct and indirect jobs and $54 billion in capital investment.  And, I am proud to say that Louisiana recently hit an all-time high for number of people working, exceeding 2 million individuals with a job for the first time in state history.
Third, we worked to unleash the state's natural resources.  We accelerated the elimination of the state sales tax on manufacturing machinery and equipment, and we eliminated the state sales tax on natural gas and business utilities. In many cases, we now have more quality jobs than we have trained workers to fill them—one reason why we proposed $40 million in new higher education funding in the state budget, designed to give workers the practical skills necessary to compete in the global economy.
While I'd love to say the federal government was a great partner in our efforts, in most cases our accomplishments came not because of Washington, but despite it.  For the past five-plus years, the Obama Administration's efforts have served to stifle growth in Louisiana.  For instance, the EPA's infamous "permitorium" following the BP oil spill cost our economy $24 billion in investment and tens of thousands of jobs.
And the policies coming out of Washington only seem to get worse.  Earlier this year, the Congressional Budget Office (CBO) concluded that Obamacare will reduce the labor supply by 2.3 million workers—nearly three times an earlier estimate.  The report found that Obamacare contains an "implicit tax" that discourages work, yet the White House attempted to portray this policy—taking away insurance subsidies for those who work hard and increase their income—as a good thing.
Stop what you are doing and think about that for a moment.  The President of the United States of America says it is a good thing that the law he passed will discourage people from working.  Let that sink in for just a moment, but then get back to work.
A few weeks later, CBO issued another report estimating that the President's proposed minimum wage increase would cost as many as 1 million jobs nationwide.  Here again, Democrats were totally unfazed by the prospect of destroying so many entry-level jobs—even though the CBO also found most benefits from a minimum wage increase would go to higher-income households.
Given their headlong rush to enact economically destructive policies, Democrats apparently believe unemployment is a price worth paying to enact their liberal agenda.  I couldn't disagree more.  I believe unemployment is a tragedy for every family it affects, and I won't stop working until we've created an environment where every Louisianian has access to a quality, high-paying job.
The contrast couldn't be more stark.  Four years ago, Nancy Pelosi told a group of aspiring artists to "leave your work" and "be creative and be a musician or whatever," because they would have government-subsidized insurance.  I want individuals to use their creative energy to become taxpayers—to take a new job, or start a business—rather than relying on taxpayer-funded benefits.
Those are the kind of individuals we've welcomed home to Louisiana over the past six years.  Of all the statistics about our state's progress, I'm proudest of the six straight years of in-migration into the Pelican State.  I will do all I can to welcome these families into our state, and ensure that they—and their children—have great jobs and economic opportunities open to them.  I just wish Washington would stop making our job so much harder.
Bobby Jindal is Governor of Louisiana. This piece originally appeared at Forbes.