We've teamed with political consultant and pollster Ethan Zorfas at MarblePort Polling to bring you a wealth of data on some of the more interesting questions in Louisiana politics at present, and after a survey of 1,064 voters statewide on May 18-19 here's what we can report on how Louisianans feel about current events.
First, we can largely confirm the findings of the Southern Media and Opinion Research poll of the governor's race from a week ago. Our results in the current four-way race…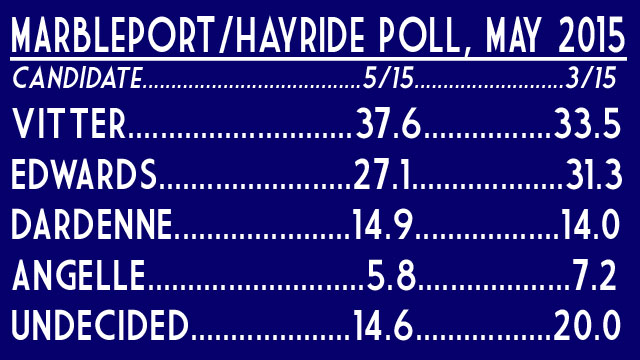 Our results are very similar to SMOR, and they show a significant movement for Sen. David Vitter in growing his margin over both state Rep. John Bel Edwards, the Democrat, and the other two Republicans in the race. Vitter now leads Edwards by 10 points and his closest Republican challenger by 23 points.
As with previous surveys conducted by Marbleport, Vitter's strength is among Republican voters where he leads his nearest opponent by 37 points (Vitter 56.2%/ Dardenne 18.8%/Angelle 7.2%/ Edwards 5.4%/undecided 12.4%).
Among female voters, Vitter holds a narrow 3 point lead to Edwards (Vitter 32.6%/Edwards 29.8%/Dardenne 14.8%/Angelle 5%/undecided 17.9%).  And as we have seen in previous surveys, Vitter is running strong in the New Orleans media market and north Louisiana.
As expected, Edwards holds a substantial lead among African-American voters (54%) and polls well in Congressional District 2 (41.5%).
Dardenne remains in the mid-teens (14.9%) and polls best among his Baton Rouge base (Dardenne 28.2%/ Edwards 29.8% /Vitter 22.3%/Angelle 4.8%/undecided 14.9%).
But we did something else this time, which we think our readers will find interesting. There has been a decent bit of speculation about a second Democrat entering the race and specifically a black Democrat. The typical potential candidates for such a role in the race – former Shreveport mayor Cedric Glover, Baton Rouge mayor/president Kip Holden, state senator Rick Gallot, former state senator Donald Cravins, Sr., and so on – have all disclaimed the idea of getting into the race and the Louisiana Democrat Party has officially endorsed Edwards. So if there were to be a black Democrat in the race, the closest you'd likely come is to get retired Gen. Russell Honore' to enter.
Interestingly, here's what happens if Honore' was in the field…
You'd think adding Honore to the field would dilute Edwards' vote and make for a better opportunity for Dardenne to sneak into the runoff, but you'd be wrong. We were actually a bit surprised to see this.
Honore actually makes a Vitter vs. Edwards runoff much more likely. He shrinks the percent of undecided from 14.6% on the initial ballot to 12.9%. Honore' also polls well among independents (18.9%) and particularly well among white independent women (21.9%).  As a result, his entrance into the race, rather than shaking it up, produces a stabilizing effect by claiming a constituency that has historically been considered swing voters. By taking swing voters off the table, ballot growth among the remaining candidates becomes much more difficult. Honore' might even be pulling more from Vitter than anyone else, though Vitter has votes to give.
Basically, Honore condenses the political landscape. John Bel Edwards actually wants him in the race, because he helps put Edwards in the runoff. And of course Vitter also wants Honore', and for the same basic reason.
We have more to show in the poll, though.
For example, we polled Gov. Bobby Jindal's approval rating, and it's even worse now than the 28.4 percent MarblePort found back in March. Now, Jindal is down to 27.4 percent approval, and his disapproval rating is up to 64.6 percent from 62.6 percent two months ago.
This doesn't indicate a resurgence of the Democrat Party, though. What we're finding is what we expected to find; namely, that conservatives in Louisiana are becoming animated by a failure to translate their votes for Republicans into consistent policy results.
Here's the right track/wrong track number…
That's a general indication of a lack of confidence in the state's leadership, but we have more.
For example, here's a question on the state's deficit…
And here's how the respondents handled the Tax Orgy from a couple of weeks ago…
Uh-oh.
We also asked about Common Core…
What this points to is a very surly electorate which clearly wants conservative solutions and doesn't believe it's getting them from the current crowd in office.
That's a tailor-made electorate for Vitter as things stand. If Dardenne or Angelle want to pull an upset,they're going to need to show themselves to be even more willing to shake up Louisiana's old-style big government waste than Vitter has shown to date.