Remember when our Governor-elect was running last fall on how pro-life he is? He ran a TV spot over and over about that contention, the gist of which is he proved how pro-life he was by not wanting to abort his own child.
Turns out that Edwards isn't quite as pro-life as he'd like folks to believe when it comes to other people's kids. A couple of developments this week show this.
First, the grapevine has it that Rep. Helena Moreno, a New Orleans Democrat and big-time Planned Parenthood supporter, is in line to chair the House Health and Welfare Committee. More on that and related subjects tomorrow.
And then there is Edwards' new secretary of the Department of Health and Hospitals, Dr. Rebekah Gee.
Yesterday the Times-Picayune had an article about Dr. Gee's plans to expand Medicaid which didn't particularly impress…
In her remarks after her appointment Tuesday (Jan. 5), Gee spoke in idealistic terms about access to health care for Louisiana residents, saying that Edwards' pledge to expand Medicaid as fulfilling "the dream of access to quality health care." To do that, Gee vowed a "new and different" approach to health care, and brushed aside concerns about the state's budget problems, saying, "in every crisis there's an opportunity."

Gee, who has practiced as a physician for much of her career, also spoke about personal experience related to expanding access to health care. She had a patient last year who couldn't afford a mammogram. Once the patient saved up the money and got one, she learned she had breast cancer and may die as a result.

"These types of stories we're not going to hear as much in this administration because we have compassion," Gee said.
Got that? Compassion. With somebody else's money.
We could get into a long-winded discussion about how this plan to expand Medicaid and then expand the availability of access to doctors for Medicaid patients is going to muck up access to health care for everybody else, but there is plenty of time for that.
But here's something else about Dr. Gee and her "compassion," and how it relates to Gov. Honor Code who doesn't lie or tolerate those who do and how pro-life he is. Ben Clapper, who is the Executive Director of Louisiana Right to Life, just put out a press release expressing concerns about her bona fides on the abortion issue…
On Tuesday afternoon, Governor-elect John Bel Edwards named Dr. Rebekah Gee as the Secretary of the Department of Health and Hospitals (DHH). The role of DHH secretary is essential to the pro-life cause due to its responsibilities to enforce Louisiana's life-affirming legislation and policies and to regulate outpatient abortion facilities.

Following the announcement, Louisiana Right to Life performed cursory research on Dr. Gee and her involvement on life-oriented issues. Louisiana Right to Life has released a factsheet providing a summary of a number of items from Dr. Gee's past in relation to the mission of Louisiana Right to Life.

The following are excerpts from the factsheet:

Benjamin Clapper, Executive Director of Louisiana Right to Life, released the following statement:

"Our research reveals that the newly named Secretary for DHH, Dr. Rebekah Gee, has a long history of troubling connections with organizations that advocate for abortion-on-demand.  Moreover, it appears that certain items included on Dr. Gee's 2007 resume were not included on her resume available on LSU's website.

"Louisiana Right to Life is very concerned that Governor-elect Edwards may not have had full information and named a health secretary for Louisiana incompatible with his own pro-life values and those of our Legislature and our citizens.

"The DHH Secretary has broad authority when it comes to the issue of abortion in Louisiana. From enforcing common ground pro-life legislation, regulating abortion facilities, managing Medicaid funds, and more, the DHH Secretary plays a pivotal role in protecting Louisiana's pro-life convictions. Our research raises concerns that pro-life protections could be in jeopardy under Dr. Gee's supervision.

"Given that Governor-elect Edwards expressed his pro-life values throughout his campaign, Louisiana Right to Life has sent this information to the Governor-elect to determine if he was unaware of these troubling connections."
Here's the fact sheet…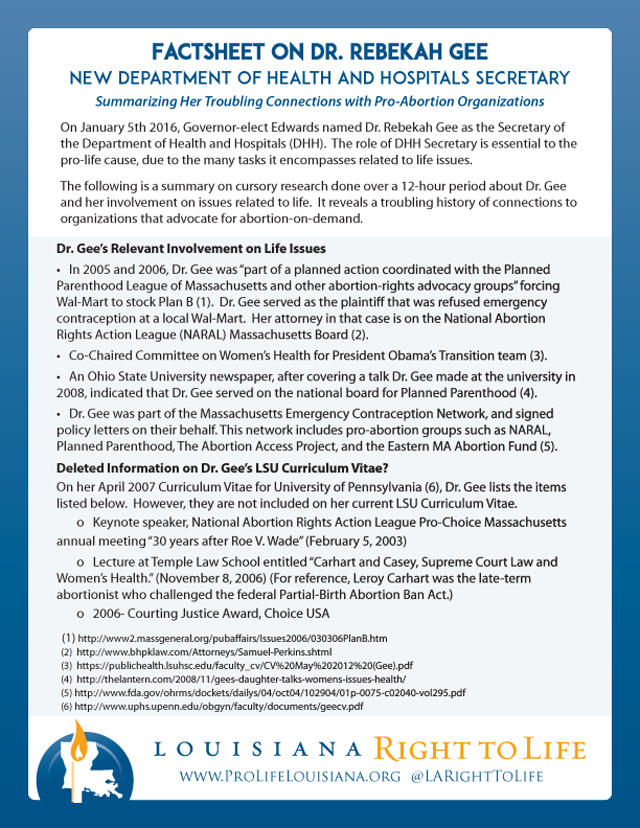 No, you don't appoint a NARAL superstar to run the Department of Health and Hospitals if you're a pro-life governor. That was a lie John Bel Edwards told to the people of Louisiana in order to make himself appear acceptable to the state's conservative-leaning and deeply pro-life electorate. And he told that lie amid a constant barrage of character assassination of his opponent among which was a constant indictment of David Vitter as a liar.
Congratulations to Gov.-elect Edwards on his election. It's unfortunate that his precious honor code was a casualty of his campaign.